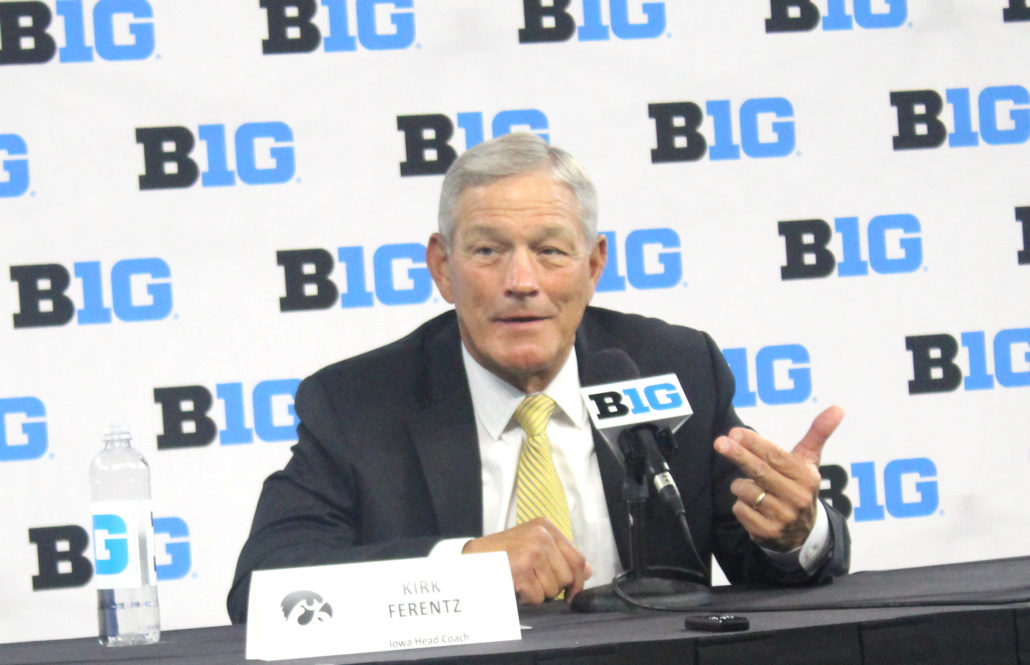 IOWA CITY, Ia. — With the biggest game of the season looming, Iowa's coach is in no rush to name his starting signal-caller.
Kirk Ferentz didn't budge to play both Alex Padilla and Spencer Petras in the win at Nebraska, and knows they're capable of leading the offense against Michigan in the Big Ten Championship Game.
The two completed a combined 13 of their 27 passes for 178 yards against the Huskers. However neither quarterback threw any interceptions. Not to mention they played on the road in a hostile environment, and that's always a challenge in the Big Ten.
Both quarterbacks impressed Ferentz with their performance, which explains why he doesn't want to let the cat out of the bag just yet.
"Overall, I've been pleased with both guys, I think both of them have really performed well during the course of the year," Ferentz said. "I've seen improvement with both guys, and we're going into this week feeling good about our situation there."
He has watched Petras and Padilla make it through the ups and the downs. Most importantly, they've responded when their teammates needed them to, so Ferentz doesn't expect them to back down to the opposition.
This matchup is going to require whoever is taking the majority, if not all of the snaps, to be more than just a game manager, and they can't depend on the Hawkeyes' defense to set them up in good field position. The Wolverines will be the best defense the Hawkeyes will see this season, especially their front seven.
Ferentz celebrated Thanksgiving at home with his family on Saturday, but during that he was able to do some scouting and watched Michigan's victory over Ohio State. That's when he noticed the Wolverines are a different type of animal on defense.
No. 97 quickly caught Ferentz' attention. It was edge rusher Aidan Hutchinson, who leads the Big Ten with a jaw-dropping, 13 sacks this season, including three against the Buckeyes.
Ferentz is anticipating Iowa's offense to have a tough time containing Hutchinson, who reminds him of former Wisconsin great J.J. Watt in his prime. Hutchinson will definitely require a double-team. In return that's going to give other Michigan defenders, like linebacker David Ojabo more opportunities to make plays. Ojabo happens to be second in the Big Ten with 11 sacks of his own, which is also tied for ninth in the FBS.
Petras and Padilla will need to keep their heads on a swivel. It helps that Iowa's offensive line has played better down the stretch. Matching wits with the Wolverines' front seven will be a tall order for the Hawkeyes' big boys up front. Iowa's quarterbacks will need to know where Hutchinson is located on every play.
"It's going to be a big challenge Saturday because Michigan's got a really good front as all of you guys know," he said. "It's not just a one-man show, although that one man is an unbelievable football player, but a good group of guys on defense."
Regardless, Ferentz feels the Hawkeyes are a special team, and his staff is approaching the matchup like a normal game week. One thing Ferentz emphasized about this year's version of Iowa (10-2) that's different from the 2015 squad that played in the Big Ten Championship, is the number of upperclassmen.
There's a plethora of veteran players on the roster this time around and they've all been part of a great run, with two 10-win campaigns over the past three seasons. In Ferentz' eyes, that's going to work in favor of his quarterbacks, and trickle down to the rest of the offense.
"One thing I think is good about experience, is maybe you can get a little of an advantage point," the 66-year old said. "One thing about this team, it's clearly a group of players and coaches that really like each other, they trust each other and they've worked through adversity."
Petras basically has two years worth of starting experience. Meanwhile Padilla has three started three games in 2021.
The Hawkeyes have persevered through injuries and illnesses this fall, and despite backpedaling into the Big Ten Championship Game, Ferentz believes his team earned their right to be in this position.