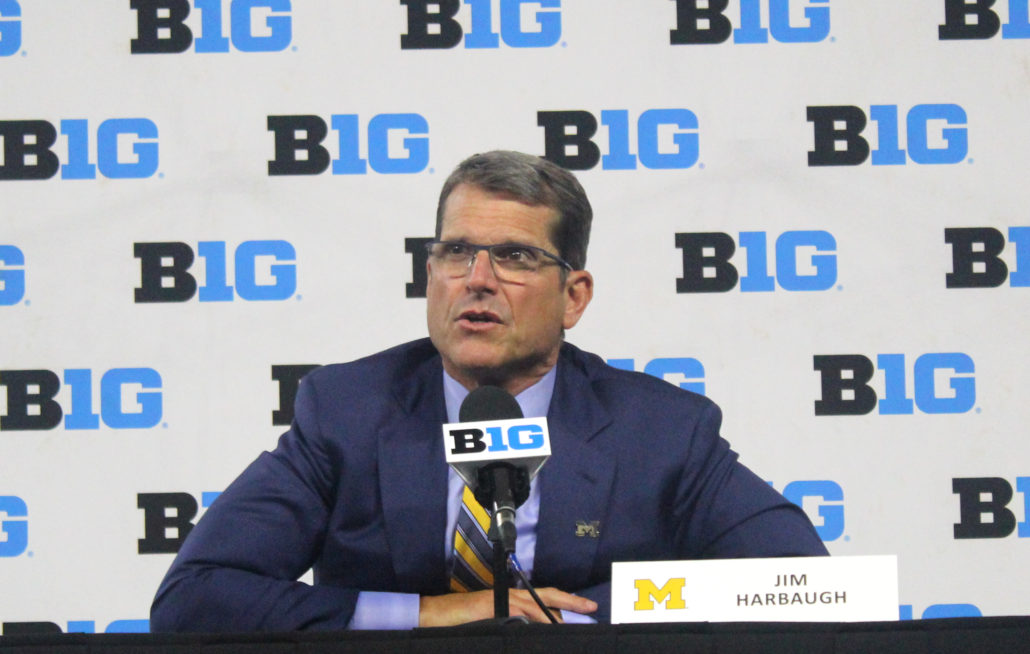 ANN ARBOR, Mich. — Now that he got the monkey off his back after beating Ohio State by double-digits, all of his haters have went back into their mouseholes.
Jim Harbaugh has been College football's most scrutinized coach since he took the Michigan job. Now he's finally delivering on the hype that he arrived to Ann Arbor with, and everyone has no choice but to take notice.
Brother and Baltimore Ravens Coach John, who always gives him advice, congratulated Harbaugh on leading the Wolverines to their first-ever berth in the Big Ten Championship Game. Even NFL Hall of Famer John Madden texted Harbaugh to tell him how he loved the way Michigan's offensive line been performing.
Although Harbaugh is oh so close to leading the Wolverines to the promised land, there's still one big hurdle left. Iowa is coming off its' second 10-win season in the past three years, and is just as hungry for a Big Ten Title, despite backpedaling into the game. Still, Harbaugh has the utmost respect for Kirk Ferentz and been following his coaching career for decades.
Ferentz' foundation with his players is a reason why Harbaugh is grateful for the leaders on his team.
Harbaugh knows about appreciation, and if it wasn't for certain individuals on both sides of the ball, the Wolverines would still be chasing the Buckeyes. Quarterback Cade McNamara and defensive end Aidan Hutchinson have stepped up to the plate though. Both have showed their coach what leadership is all about, which Harbaugh admires the most, and it gives him confidence approaching the matchup against the Hawkeyes.
McNamara persevered through an intense quarterback battle a couple of years ago with Joe Milton and Dylan McCaffrey. Now that those two have since then transferred, McNamara's patience has paid off big time.
"Cade, somebody who's a foundation of our team, one of the most committed players we have," Harbaugh said. "A player that we wouldn't be in the position we are today without Cade McNamara, he cares deeply for the team, and he has produced."
Hutchinson is the heart and soul of Michigan's defense and has been a flat-out monster this season, since returning from a leg injury he suffered in 2020. He leads the Big Ten with 13 sacks and made C.J. Strout eat grass three times.
The Michigan native is the son of a former Wolverine captain and understands what it takes to be an elite edge rusher. Harbaugh knows he has arguably the best defender in the league and enjoys watching him wreak havoc on ball carriers.
"It's a player that plays hard everyday, does not take any plays off, and he's that way in practice, on a daily basis with weight lifting, strength and conditioning, he's always giving it his all at his very best," he said. "That has become contagious for our team and there's no question that we're not in the position that we are today without Aidan Hutchinson."
The last 48 hours has been a whirlwind for Harbaugh, but he was able to celebrate his parents 60th wedding anniversary and watched some football games. However, now it's all in the rearview mirror as Michigan gets ready for an intense week of practice in preparation for Iowa.
Michigan (11-1) moved up to No. 2 in the AP Poll and it will probably be the same when the Playoff Committee releases their rankings Tuesday evening. Regardless, Harbaugh has been humbled plenty of times in the past, so he isn't taking anything for granted.
"We're here, we're excited about it and we want to go finish," the 57-year old said. "We want to keep doing what we've been doing and that's having good days on top of each other, get the energy high and then go play the game."
The Wolverines haven't won an outright Big Ten Title since 2003, and the last one they shared was with the Hawkeyes the following year, but Harbaugh plans on changing that narrative.