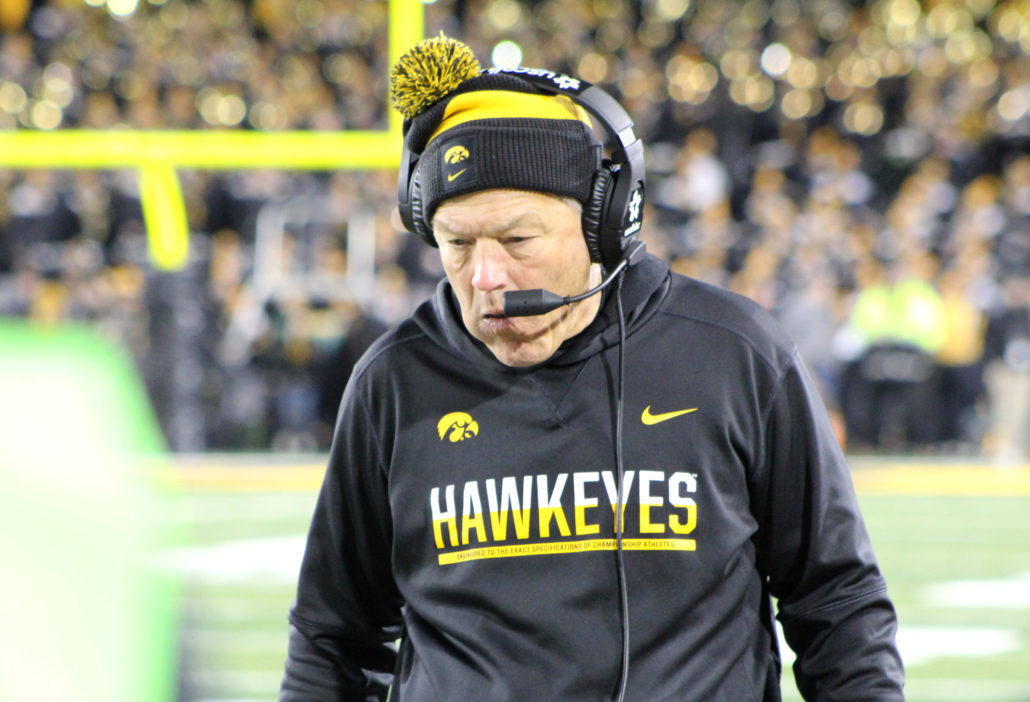 IOWA CITY, Ia. — The longest-tenured coach in the sport is looking to extend Iowa's winning streak against another rival this Friday.
Kirk Ferentz hasn't lost to Iowa State, Minnesota or Nebraska since 2014, and he's hoping to keep that narrative the same. It's already mind-boggling in today's game that one coach has dominated three rivals for this long. The more Ferentz can keep the success going, it'll continue to enhance his overall legacy.
With the Big Ten West still up for grabs in the final week of the regular season, the Hawkeyes have everything to gain in this matchup, while the Huskers have nothing to lose. Ferentz must beat Nebraska, and will need Minnesota to upset Wisconsin, in order for Iowa to represent the West in the Big Ten Championship Game.
The Hawkeyes have an opportunity to get a head start on the action and seal their part of the deal. After all, Iowa (9-2) has won its' last four trips to Lincoln, and Nebraska fans can't forget Keith Duncan's infamous kiss to Scott Frost in 2019. In hindsight, the two programs appear to be going in opposite directions.
However, just because the Huskers have lost five-straight games, Ferentz still knows what they're capable of.
"They're extremely diverse offensively, a million things to prepare for, and element of the unknown now a little bit, but they're just — they move the ball, they score points, and defensively I think they're much improved from four years ago," Ferentz said.
Nebraska will be fielding a new quarterback in Logan Smothers against Iowa. Smothers will be making his first career start after Adrian Martinez was ruled out with a season-ending shoulder injury that he suffered last week against Wisconsin. Ferentz understands what Martinez meant to the Huskers and feels bad for the young man.
"It's kind of the reality of college football right now, too, this time of year, players are out, players are nursing injuries and those types of things," he said. "It's certainly sad news because he (Martinez) is a really electrifying performer."
The Hawkeyes are dealing with injuries of their own, especially in the secondary. Star cornerback Matt Hankins has been ruled out and backup Terry Roberts is questionable. Not to mention safety Jack Koerner is somewhat gimpy. The good news for Iowa's offense is the unit will have two capable quarterbacks.
Ferentz revealed in Tuesday's press conference that Alex Padilla will make his third start and Spencer Petras will play if needed. What matters to Ferentz is the big boys up front protecting whoever is behind center.
Iowa's defense is having a difficult time scouting Smothers though. Ferentz' staff had to dig up some of Smother's junior high film to know what they're going up against. The former four-star prospect impressed Ferentz with his footwork. Now the Hawkeyes know they'll be facing a signal-caller with dangerous mobility.
Regardless, there's still a level of uncertainty approaching the matchup. Ferentz is certain there will be more issues to deal with in Friday's clash. Although Nebraska is starting Smothers, Ferentz feels the change could give its' offense a spark. So he's expecting the unexpected.
"We have an idea of who he (Smothers) is and what he is, and he's fast, I know that," the 66-year old coach said.
The Huskers have come out on the wrong side of several close losses this fall, and the last three meetings with the Hawkeyes have been decided by less than a touchdown. Ferentz is anticipating another hard-fought game that could very well go down to the wire. In Ferentz' mind the battle in the trenches is going to be vital, and the team that can win the line of scrimmage should dictate the flow of the game.
"Going on the road playing over there is never easy, and certainly playing for a trophy is a big deal for both teams, I'm sure."