Wildcats humbled after losing four-straight to Bears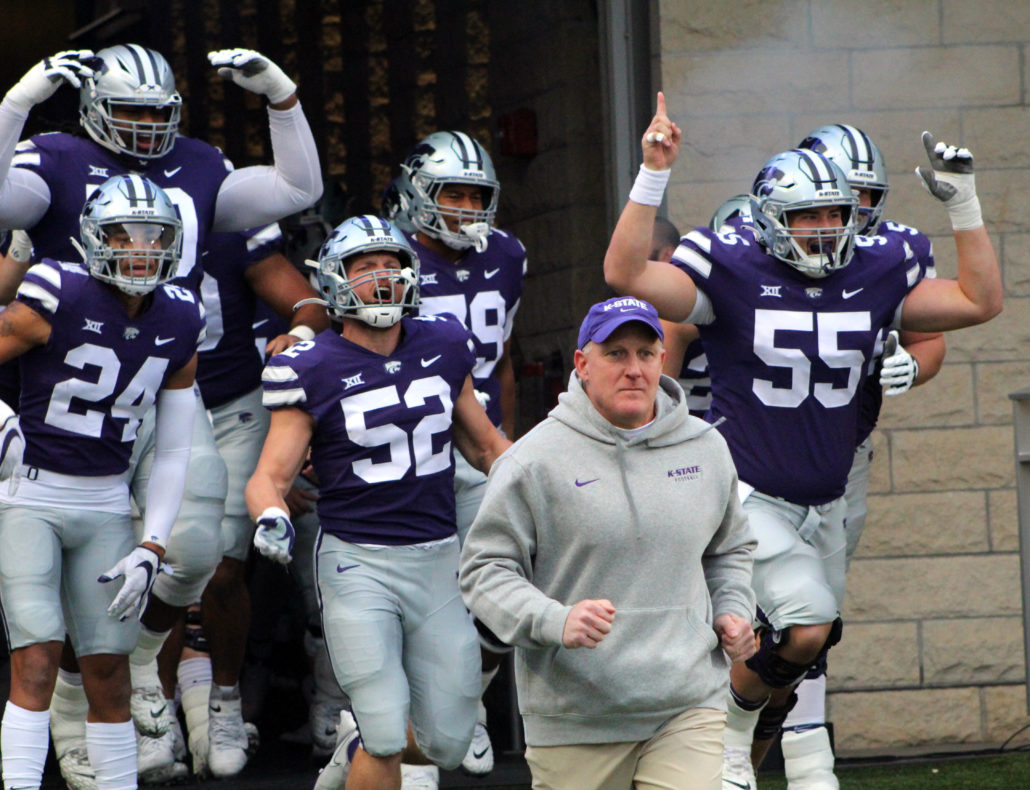 MANHATTAN, Kan. — The Wildcats' Senior Day didn't go as planned Saturday night.
Instead of Kansas State winning its' fifth-straight game and sending the seniors off on a high note, Baylor shocked the crowd of 43,857 with a 20-10 victory. The humbling loss was the Wildcats' fourth-straight to the Bears. It was also Baylor's second-straight win at Bill Snyder Family Stadium.
Coach Chris Klieman thought he prepared his team for the clash and put them through an intense week of practice, but the Wildcats came out flat on the gridiron. Baylor held Kansas State scoreless in the first and fourth quarter. Not to mention the Bears outgained the Wildcats in yardage, ran 32 additional plays, generated 10 more first downs and crushed them in time of possession.
After scoring 31 or more points in its' previous three contests, Kansas State's only touchdown of the night came on a 65-yard touchdown run by All-Big 12 rusher Deuce Vaughn in the second quarter. The Wildcats' 10 points was their lowest total of the season. Kansas State's 263 total yards was its' second-lowest output this fall.
"We got behind early on the miscue and we went down seven to nothing and just couldn't get out of that hole and struggled to get any rhythm offensively throughout the day until the big run with Deuce (Vaughn)," Klieman said. "I also thought we struggled to get off the field on defense."
Klieman's defense, which has been the strength of the team all year, didn't perform up to the unit's standards. The Wildcats' defense allowed two long scoring drives in the second quarter, and before Klieman's team could blink, they were down by double-digits.
After Baylor's starting quarterback Gerry Bohanon left the game with a hamstring injury and didn't return, Kansas State had a chance to rally back. However, redshirt freshman Blake Shapen filled in for Bohanon and the Bears' offense didn't miss a beat. It didn't help the Wildcats rally when senior quarterback Skylar Thompson got injured in the second half.
At that point, all of the momentum Klieman's squad had built up quickly faded away and that frustrated him the most.
"We just didn't capitalize on some of the opportunities that we had," he said. "So, it's a disappointing loss and we have to put it behind us quickly and go to work tomorrow because we have to play here in about six days."
Sophomore signal-caller Jaren Lewis only pass of the game was an interception and no one in his supporting cast could give the offense a spark. Although Vaughn finished with a game-high, 128 rushing yards, Baylor's defense pretty much contained him in the second half.
The Wildcats' defense did hold Abram Smith, who's the Big 12's leading rusher, to a mere 46 yards on the ground, but couldn't force Shapen to make many mistakes. Senior safety Ross Elder finished with a game-high, 10 tackles and junior linebacker Daniel Green added nine stops and a sack.
Regardless, Kansas State's defense stayed on the field way too long at times and it was obvious the unit was fatigued by the fourth quarter.
"There were a couple of third downs, fourth downs that we have to get off the field and that's stuff that we need to work on," Elder said. "But overall, I thought we played all right."
Now it's back to the drawing board for Klieman and his staff. Despite Kansas State (7-4) losing its' second-straight Senior Day game, it has to pick up the pieces before traveling on the road to face a Texas team coming off six-straight losses in the season finale.