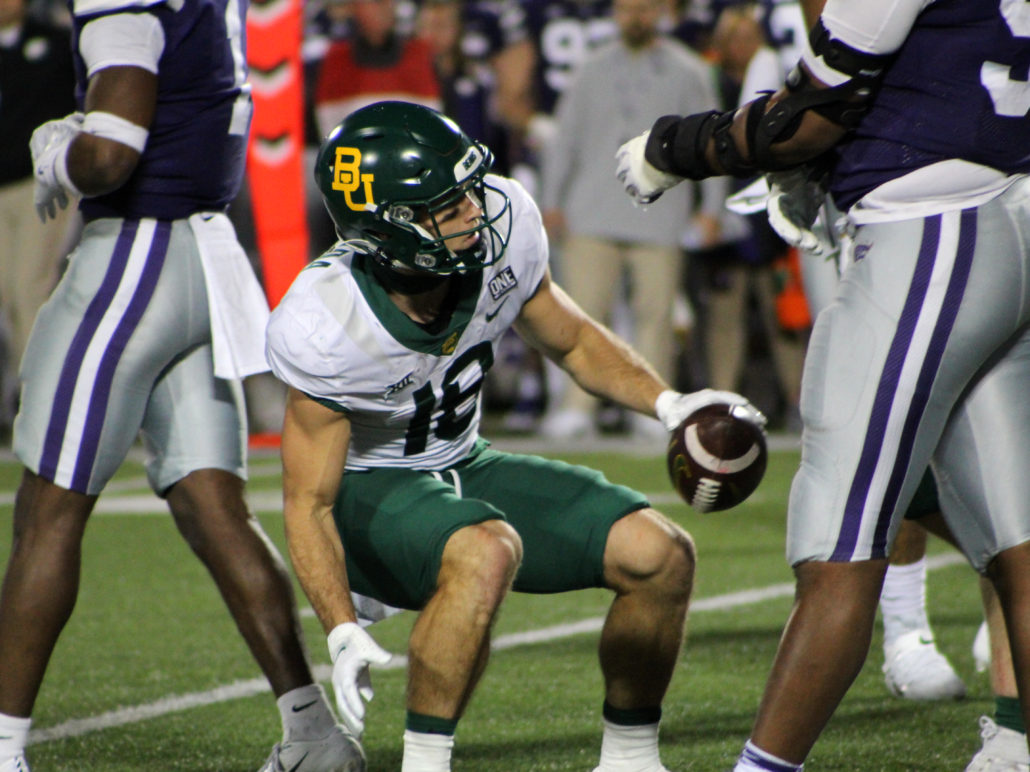 MANHATTAN, Kan. — After Gerry Bohanon suffered a hamstring injury in the first half against Kansas State, the entire offense knew who was going to be inserted behind center.
Baylor's starting quarterback was in pain and it was up to redshirt freshman Blake Shapen to carry the team to the finish line. The Bears' offensive line, running backs and pass catchers all rallied behind Shapen, especially receiver Drew Estrada.
Everyone embraced themselves for the next man up. After all, Shapen had only attempted three passes all season. Coach Dave Aranda put his trust in Shapen to keep Baylor's Big 12 Championship Game hopes alive. Not to mention the Bears were playing in one of the Big 12's most hostile environments in Bill Snyder Family Stadium.
It was also the Wildcats' Senior Day. However, instead of looking like a deer in the headlights youngster, Shapen performed like a seasoned veteran. The former three-star prospect completed 16 of his 21 passes, for 137 yards, and added another 44 on the ground.
Shapen's performance amazed Estrada, who finished the game with three  catches for 41 yards. Shapen connected with Estrada for a 32-yard completion on a fourth down conversion in the second quarter. Estrada was proud to see Shapen take control of the huddle and how he made others around him better.
"I mean, obviously, huge kudos to Blake (Shapen) to come in a game like that and perform the way he did," Estrada said. "Obviously we don't want Gerry (Bohanon) hurt, hopefully he's back healthy as quickly as possible, but for a guy that young to come in and make the plays that he did and have the poise that he did, that was huge."
Aranda didn't to put too much weight on Shapen's shoulders. Which is why he let the Bears' backfield, and their defense take some of the pressure off of the signal-caller. The seniors on the squad like Estrada had Shapen's back the entire way, and watched him grow behind center right before their very own eyes.
A crowd of 43,857 wanted Shapen to make a freshman mistake that would cost his team the game, but he delivered for his team in the clutch. Estrada fed off Shapen's energy and the Bears' veterans were determined not to let him fail.
"We knew this was going to be a really tough task coming into Manhattan," he said. "There's a big crowd on the
road, and obviously, we've had some trouble in the past on the road, so we all knew it was going to be a battle."
Baylor (9-2) is in a great position approaching rivalry week and needs to beat Texas Tech, plus Oklahoma State has to drop Oklahoma, in order to put that team from Waco in the Big 12 Title Game. Aranda will likely give Shapen his first start of the season if Bohanon can't go against the Red Raiders. Knowing what's at stake Estrada is expecting another intense week of practice for the No. 9 Bears, and believes Shapen will to step up to the plate again.
"Obviously we're really excited, but we got one more to go."