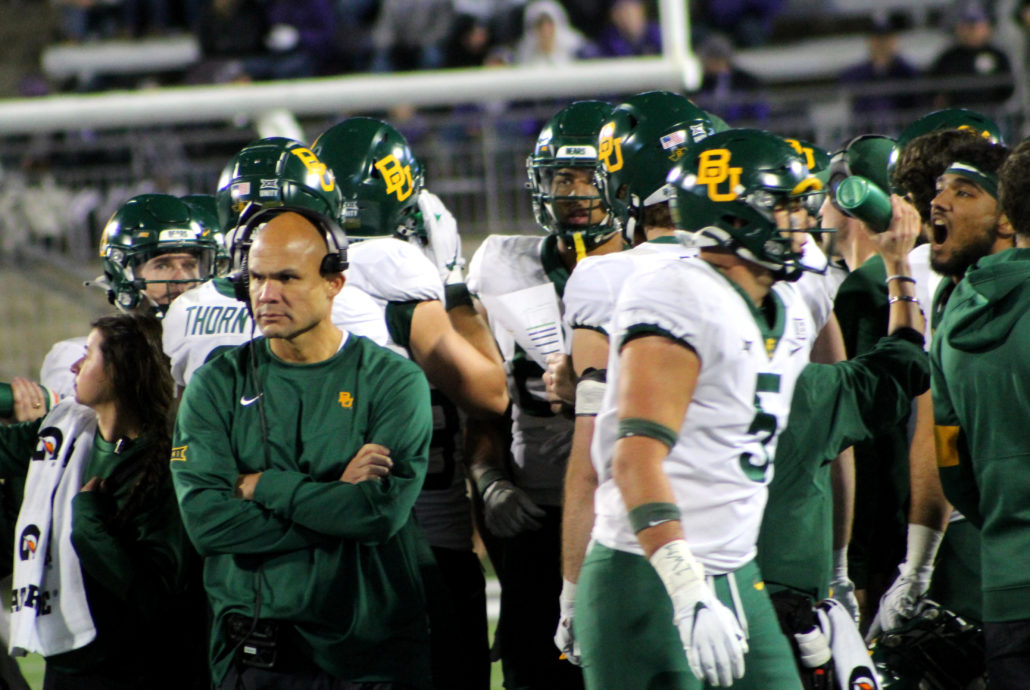 MANHATTAN, Kan. — Baylor took a step closer to securing its' second-ever berth in the Big 12 Championship Game Saturday.
Baylor snapped a two-game losing streak on the road to conference foes with a physical 20-10 victory over Kansas State. It was the Bears fourth-straight win over the Wildcats. Now Dave Aranda's team has won five of their last six  games overall. Not to mention Baylor showed that last week's triumph over Oklahoma was no fluke.
"It has been a big fight and to come out tonight and to put a week of really strong decisions and choices to do hard things, to do simple better, to have a mindset for getting ready for a fight, of focusing on the things you can control daily," Aranda said. "I think all that led to tonight."
Despite the hostile environment, the Bears came out and played inspired football. Baylor started off fast and finished strong by holding Kansas State scoreless in the first and fourth quarter. Before the Wildcats could even blink, they were down 17-7 at the half.
However, all of the success came at a cost for Aranda's offense. Baylor's starting quarterback Gerry Bohanon pulled a hamstring in the first half as he was tackled on the sidelines and never returned. Regardless, redshirt freshman Blake Shapen filled in nicely for Bohanon, and the Bears' offense didn't miss a beat.
Shapen managed the game perfectly in Aranda's eyes, and performed like a seasoned veteran behind center. He completed 16 of his 21 passes for 137 yards. Shapen also added 44 yards on the ground with his surprising mobility and that made a big difference to Aranda.
"Blake, in every situation that he has been put in, whether it comes back to spring or fall or throughout just our practices when he rotates through he has rose to every occasion," he said. "There's a real strong belief in him, there's a strong belief with us in him."
Shapen's performance was impressive, considering he didn't get much help from junior running back Abram Smith, who leads the Big 12 in rushing, but finished with 46 yards on 21 carries.
Not only did the Bears run 32 additional plays, but they also outgained the opposition in total yards. Baylor (9-2) nearly doubled Kansas State in first downs and dominated in time of possession. The Wildcats never got into a rhythm on offense because the Bears were so stingy on defense. Baylor held Kansas State to 263 total yards, which was the unit's second-lowest output of the season.
"I think there's times in the first half particularly where we are stuck on blocks, and our eyes are on the quarterback as we watch him take forever to throw the ball," the 45-year old coach said. "I think the ability to focus on what you can control and technique and effort improved in the second half."
Senior linebacker Terrel Bernard finished with a team-high, six tackles. Sophomore defensive end Gabe Hall wreaked havoc off the edge and generated two sacks, plus sophomore Brayden Utley made the quarterback eat grass. Aranda was pleased with how his team persevered and responded in the face of adversity.
Now Baylor needs to beat Texas Tech at home next Saturday and hope Oklahoma State topples Oklahoma, in order to secure that berth in the Big 12 Championship Game. Aranda's squad is going to enjoy their gutsy victory and he admired how they never panicked throughout the clash.
In Aranda's mind, the Bears' performance was a statement to the rest of the league and showed the true character of his players, which he deeply admires.
"It's a culture win, it's a standard win, it's a team win, and I'm proud of our team."