Chris Klieman preparing to send seniors off in style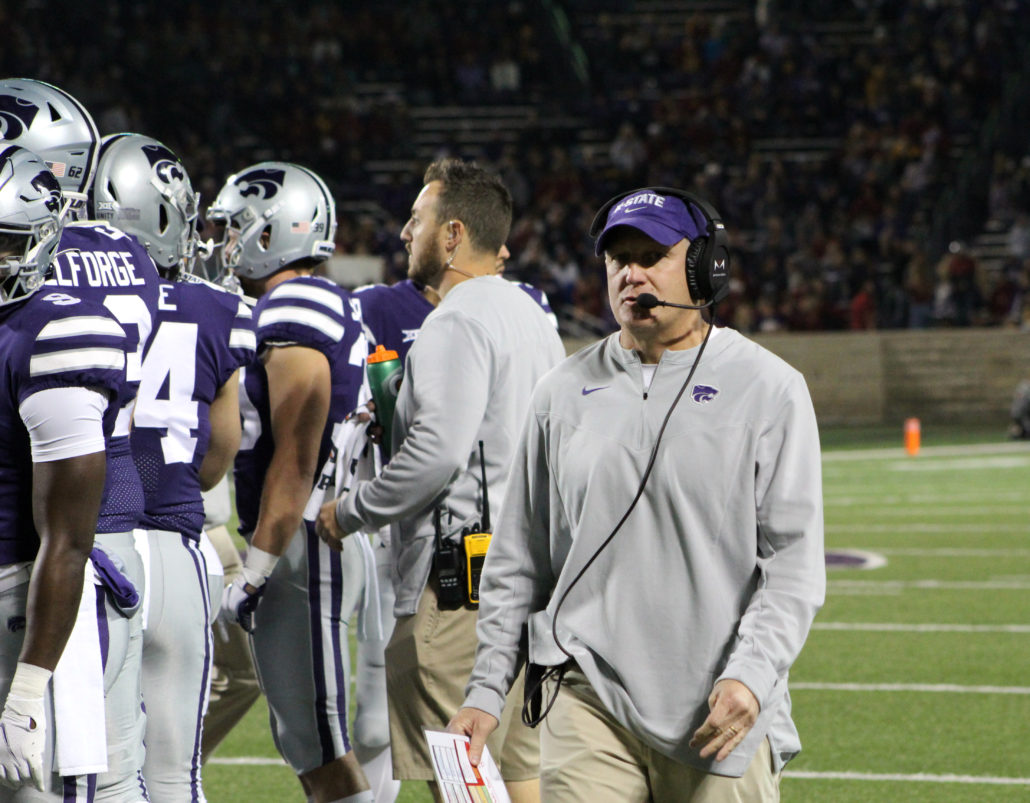 MANHATTAN, Kan. — He's making tremendous strides in his third year with Kansas State and approaching the most sentimental Saturday of the season.
Chris Klieman has the Wildcats looking like one of the hottest teams in the Big 12 over the past four weeks. After all, Kansas State is riding high on a four-game win streak and could very well finish the month of November unscathed. The Wildcats haven't won five-straight Big 12 games since 2012, and this weekend is the perfect opportunity for them to accomplish that feat.
It just so happens that Saturday's matchup with Baylor is going to be Senior Day, and Klieman has potentially 32 on his roster coming out. Players like quarterback Skylar Thompson, linebacker Cody Fletcher and defensive back Reggie Stubberfield have built their own legacies with the program over the years.
They all could've left after last year's 4-6 campaign, but decided to return and now it's all paying off. Most of them are looking forward to playing one last time in front of the fans at Bill Snyder Family Stadium. So Klieman wants to send his seniors off on a high note in front of the purple and white faithful.
"All those guys, for different reasons, came back, some because they wanted to play with their buddies one more time, some because they have aspirations of playing at the next level, some just love the game," Klieman said. "But most importantly, they all love K-State football."
Thompson has been performing at an All-Big 12 caliber level during the Wildcats' win streak. The Missouri native has 920 passing yards, four touchdown tosses and one interception during that span. Thompson is making others around him better. His supporting cast has been phenomenal, including running back Deuce Vaughn, who's a Doak Walker Award semifinalist.
Not to mention Kansas State has scored 31 or more points over its' past three games. On the other side of the ball the Wildcats have been making noise also. Kansas State is No. 2 in the Big 12 against the run and third in the league in total yards allowed. A big reason for the unit's success is from the play of defensive end Felix Anudike, who's been wreaking havoc on ball carriers off the edge.
Everything has come full circle for Klieman's team at the right time. He's been putting his players through an intense week of practice, and is expecting it all to pay off on the gridiron Saturday against the Bears.
"I think the bigger thing that I've always tried to look at is if you're not going out there for Senior Day, it's your duty – you have to honor these guys with your play," he said. "You have to honor these guys with your preparation throughout the week."
Baylor (8-2) is coming off a monumental upset over Oklahoma last Saturday, so Klieman won't be taking the team from Waco lightly. All of the Wildcats are dialed in for the clash and Klieman is anticipating a physical battle. It just so happens that Kansas State (7-3) lost on Senior Day last year, and the players are trying to change that narrative this time around.
With so many leaders on the team and loyal fans in the stands, Klieman is expecting an electric gameday atmosphere, despite it being a very emotional one. He want his players to put on a performance that everyone can be proud of. In Klieman's eyes it's only right that his staff put together a great game plan for all of the blood, sweat and tears the seniors have put in throughout their careers.
"I'm hopeful we're going to have a nice day on Saturday that a bunch of K-State nation comes out and celebrates the seniors one more time."