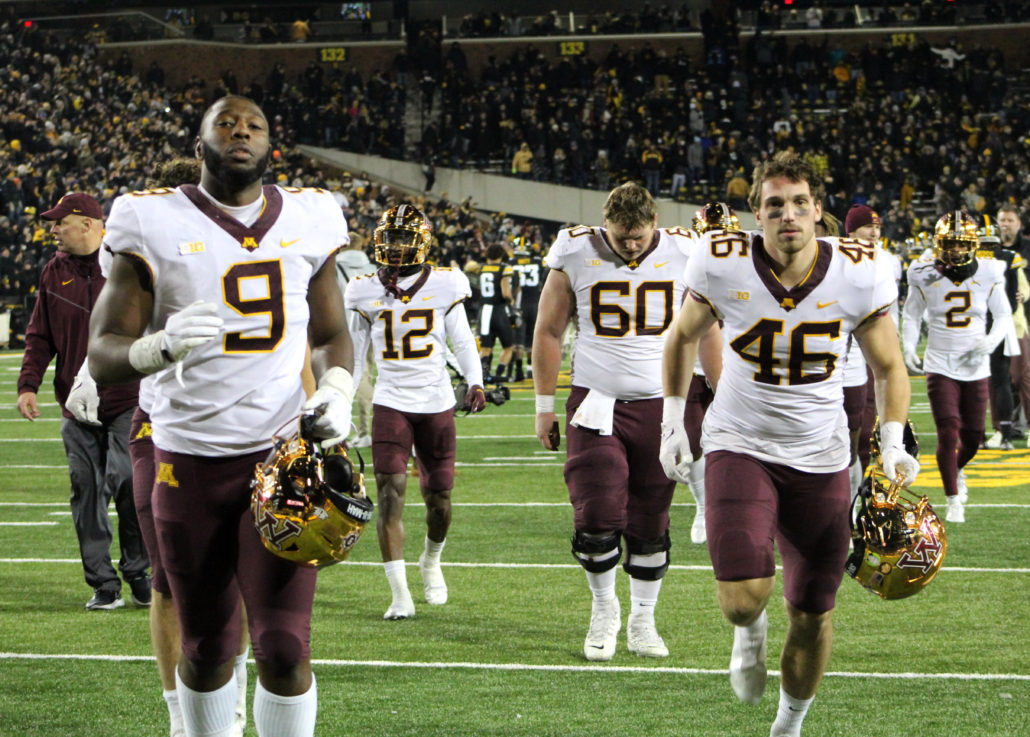 IOWA CITY, Ia. — Minnesota is no longer in control of its' own destiny after losing at Iowa Saturday.
The 27-22 setback was the Golden Gophers' six-straight loss to the Hawkeyes. Not to mention Minnesota hasn't won in Iowa City since 1999. The Golden Gophers' shortcomings left Coach P.J. Fleck very frustrated, considering his team led in total yards, time in possession and first downs.
It was a humbling experience for the 40-year old because he's 0-5 head-to-head against Kirk Ferentz. Now Fleck has to pick up the pieces for Minnesota's remaining two games of the regular season.
"This is what Big Ten football is like in November, and I told our team I'm really proud of them, not for the outcome, but the way they played," Fleck said. "Since I've been here I don't think we played Iowa like that, and again there's no moral victories, I mean who cares, but I care."
The near sold out crowd at Kinnick Stadium made it a hostile environment for the Golden Gophers and their undermanned offense took what the Hawkeye's gave them. Quarterback Tanner Morgan completed 14 of his 30 passes for 183 yards and a touchdown. Morgan connected with senior wide receiver Chris Autman-Bell for a 68-yard touchdown pass in the fourth quarter. It was the signal caller's  first touchdown pass since the Nebraska game.
Fleck also let sophomore quarterback Cole Kramer take some snaps behind center, and he hooked up with senior tight end Ko Kieft for a 37-yard touchdown pass in the second quarter. Although Minnesota was without its' top-three rushers for the game, freshman running back Ky Thomas had a promising performance.
Thomas displayed workhorse capabilities, and carried the ball 29 times for a game-high, 126 yards on the ground. Autman-Bell also finished with a game-high, five catches for 109 receiving yards. Fellow wideout Michael Brown-Stephens had four receptions for 52 yards.
Minnesota even led by three at halftime, but it wasn't enough. The Hawkeyes responded with a 72-yard touchdown pass from Alex Padilla on the first play of their initial drive of the second half, and never looked back. Still, Fleck thought his squad was resilient and battled back. The Golden Gophers just couldn't deliver in the clutch when it mattered the most.
"Both teams had incredible plays, it came down to the wire and anybody could have won that football game," he said. "In November when you're playing teams like that, especially rivalry games, anybody can win and that's what it's all about."
On the defensive side of the ball Minnesota held Iowa's offense to 277 total yards. Still, it wasn't enough by any means. The Golden Gophers front seven couldn't get any penetration in the Hawkeyes' backfield and they didn't generate any sacks, which turned out to be the difference.
Veteran linebacker Jack Gibbens led Minnesota (6-4) with eight total tackles. Fleck could've used more turnovers from the unit. Now it's back to the drawing board for Fleck as the Golden Gophers search for ways to end their two-game losing streak.
There's still a lot of football left to be played and nothing is set in stone. Everyone on the roster from the players to the coaching staff has to hold themselves accountable to move forward though. Fleck understands that more than anyone, because he knows first hand that almost doesn't count.
"It's the next step, we got closer and you got to get closer before you can get over it."