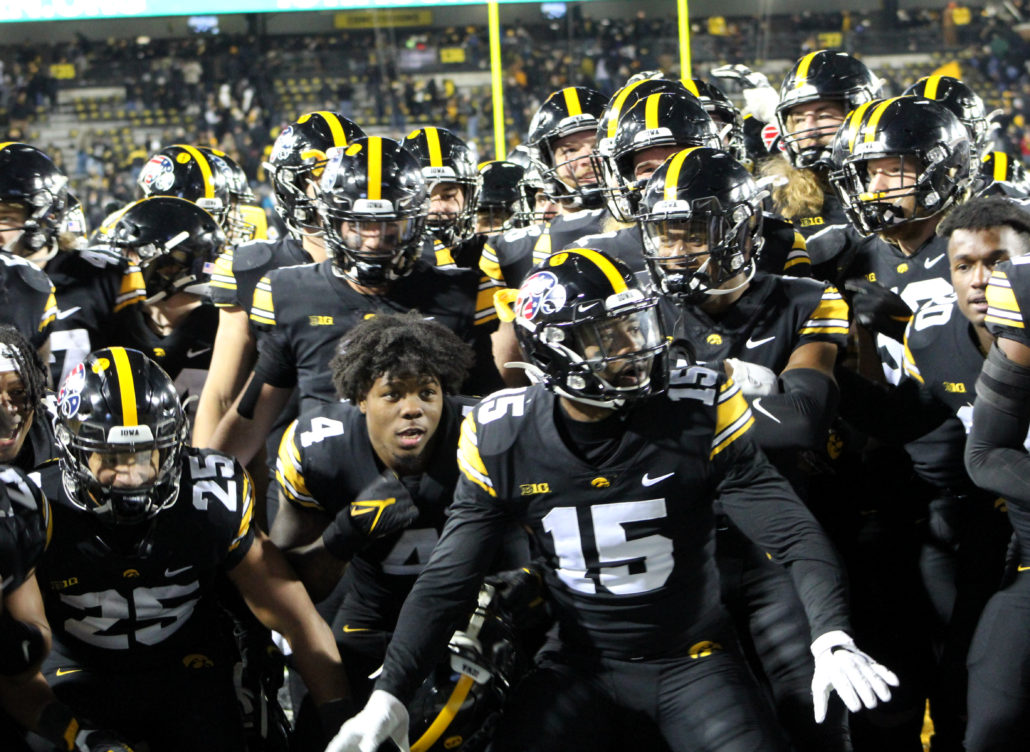 IOWA CITY, Ia. — Kinnick Stadium continues to be a house of pain for the Golden Gophers.
There's no denying that after Iowa's 27-22 victory over Minnesota Saturday night. It was the Hawkeyes' seventh-straight win over their rival and now the Golden Gophers have lost 10-straight in Iowa City. The crowd of 69,250 ignited as the Iowa players hoisted the Floyd of Rosedale trophy and exited the field.
After all, Hawkeye fans have a lot to be proud of, considering their team has eight wins on the year, Kirk Ferentz is 5-0 head-to-head against P.J. Fleck and their opportunity for a berth in the Big Ten Championship Game is still alive.
"Our guys did a heck of a job, obviously I'm really happy to get the win," Ferentz said. "Our guys worked hard, each and every week it's about improving, trying to get better and moving forward."
Although Minnesota (6-4) outgained Iowa in yardage, generated more first downs, led by three at halftime and dominated in time of possession, it still wasn't enough to pull off the upset. Sophomore quarterback Alex Padilla finished with a solid performance in his first career start. He didn't have a great completion percentage, but threw for 206 yards and scored three total touchdowns.
"Going out there in the first half, seeing the entire crowd in Kinnick for my first start, I was just super excited," Padilla said. "Couldn't imagine being in this position when I was a kid, but it was something I have always dreamed of."
Padilla connected with senior wide receiver Charlie Jones on a 72-yard touchdown pass early in the third quarter, which put the Hawkeyes ahead the rest of the way. Junior running back Tyler Goodson led the team in rushing, with 59 yards on the ground. Junior tight end Sam LaPorta hauled in a team-high, three passes, and Jones finished with 106 receiving yards.
On defense Iowa allowed some explosive plays, but came up huge in the clutch. Minnesota freshman running back Ky Thomas had a solid outing and finished with a game-high, 126 rushing yards. Not to mention senior wideout Chris Autman-Bell caught five balls for 109 yards and a score.
However, the Hawkeyes' defense never let the Golden Gophers' quarterback get into a groove, and made adjustments at the right time. Senior Tanner Morgan only completed 14 of his 30 pass attempts, and was sacked twice. Despite Minnesota's losing effort, Morgan was able to throw his first touchdown pass since the Nebraska game.
The signal-caller was just frustrated that he couldn't carry his team to the finish line. Junior linebacker Jack Campbell was active throughout and racked up a game-high, 17 total tackles, plus senior edge rusher Zach VanValkenburg added 10 stops, including three for loss and a sack.
"We were doing a good job on the run especially in the first half," VanValkenburg said. "In the second half it came down to first and second downs, not allowing them to have third and short things like that."
Even special teams got in on some of the action for Iowa. Senior kicker Caleb Shudak nailed both of his field goal attempts on the afternoon, including a 50-yarder. Sophomore Tory Taylor, who's the reigning Big Ten Punter of the Year, averaged 45.6 yards per boot. The packed crowd also went into a frenzy when Iowa blocked a Minnesota field goal.
Overall Ferentz thought it was a great team effort in all three phases of the game. The 66-year old coach was proud all of the Hawkeyes' hard work through an intense week of practice paid off. Now the team has a ton of momentum for their remaining two games of the regular season.
"All of those things are important if you're going to win, and these games are physical, tough, and that's what you expect in this conference, it's what you expect in November."