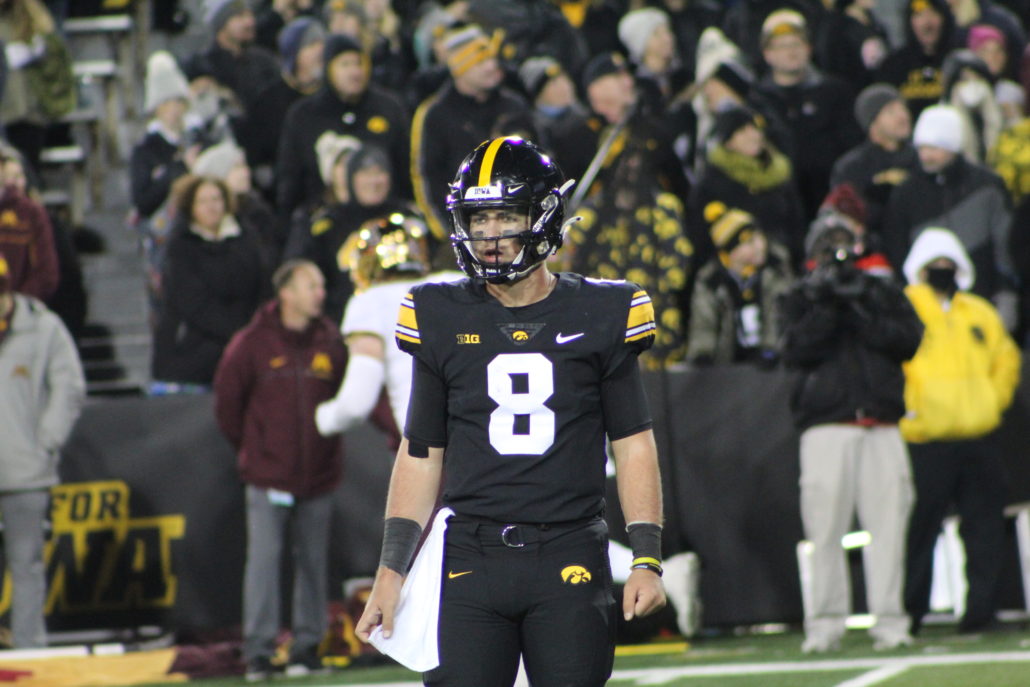 IOWA CITY, Ia. — Iowa's sophomore quarterback gave fans a taste of his capabilities in the win over Northwestern.
Having that success behind center created some buzz for Alex Padilla, and he rode that wave of momentum to his first career start. The Colorado native didn't disappoint in front of a near sold out crowd at Kinnick Stadium either. Padilla performed like a seasoned veteran and led Iowa to a hard-fought victory over rival Minnesota.
He took Iowa's offense by the helms, threw for 206 yards and scored three total touchdowns. What impressed many about Padilla's performance, was the fact that he did a lot of damage to a Golden Gophers' defense that's No. 7 in the country in total yards allowed.
Thousands of Hawkeye fans watched the signal-caller throw two second half touchdowns. One was a 72-yarder to Charlie Jones on the first play of Iowa's initial drive of the third quarter. The other was a 27-yarder to Keegan Johnson with under six minutes left in the fourth quarter. Padilla loved every second of hearing the fans cheer after those two scores and was proud of his solid effort.
"To be able to play with my brothers, that is the biggest reason why I live playing this game, it's the ultimate team sport," Padilla said. "To get a win like this in front of our home crowd, with the black-out, it was an awesome atmosphere."
All week Padilla's phone was blowing up with an outcry of support from family and friends. They were all wishing the former three-star prospect luck, and he didn't feel any pressure leading up to the matchup. Having that moxy solidified he's not afraid of the spotlight.
Although Padilla didn't have a great completion percentage against the Golden Gophers, the rest of his teammates were able to feed off of his energy. Coach Kirk Ferentz thought Padilla had full command of the offense, especially in the second half. In his eyes the Hawkeyes became stronger as the game went along.
"I thought he (Padilla) did a really good job, he made some really good throws," Ferentz said. "Good decisions with the ball security part, played clean football."
Ferentz emphasized how Petras could've played on certain downs and situations, but he thought it was best to just stick with Padilla throughout the afternoon. After all, great quarterbacks make others around them better, and Jones and Johnson stepped their game up in Padilla's arsenal attack.
"We thought there would be some favorable coverages for us to take some shots on," he said. "Our guys ran well, the offensive line blocked really well and made my job super easy."
Now Iowa (8-2) is in a great position approaching the last two games of the regular season. Win those and anything can happen for the Hawkeyes. Wisconsin would need to lose one of its' final two contests, in order for Iowa to secure its' second-ever berth in the Big Ten Championship Game.
As of now Ferentz has two quarterbacks capable of getting the job done. In no way shape or form is their a quarterback controversy or any drama that will divide the locker room. So Ferentz plans on going with whoever has the hot arm at the moment and that's Padilla.