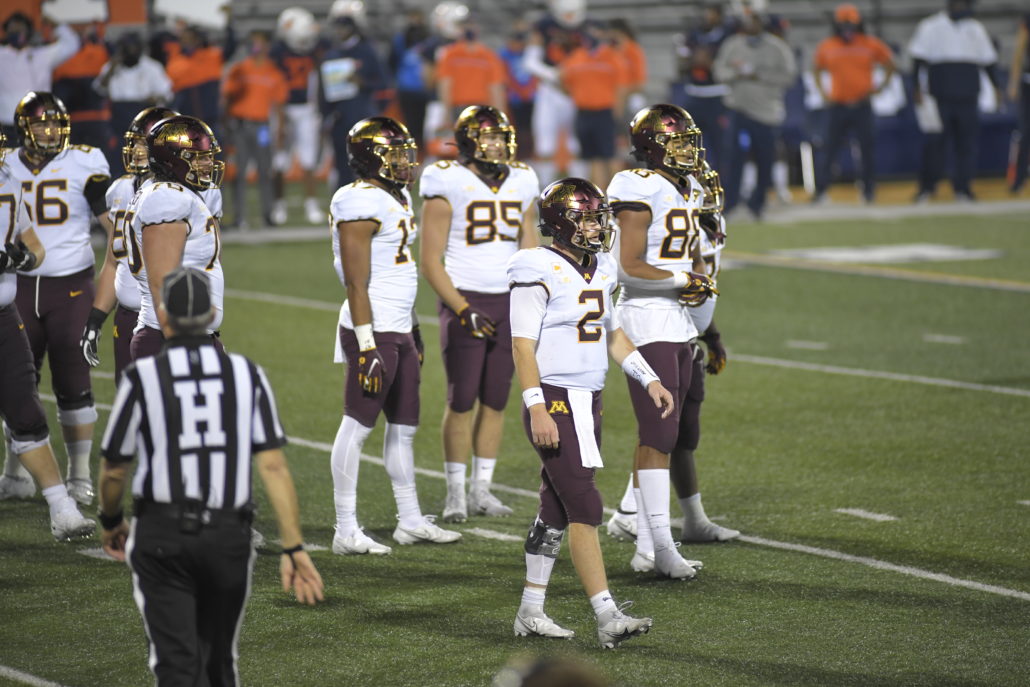 Last week the Golden Gophers were riding a four-game win streak and sat atop the Big Ten West.
That was until Minnesota's head-scratching loss at home to Illinois. Now P.J. Fleck's team is 4-2 in conference play, just like Wisconsin, Purdue and Iowa. However, if the Golden Gophers can win their remaining three contests, they'll clinch their first-ever berth in the Big Ten Championship Game.
That's easier said than done though. Luck hasn't been on Fleck's side this fall, considering the Golden Gophers are without their top-three running backs because of injuries. Everyone knows pounding the ball is how Fleck rows his boat, but having no Mohamed Ibrahim, Treyson Potts and Bryce Williams in the backfield, has made Minnesota's offense predictable.
Now Fleck is down to just two running backs on scholarship. Not to mention it has put more pressure on quarterback Tanner Morgan, who's been in a funk lately, with no touchdowns passes and three interceptions over the past three games.
What has helped Minnesota (6-3) is its' stifling defense. The Golden Gophers are allowing 18.8 points per game, which ranks 15th in the FBS. Not to mention the unit has been stingy against the run and ranks 14th in the nation in rushing defense.
That's because up front the Golden Gophers have one of the best defensive ends in the league in Boye Mafe. He's been wreaking havoc off the edge for Minnesota and has six sacks this season. Minnesota's defense has held six of its' last seven opponents to under 17 points, including a shutout victory at Colorado.
The defense will need to crank up the intensity the rest of the way, especially with the offense being somewhat limited.
The good news is the Golden Gophers are undefeated on the road this season. The bad news is Minnesota is traveling to Kinnick Stadium this Saturday to take on rival Iowa, and hasn't won there since 1999. The Hawkeyes have won six-straight over the Golden Gophers and Kirk Ferentz is 4-0 head-to-head against Fleck.
Still, there's no denying this game is a must-win for the Golden Gophers if they plan on moving a step closer to clinching the West. In order to accomplish that, Fleck is going to need better play from Morgan, but he has a limited supporting cast. It's going to be a tall order for Minnesota's offense to run the ball effectively against Iowa's defense.
The Hawkeyes are currently second in the Big Ten and eighth in the FBS at stopping the run, and have only allowed seven touchdowns on the ground. The matchup is going to come down to which version of Minnesota's offense is going to show up. If it's the unit that was abysmal in losses to Bowling Green and Illinois, Fleck may be in for a long afternoon.
Iowa (7-2) has been struggling on offense and will be without quarterback Spencer Petras, who started the last 17 games. Alex Padilla will be making his first career start and the Golden Gophers' defense will have to get after the young quarterback in order to have a chance.
There's a lot at stake for Minnesota in this year's version of the battle for Floyd of Rosedale, and it's shaping up to be a defensive slugfest, with the first team to 17 points coming out victorious.