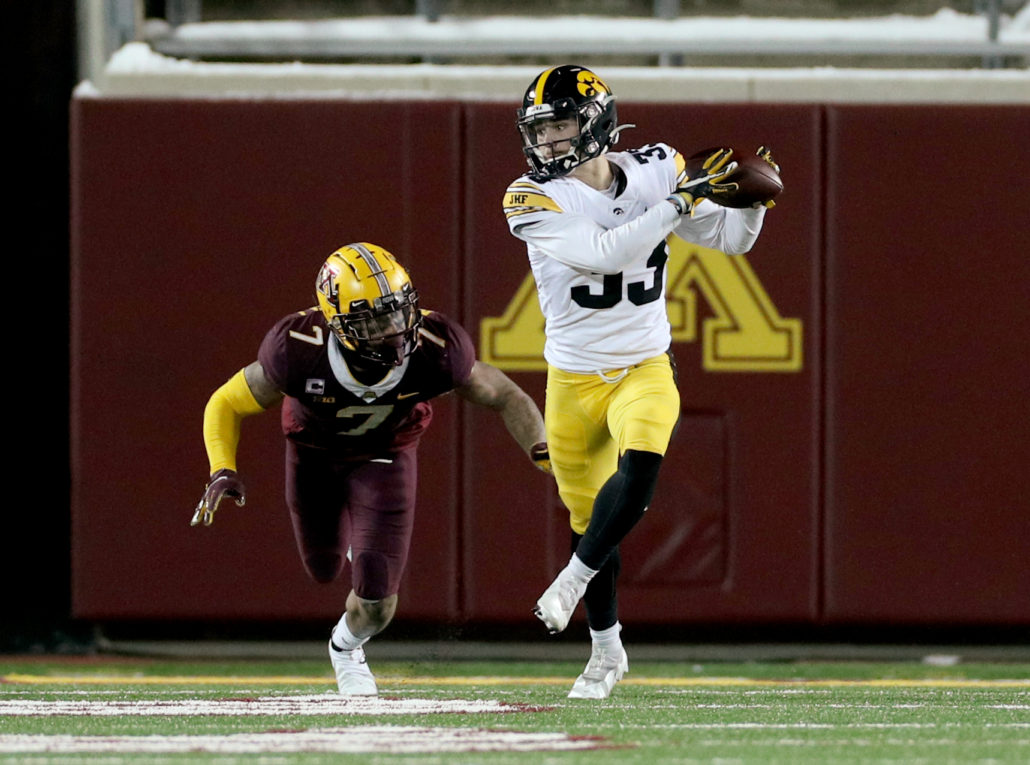 IOWA CITY, Ia. — One of the most exciting defenders in the country will be returning to the gridiron this Saturday.
Iowa's star cornerback Riley Moss has been sidelined with a knee injury since the Penn State game. Moss was tied for first in the Big Ten in interceptions up to that point. Which is why Coach Kirk Ferentz is hoping Moss can return to that form to help the Hawkeyes the rest of the way.
The Iowa native is a flat-out ballhawk, who can blanket his entire side of the field. Having his presence back in practice brings a smile to Ferentz' face, considering he's witnessed Moss' journey. Not to mention the former two star-prospect was performing at an All-Big Ten level.
Having Moss back in the lineup brings instant credibility to Iowa's secondary. Several times this season the offense has struggled and the Hawkeyes had to lean on their attacking defense and Ferentz is expecting Moss to make an immediate splash this weekend.
"Unless we hit a pothole along the way he'll be full throttle Saturday," Ferentz said. "Anytime you're getting guys back that's a helpful thing especially veteran players like Riley."
There's no denying what Moss means to the Hawkeyes' defense, especially after they lost two of their last three games during his absence. Ferentz knows Iowa's last three contests will be crucial if his team has any hopes of making it to the Big Ten Championship Game.
Moss is coming back at the right time against Minnesota. He even tallied three solo tackles and picked off a pass in last year's game against the Golden Gophers. With quarterback Alex Padilla making his first career start, Ferentz is counting on his defense to to carry the load.
"We'll take anybody back we can get, especially a veteran player like him, but he's feeling pretty good right now," he said.
Iowa, Minnesota, Purdue and Wisconsin are all 4-2 in conference play, so a lot is at stake in the Battle for Floyd of Rosedale. Iowa (7-2) has won six straight over Minnesota and Ferentz is 4-0 head-to-head against P.J. Fleck. What's mind-boggling is the fact that the Golden Gophers haven't won at Kinnick Stadium since 1999.
Quarterback Tanner Morgan has been struggling lately, with no touchdown passes and three interceptions over Minnesota's last three games. The Golden Gophers are also without their top-three rushers on offense. That means there'll be a lot of pressure on Morgan and he has a limited supporting cast.
Iowa's defense ranks second in the Big Ten and eighth in the FBS against the run. Ferentz will likely stack defenders in the box to stop the run and make Morgan beat Iowa with his arm. And that's when Moss and the secondary comes into play.
Moss and the rest of the Hawkeye defenders have to be licking their chops in practice this week, knowing they'll have favorable matchups against the Golden Gophers. Everyone is glad to have Moss back in practice this week, which has been an intense one. Moss brings experience, production and leadership to the table, so Ferentz expects his players to rally behind him.
"Just seeing him out there is good, it's really good."