Jahan Dotson psyched up to play Michigan at home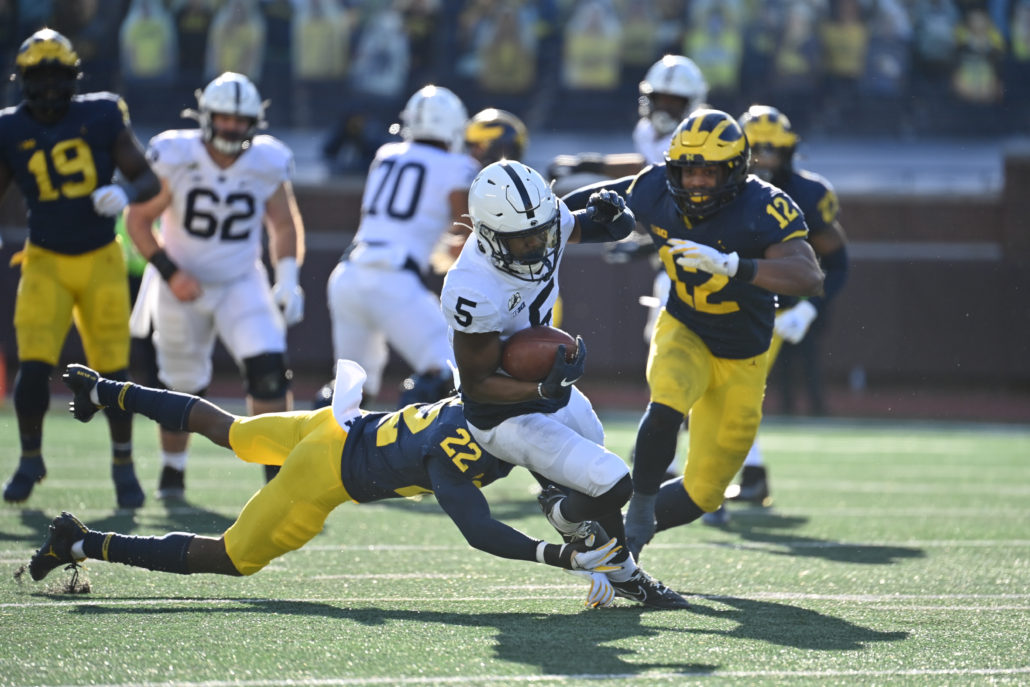 UNIVERSITY PARK, Pa. — Penn State's star wide receiver is coming off the best performance of his career, and he's trying to keep the momentum going at Beaver Stadium this Saturday.
Jahan Dotson raised eyebrows across the Big Ten when he hauled in 11 passes for a jaw-dropping, 242 yards and three touchdown catches in the win over Maryland. Not to mention Dotson was named the Big Ten's co-Offensive Player of the Week for his heroics.
Now the New Jersey native will be facing his biggest test of the season when Penn State hosts Michigan this weekend. After all, the Wolverines have one of the best secondaries in the country. Michigan's defense is second in the Big Ten and eighth in the FBS in passing yards allowed.
The monster matchup doesn't bother Dotson though. He's been playing out of his mind and looking forward to taking it to the Wolverines. Penn State fans are anxiously awaiting to see what the stud wideout can do for an encore. And Dotson doesn't want to disappoint.
"Any opportunity we get to play at home in front of our fanbase, in front of our crowd, is an exciting moment and something I always look forward to," Dotson said. "We have a very tough opponent, which makes it even more fun, knowing Michigan is a very good football team this year, coming to our house."
In last year's game at the Big House, Dotson was limited to three catches and kept out of the endzone. Dotson didn't mind taking a backseat because his team won. However, he's definitely trying to change that narrative this time around.
He has the speed to stretch the field on any defense. Dotson also understands that Michigan Defensive Coordinators Mike Macdonald and Maurice Linguist will likely have him double covered. Still, catching the ball in double coverage is nothing new Dotson. The 5-foot-11, 184-pounder has the athleticism to outjump defenders.
Quarterback Sean Clifford has a knack for putting the ball where only Dotson can get it. Which is why the 21-year old is licking his chops approaching the clash.
"It's going to be a really exciting test for us, it's going to test our football team," he said. "I'm just happy we got back on the winning track last week, and hopefully we'll go 1-0 this weekend."
The Nittany Lions have lost eight-straight games to top-10 opponents. The ninth-ranked Wolverines are clearly one of the best teams in the Big Ten East this fall, so Dotson and his teammates desperately want to end that streak. Michigan (8-1) is still alive in the Playoff race, but needs to win out to get consideration.
Penn State (6-3) will have around 107,000 fans packed in the venue for the early kickoff. It's going to be a hostile environment. Dotson is expecting the 12th man to be a factor and a victory for the 23-ranked Nittany Lions. So the former four-star prospect is ready for an intense week of practice in order for his team to deliver some postive results on the gridiron.