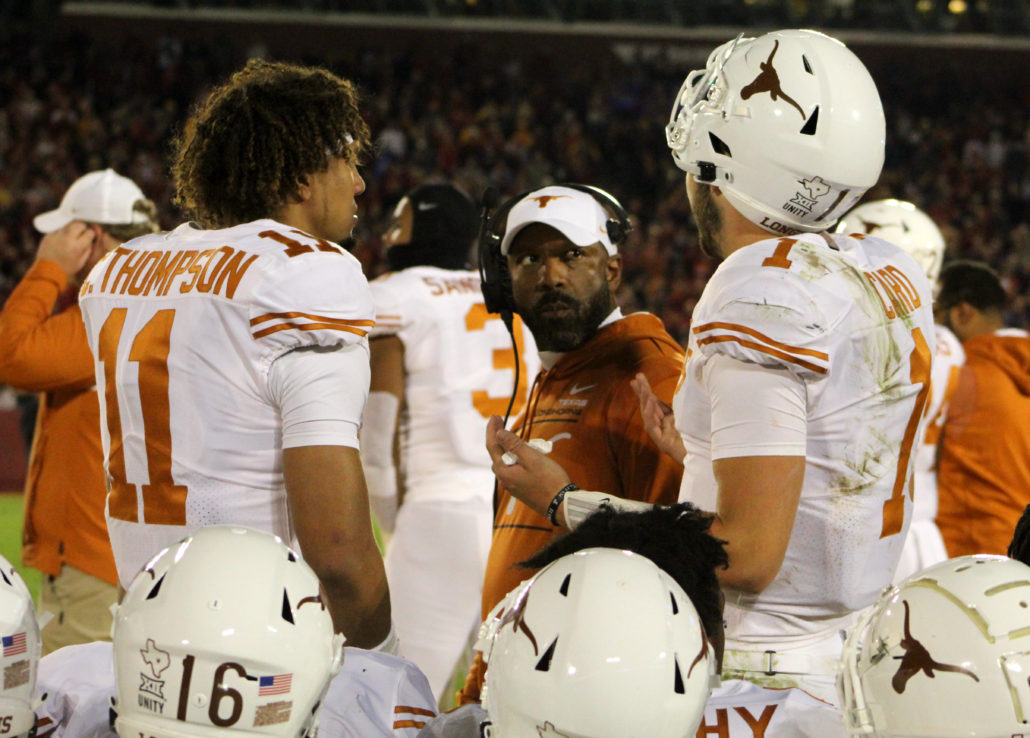 AMES, Ia. — Texas' freshman quarterback threw for 101 yards and a touchdown in Saturday's loss at Iowa State.
Hudson Card completed 14 of his 23 pass attempts, which were the most by the signal-caller since the Longhorns' season opener. However, Texas' offense struggled mightily the entire night. The unit finished with 207 total yards, only generated 11 first downs and scored a mere seven points.
Those pedestrian numbers were the Longhorns' worst of the season, and Card understands it's something that must improve if they want to make it to a bowl game. The former four-star prospect did orchestrate a 14-play, 78-yard touchdown drive in the second quarter. Everything looked promising during that drive, but the Longhorns couldn't sustain any momentum after that, and came out flat in the second half.
"At the end of the day we just didn't play well enough, but we have a good squad in that locker room," Card said. "We're going to continue to fight, get better and that's all I know what to do when times get down like this, so that's what we're going to do."
It didn't help Texas' offense that star running back Bijan Robinson suffered a neck injury in the second half and didn't return. Not to mention stud receiver Joshua Moore was a bit rusty and didn't perform up to his potential after returning to the lineup. It all left Card with no real weapons in his arsenal and a limited supporting cast.
In return Iowa State's defense smelled blood in the water and held Texas' offense scoreless the entire second half. Regardless of the matter, Card was grateful to be back out on the field. He was also proud that Coach Steve Sarkisian gave him another opportunity.
After all, it was the first time since the Arkansas game that the six-foot-two, 200-pound Card took some meaningful snaps behind center. Sarkisian played both Card and Casey Thompson at quarterback, hoping one of them would provide a spark.
It really didn't matter though, because the Cyclones' defense put Card and Thompson to the turf a combined five times, and the Longhorns' offense had several three and outs. That's why Card is expecting an intense week of practice to try to pick up the pieces in preparation for Kansas.
"We're going to have to fight through this adversity, we still all believe in each other, we believe in this team, but we're going to have to put in the work," he said.
For the second time in three years, Texas has five losses, and right now there doesn't seem to be any light at the end of the tunnel. Sarkisian's boys are looking like the underachievers of the Big 12, considering they were ranked in the top-15 in September.
Card is hoping some leaders will emerge and hold the rest of the players accountable. There's a sense of urgency to get back on the winning track too, because the Longhorns have lost four-straight conference games for the first time since 2010.
"We have to learn from it and try to get better, but I think everyone in that locker room is sticking together," the Austin native said. "Just try to block out everything else, really focus on ourselves and fight through adversity, because that's the only thing you can do when times get rough."
The worst team in the Big 12 is up next for the Longhorns, but the players can't afford to overlook the Jayhawks, even at home. It's still any given Autumn Saturday, plus Kansas (1-8) played Oklahoma down to the wire a couple of weeks ago, so Texas (4-5) will need to be ready.