Breece Hall bothered by injury to Bijan Robinson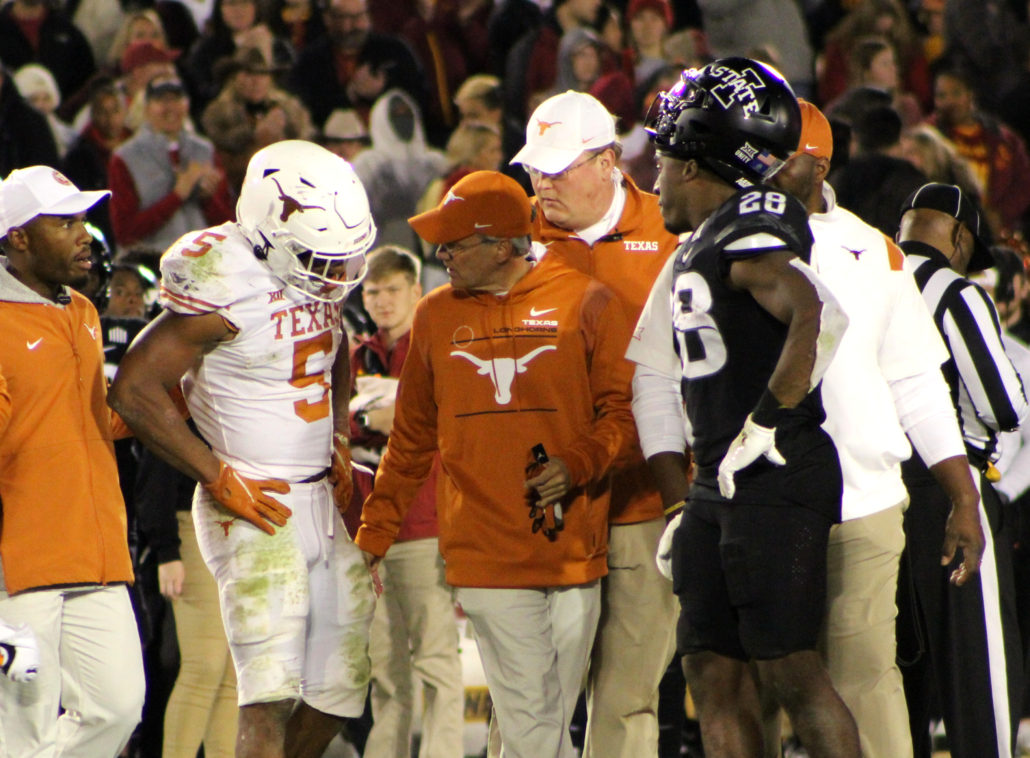 AMES, Ia. — When Bijan Robinson didn't get up after he fumbled the ball in the fourth quarter Saturday against Iowa State, Breece Hall rushed onto the field in concern.
Despite the fact that the two running backs play for different teams, they're good friends off the field. Which is why it's no surprise Hall was out there next to Robinson as everything unfolded. Luckily for Texas, Robinson was able to walk off the field on his own, but he did suffer an injury to his neck, in what Coach Steve Sarkisian described as a stinger.
The sold out crowd at Jack Trice Stadium fell silent as it all transpired. Hall was relieved that it wasn't anything too severe and he made sure his boy was alright before he returned back to the Cyclones' sideline.
"I just asked him (Robinson) if he was good, and he shook his head yeah," Hall said. "I gave him a handshake and that was that."
Hall leads the Big 12 in rushing yards, and Robinson is No. 2. The two have carved up defenses around the league all season long. Both would've went over 100 yards rushing Saturday night if Robinson never left the game. He finished with 90 yards on the ground and caught a team-high, eight passes.
It was the sixth time this season Hall eclipsed the century mark in rushing. Both Cyclone and Longhorn fans were eager to see the two rushers face off on the gridiron. Hall later admitted that he was anxious to see how Robinson fared against Iowa State's stingy defense.
The Kansas native thought Robinson held his own early on, considering he rushed for 65 of his 90 yards in the first half. However, the Cyclones were able to contain him for the final two quarters. Although he didn't have the performance everyone expected, Robinson still impressed Hall.
"I think me and him are the two best backs in College Football," he said. "So I hit him up a lot via Instagram, and we contact each other a lot after every game."
Hall is a year older, so he always try to provide Robinson with the best advice, regardless if it's a positive or negative situation. He already considers himself a role model to the youngsters, and Hall takes pride in leading by example. Hall just wants to be there for Robinson any way he can, like all people he's close to.
"If he has a good game I always congratulate him, if he has a tough game I just tell him to keep being himself, everything happens for a reason," the 20-year old said. "He's going to bounce back, so it's real mutual love and I have a lot of respect for him."
The two are on a crash collision course to see who ends up as this year's Big 12 rushing champion. Right now it's too close to call, but will become more intense depending on how swiftly Robinson can return to the Longhorns' starting lineup.