Why Klieman anticipated Deuce Vaughn's success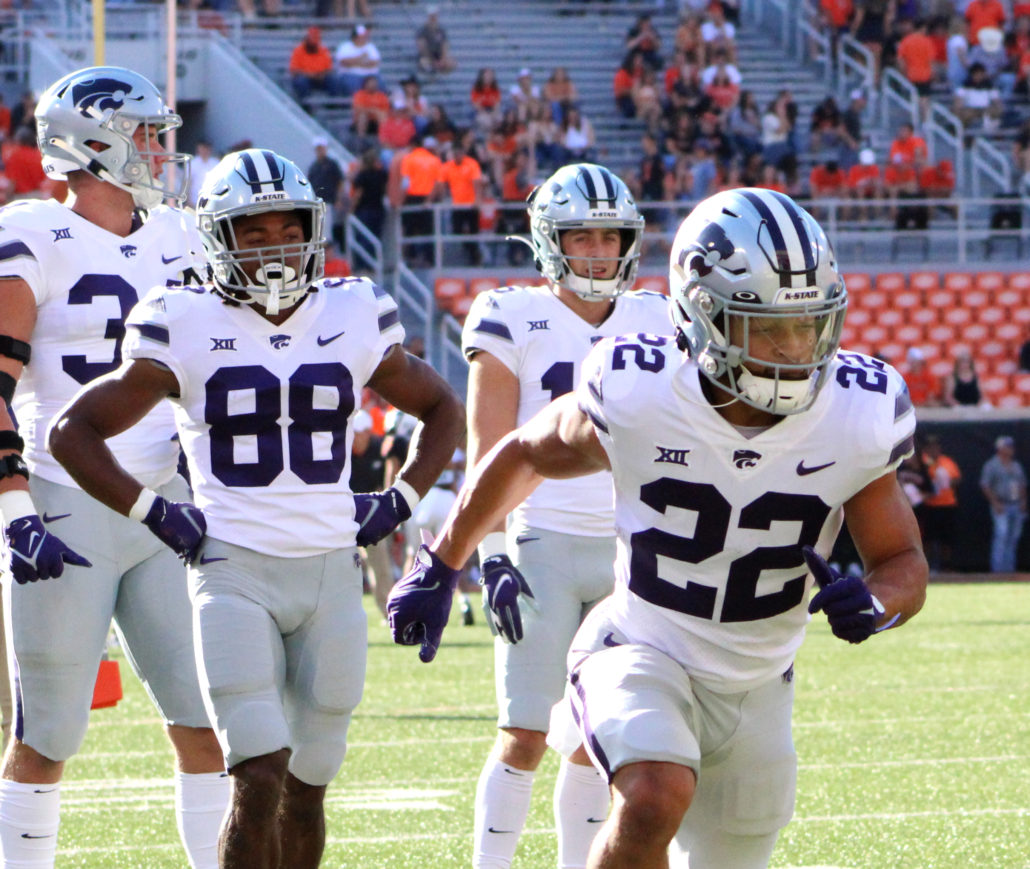 MANHATTAN, Kan. — Kansas State's true sophomore running back continues to show why he's one of College football's most dangerous weapons.
Deuce Vaughn is coming off his fifth 100-yard rushing performance in last week's win over Kansas, and Coach Chris Klieman expects him to have a couple more before the season is over. After all, his 162 yards on the ground and three touchdowns were both season-highs.
None of it comes as a surprise to Klieman though, because he has witnessed Vaughn's journey from being a former three-star prospect, to the Big 12's Offensive Freshman of the Year in 2020. Now Vaughn has notoriety, with eight 100-yards games in his career, plus his 12 rushing scores this fall ranks second in the conference behind Iowa State's Breece Hall.
"After watching him in his first fall camp here, he had that 'It' factor, that special ability," Klieman said. "The more he got the ball in his hands, the more he was around our system and understood how he fit in the framework of our offense, the more we were able to utilize him."
It's no mystery to College football fanatics that Vaughn is one of the most versatile rushers in the country, who can hurt defenses in several ways. Despite standing only five-foot-six and weighing 173 pounds, Vaughn is elusive enough to make defenders miss, and has the speed to take it to the house from anywhere on the field.
However, it's Vaughn's soft hands that separates him from the rest of the rushers around the league. Not to mention he has caught 33 passes for 392 yards and three touchdown receptions over the Wildcats' last six games. Klieman has been astonished by it all, but he's knows Vaughn has put in the work to have success on the gridiron.
"Nothing that Deuce Vaughn does surprises me, and probably shouldn't surprise anybody that's around the kid as much as we are on a daily basis," he said.
The Wildcats have won three-straight games and seem to be hitting their stride now with three games remaining on the slate, including two at home. Klieman emphasized during Tuesday's press conference how having a player like Vaughn in the backfield gives his team a chance to win every game.
Kansas State (6-3) is already bowl eligible and has a chance to win at least 10 games this fall for the first time since 2012 if it runs the table, and is victorious in the postseason. As for Vaughn, Klieman believes he's just getting started and he loves having an individual of his caliber in the locker room.
His teammates feed off of his positive energy. Klieman values, experience, production and leadership, which Vaughn continues to excel in all three categories.
"He just checks every box and it's fun to be around him," the 54-year old coach said. "It's fun to have our young players to see what hard work, preparation and taking care of your body does to have success."
Kansas State will host West Virginia (4-5) this Saturday at Bill Snyder Family Stadium and Klieman is keeping his players all dialed in on the task at hand. The Mountaineers won last year's clash by 27 points, and held Vaughn to 22 rushing yards, so motivation shouldn't be an issue for the Wildcats.