Breece Hall looking like he's the Big 12's top rusher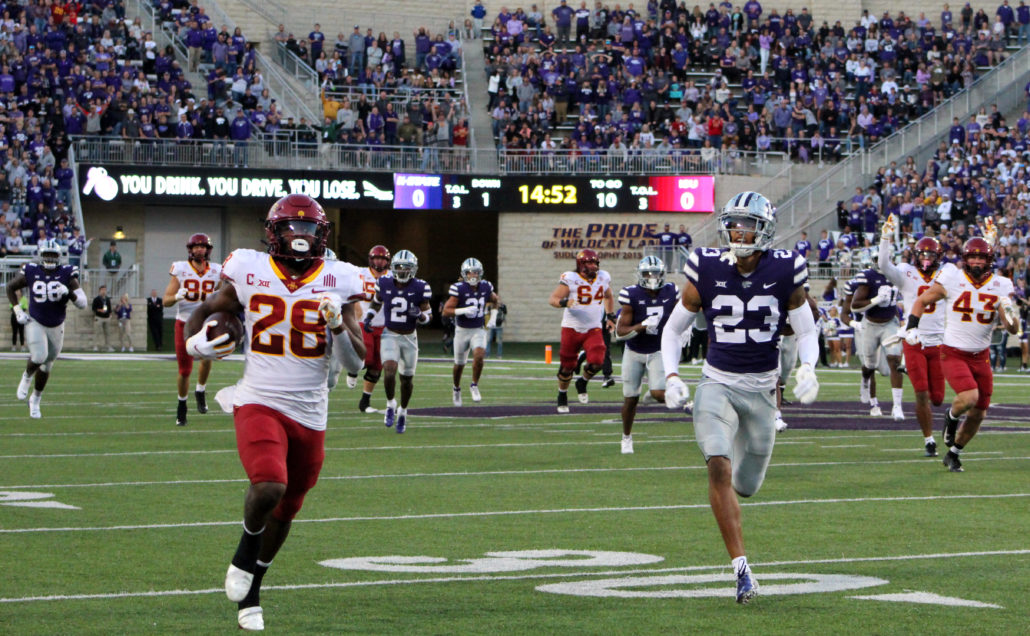 MANHATTAN, Kan. — In a conference full of elite running backs, it's very easy to become a needle in a haystack.
The reigning Big 12 Offensive Player of the Year found that out through Iowa State's first two games. Although the Cyclones' offense got off to a slow start, a light bulb turned on over the past four contests and Breece Hall has been on a tear.
He's coming off four-straight 100-yard rushing performances, and made a statement in the road win over Kansas State. Hall put up workhorse numbers, with 30 carries for 197 yards, which were both season-highs. The six-foot-one, 220-pounder also caught five passes out of the backfield and scored two touchdowns against the Wildcats.
Hall's unforgettable 75-yard touchdown run on the first play of the game ignited Iowa State's sideline, and raised several eyebrows. The rest of the Cyclones' offense fed off his energy and never looked back.
"It was a power play, and it was blocked perfectly because I didn't have to do much, but find a hole," Hall said. "I knew it was going to be a big run because the crowd was real loud when we got out on the field, and they just got quiet suddenly."
It was all too reminiscent of the damage Hall caused to opposing defenses throughout 2020. Now he has finally picked up where he left off and that means bad news for Big 12 defenders. Hall is currently tied for first in the conference, with 10 touchdowns on the ground.
It's mind-boggling that Coach Matt Campbell believes Hall is just cracking the surface on his potential. After all, the former four-star prospect has a jaw-dropping, 16 100-yard games in his career. Hall's success has already gained him national notoriety, especially after he led the FBS in rushing last season. Not to mention College football fanatics view him as one of the best players in the country.
"I still think there are higher levels of excellence that he'll continue to get to, but I think the great thing you see is Breece finding his rhythm," Campbell said. "I think some of those long runs that Breece made is what makes him super special."
Saturday's game was very sentimental for Hall. The All-American is a Wichita native, which is 130 miles from Bill Snyder Family Stadium. Hall had family members, former coaches and highschool friends in the crowd, so he had to represent. There were little kids chanting his name and that made him want to run harder each play.
"This game meant a little more to me, just knowing that this could be my last time playing at home in an ISU jersey," he said. "It just felt good to come back home and know I have a bunch of love and support."
Despite his efforts, Hall didn't think he played a perfect game. There's still more work to be done in the film room and on the practice field. Hall believes everything is trending up for the offense because he trusts his quarterback, the o-line is blocking efficiently and the coaching staff is calling the right plays.
It all has led to the Cyclones playing their best ball in the month of October. That's usually when Iowa State's offense is at its' best. Quarterback Brock Purdy, who Hall's roommates with, is nicknamed 'Brocktober' for a reason. Hall has so much respect for the signal-caller because he watched him persevere through adversity.
Regardless of the matter, the Cyclones have established a lot of momentum on offense and at the perfect time. An undefeated and top-10 Oklahoma State team will invade Jack Trice Stadium this Saturday, and Iowa State (4-2) will have to be ready. Motivation shouldn't be an issued considering the Pokes have won eight of the last nine games against the Cyclones, including the last two.
Hall has an opportunity to solidify that he's the Big 12's top running back by doing what Texas' Bijan Robinson and Kansas State's Deuce Vaughn couldn't, which is beat Oklahoma State.