Skylar Thompson searching for answers after loss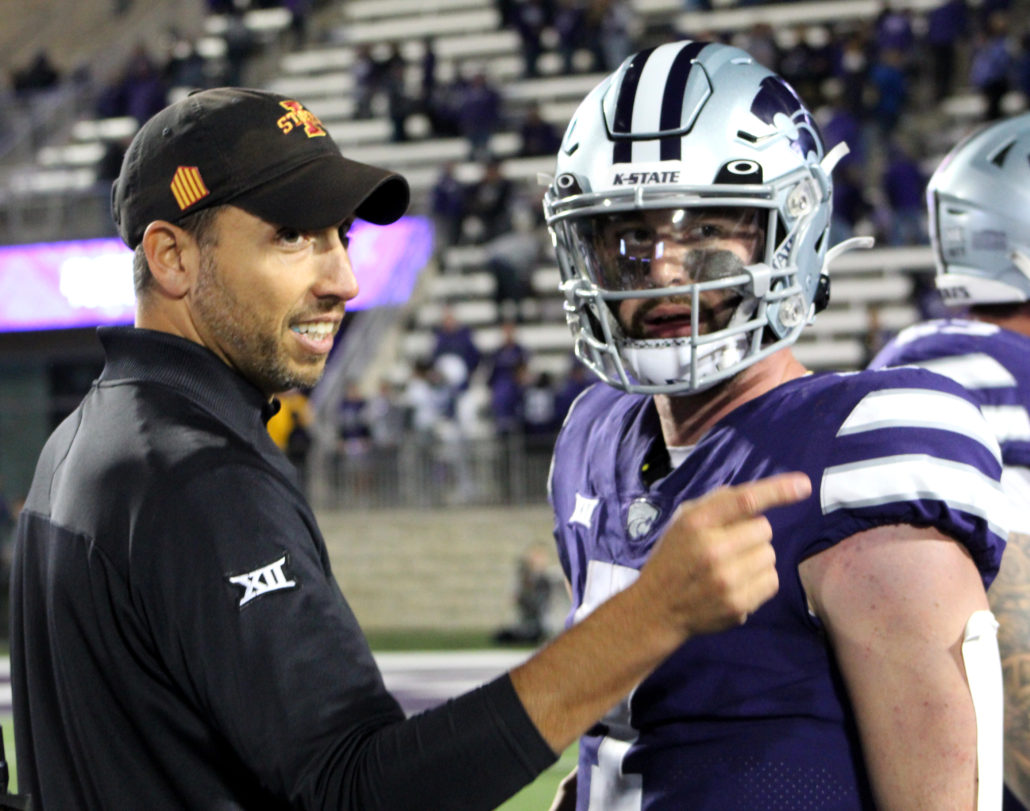 MANHATTAN, Kan. — The Wildcats are reeling after their third-straight loss, but the team's veteran quarterback refuses to let the ship sink.
Skylar Thompson put together a decent performance against Iowa State and tried his best to get his teammates involved. However, the offense came out flat, never established any rhythm and couldn't answer the bell once the Cyclones got into a groove.
Joe Klanderman's defense didn't do much to compliment the offense either and that hit home with Thompson. By the end of the third quarter, Kansas State (3-3) was down three scores. It put pressure on the signal-caller as the team tried to rally back. The Missouri native scored two fourth quarter touchdowns, but it wasn't enough.
Thompson really wanted to carry his team to the finish line and it didn't happen. Kansas State only finished with 342 yards of total offense, the unit's second-lowest output of the season.
Despite a losing effort, everyone on the roster knows how competitive Thompson is and he hates taking that walk of shame back to the locker room. It's always a humbling experience that he'll never get used to. Regardless, it's back to the drawing board for Kansas State's offense.
"Obviously, it's frustrating losing three games in a row," Thompson said. "Everybody on our team needs to look themselves in the mirror and ask themselves, what more can they give, what more can they do?"
It's no mystery that Thompson's mobility was limited against a stout Cyclone defense. Coach Chris Klieman didn't want to run his quarterback too much. After all, Thompson has already missed two games this fall because of an injury. The supporting cast around him didn't provide much help until it was too late.
The Wildcats were already out of their game plan, and the offense became one-dimensional being so far behind. Running back Deuce Vaughn was held under 100 yards rushing and had no touchdowns on the ground for a second-straight game.
Not to mention players at the skill positions never established any consistency. The Wildcats left a bunch of plays on the field, and kicker Taiten Winkel missed his only field goal attempt. Still, in Thompson's eyes, the offenses' lackluster effort is nothing an intense week of practice can't fix. The Big 12's most experienced quarterback understands it's all about paying attention to detail and learning from mistakes.
"Just executing and focusing on our fundamentals and technique and locking into those," he said. "That's the
difference that all 11 guys have to be on the same page to make a play."
Kansas State travels on the road to Lubbock this Saturday to square off with a Texas Tech team coming off a blowout win over Kansas. It's going to take a tremendous effort from the Wildcats' offense to leave Jones AT&T Stadium with a win. The Red Raiders have averaged 46.5 points per game over their last two contests. So Thompson and the Wildcats better be prepared just in case the matchup turns into a shootout.
That's why Thompson is on a mission to build chemistry with his receivers throughout this week in practice and get the rest of the unit on the same page. He wants leaders to emerge and his teammates to have some accountability, just anything to get the ship back on track.
"In order to play mistake free football, all 11 guys have to be in sync and working together," the 24-year old said. "Right now it's just not clicking on all cylinders all the time."
Motivation shouldn't be a factor for Thompson and the Wildcats, knowing they've won five-straight over the Red Raiders.