Wildcats' lackluster effort results in a humbling loss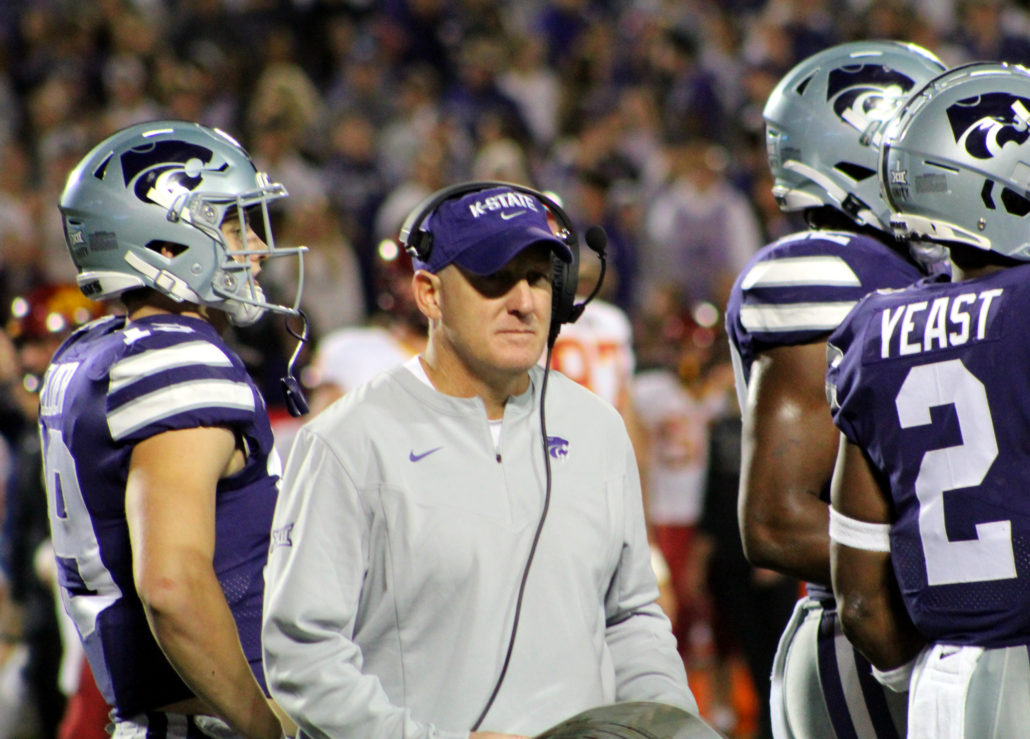 MANHATTAN, Kan. — The Wildcats got off to a slow start, fell behind early and never recovered Saturday night.
Iowa State came out on fire, scored 17 points in the first quarter and stifled Kansas State 33-20 on the road. It was a complete shocker to Coach Chris Klieman, considering the Wildcats were coming off a bye-week. He thought his team would be ready for the matchup.
Instead Kansas State played sluggish for most of the contest. The defense couldn't make many stops and the crowd of 48,363 at Bill Snyder Family Stadium was never a factor. It didn't help that the Wildcats gave up a 75-yard touchdown run on the first play of the game.
It was a sign of bad things to come throughout the evening. Kansas State's offense was held scoreless in the second and third quarter. Often times Klieman was left scratching his head.
"The last three weeks, even though we've played really, really good football teams, we haven't made the plays," Klieman said. "We're positive with the guys, we've got a challenge to go on the road now and try to regroup."
The Cyclones ran more plays than the Wildcats and outgained them in yardage. Not to mention Iowa State (4-2) dominated in time of possession, and it all resulted in its' first win in Manhattan since 2004.
Quarterback Skylar Thompson had a decent game. He finished with 206 passing yards and scored three total touchdowns. However, the Wildcats' offense couldn't sustain any consistency. It was a domino effect for the rest of the team.
Thompson did his best to get everyone involved on offense. Wide receivers Phillip Brooks and Malik Knowles each caught a touchdown pass. Running back Deuce Vaughn finished with 87 yards on the ground, but was kept out of the endzone. He was also held under 100 yards rushing for a third-straight game. Even kicker Taiten Winkel missed his only field goal attempt.
On defense the Wildcats had no answer for All-Big 12 rusher Breece Hall. He finished with a season-high, 197 rushing yards, two touchdowns and caught five passes. Quarterback Brock Purdy had all day to throw in the pocket and completed 22 of his 25 passes.
The straw that broke the camel's back for the Wildcats was an 18-play, 93-yard touchdown drive orchestrated by Purdy in the third quarter. It took over 10 minutes off the clock, which frustrated Klieman the most. By that point Kansas State's defense was completely gassed.
"Bottom line, that's the hands we were dealt," he said. "We've got to go back to the drawing board and find some ways to rush the passer and we've got to be able to play a little bit better man coverage."
Safety Jahron McPherson finished with a team-high, seven tackles, but the rest of the unit didn't do much to make a difference in the game. Kansas State did rally back in the fourth quarter with two touchdowns, but the game was pretty much decided by then.
Klieman is hoping his team can learn from this loss and he plans on having an intense week of practice. Kansas State (3-3) will travel to Lubbock next Saturday to play a Texas Tech team coming off a blowout loss over Kansas.
Regardless, Klieman still has faith in his team, and there's plenty of goals left on the table for them to accomplish as they navigate through the Big 12 meat grinder. Now leaders must emerge for the Wildcats and players have to hold themselves accountable through adversity.
"I love the character and leadership in that locker room and we've just got to fight back and try to go 1-0 next week."