Iowa State finally snaps losing streak in Manhattan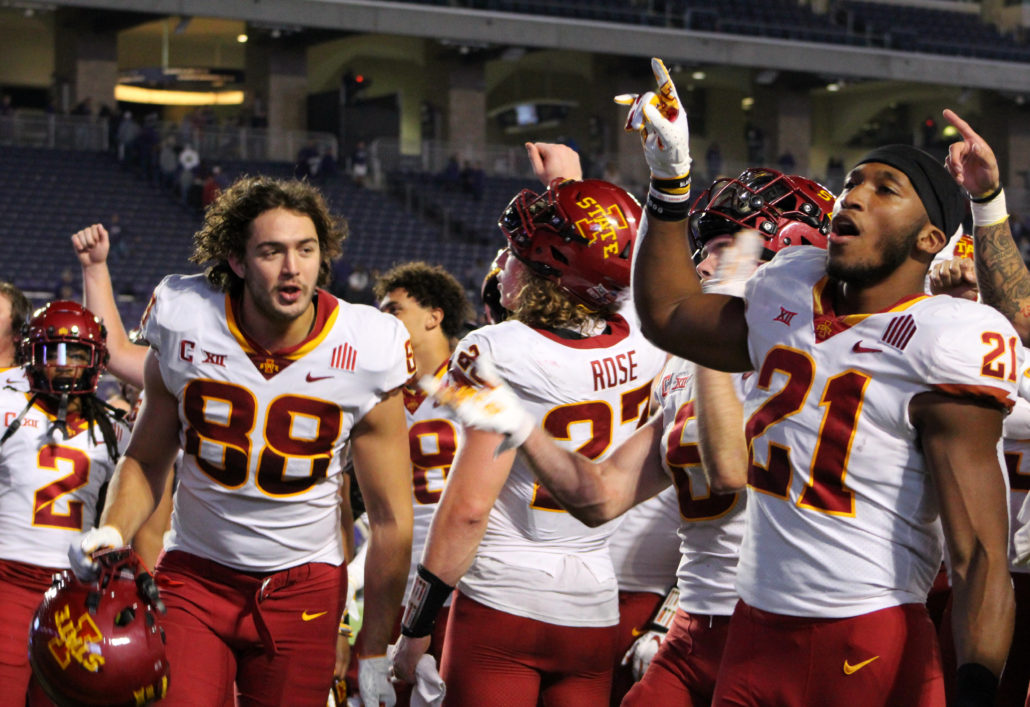 MANHATTAN, Kan. — For the first time since 2004 the Cyclones came out victorious at Bill Snyder Family Stadium.
Iowa State's previous seven trips to the venue had ended in defeat, but its' eighth resulted in a convincing 33-20 win. A crowd of 48,363 witnessed the Cyclones dominate from start to finish Saturday night. Everything started with the coin toss and Coach Matt Campbell chose to put his offense on the field first. He wanted to set the tone and it worked out perfectly for his squad.
Iowa State (4-2) scored 20 first half points, including a 75-yard touchdown run by All-Big 12 rusher Breece Hall on the first play. The Cyclones controlled the line of scrimmage on both sides of the ball and performed like a team on a mission. It all brought a smile to Coach Matt Campbell's face, knowing his team utilized their bye-week.
"I thought we took another step forward," Campbell said. "Improvement, that's kind of what we're after, how do we get better one week at a time."
The month of October continues to be quarterback Brock Purdy's time to shine. After throwing four touchdowns against Kansas, the signal-caller completed 22 of his 25 passes for 208 yards and a score against Kansas State. Jaylin Noel, Hall and Charlie Kolar caught five passes from the Arizona native. Not to mention Purdy was never sacked, and Campbell credits that to the Cyclones' big boys up front.
The offensive line dictated the flow of the game and controlled the trenches. Campbell was impressed with guard Jarrod Hufford and how the others were able to feed off of his energy.
"That group continues to play really good football and we'll continue to grow as that group continues to grow together, so I'm really proud of those guys," he said.
The unit opened up gaping holes for Hall to run through. They're the main reason why Hall finished with a season-high, 193 yards on the ground and two touchdowns. It was Hall's fourth-straight 100-yard performance and the Wildcats had no answer for him.
The most dominating part of the evening for Iowa State's offense was an 18-play, 93-yard touchdown drive in the third quarter. It took over 10 minutes off the clock and at that point Kansas State fans started to head for the exits.
The Cyclones' offense had balance, with 210 yards on the ground and 220 through the air. However, Iowa State's top-10 defense played up to its' potential also. The unit held the Wildcats scoreless in the second and third quarter. The Cyclones were able to build a three-score cushion during that time.
All-American linebacker Mike Rose finished with a game-high, nine total tackles and edge rusher Will McDonald put the quarterback to the turf twice. Senior safety Greg Eisworth snagged his first interception of the season, which was the game's only turnover.
Kansas State (3-3) finished with 342 yards of total offense and generated more first downs. However, Iowa State had a recipe for success. The Cyclones ran more plays, didn't turn the ball over and dominated in time of possession. Overall, it was a great team performance in Campbell's eyes. There's still more work to be done over the next few weeks, but the Cyclones have a lot of momentum established.
"I thought we really did a great job in the bye-week, I thought we continued to get better and it was great to see that transpire in the football game," the 41-year old said. "Not perfect, but I look forward to getting back to work and continuing our improvement."
Iowa State has no time to relax, with an undefeated Oklahoma State team invading Jack Trice Stadium next Saturday. Regardless, Campbell and his players are going to enjoy this victory. After all, the Cyclones are riding a big wave of momentum after their second conference victory of the year.
It's obvious Campbell's team has confidence and they're getting stronger game after game. So it'll be interesting to see what the Cyclones can do for an encore against the Pokes.