Cyclones' Mike Rose a top priority for Chris Klieman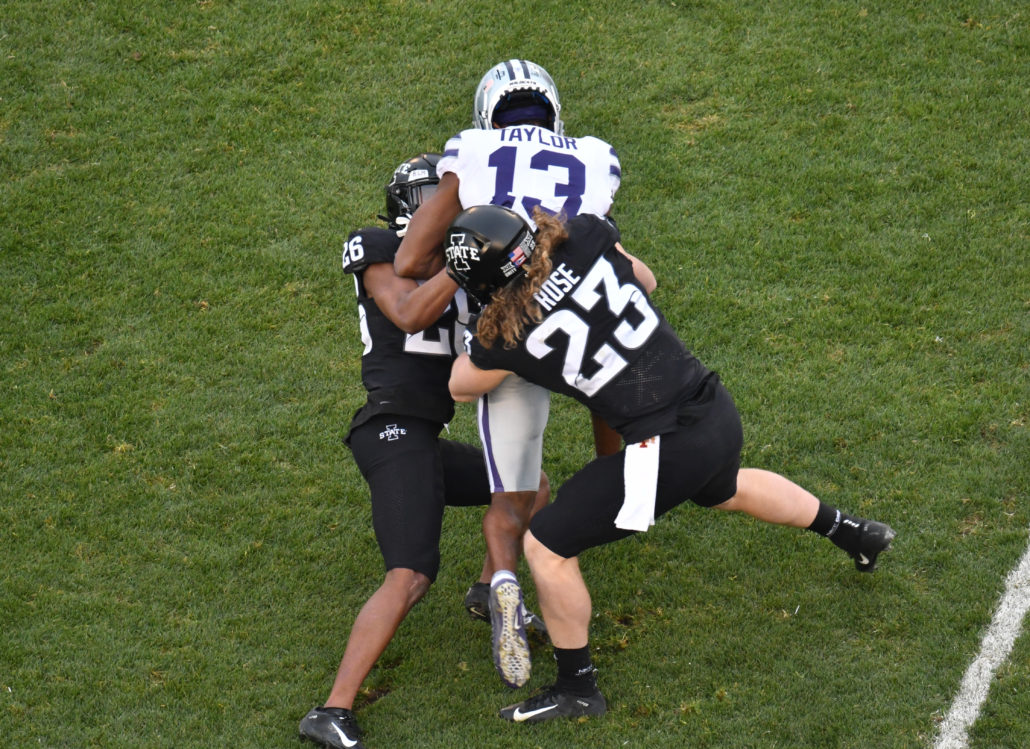 MANHATTAN, Kan. — Chris Klieman been keeping tabs on the reigning Big 12 Defensive Player of the Year since Kansas State's shutout loss in Ames.
After all, Mike Rose was all over the field during that game, with seven tackles, a sack and an interception. This fall the All-American linebacker hasn't put up the numbers from his 2020 campaign, but Klieman knows what he bring to the table for Iowa State's defense.
Rose hasn't had to do as much this fall because he's surrounded by a plethora of stud defenders. Not to mention the Cyclones rank first in the Big 12 in scoring, passing and total defense. Klieman understands the Wildcats' offense will be facing a huge challenge, going up against one of the best defenses in the country.
Rose sets the tone in the front seven and safety Greg Eisworth is the quarterback of the secondary. The Ohio native has the athleticism that helps him excel at stopping the run and in pass coverage. He also has a stellar basketball background and uses his six-foot-four, 250-pound frame to his advantage.
"He's the long, athletic body to the field that you like," Klieman said. "He (Rose) can take away a lot of plays with his length, as well as many snaps as he has, how smart he is."
The former three-star prospect has been one of the most productive defenders in the Big 12 since he stepped on campus. Rose has 282 career tackles, including 35.5 for loss, 7.5 sacks and six interceptions. Putting up those type of numbers makes him a very versatile defender, and Klieman admires those style of players.
"He can play in the box as well, and that's something that at that position, that's similar to what Khalid (Duke) could do with having length and well as being a box player," he said. "So, I think he's one of their unheralded stars on defense that really makes that defense go."
Iowa State (3-2) has lost its' last seven trips to Manhattan and hasn't won there since 2004. Saturday's game will be under the lights and Kansas State (3-2) is just as hungry. This will likely be the game that Klieman asks quarterback Skylar Thompson to run the ball more to move the chains.
The Cyclones have defenders who can fly from sideline to sideline, like Rose, so Klieman used the week off to add a few wrinkles to the offense. Running back Deuce Vaughn is a threat running the ball and catching it out of the backfield. He'll keep Rose and the Cyclones from keying in on Thompson.
Klieman definitely wants to keep Iowa State's defense honest. Spreading the ball around will be vital, rather it's screens, short passes, deep shots or quarterback keepers, the Wildcats are prepared to open up the playbook. The Cyclones have experience on their side with leaders like Rose, but the Wildcats have the home field advantage and history is on their side.
Regardless, Klieman needs Thompson to keep his head on a swivel. Defenders like Rose can lay the wood out in traffic, and Klieman wants his quarterback to be aware of his location on every play.
"They've got a bunch of great complimentary parts because so many guys are returning, but he wreaked havoc on us last year and made a number of plays," the 54-year old said. "So, we obviously need to know where he's at and make sure that we account for him."
The loser will likely be out of the Big 12 Title race, so Klieman will be expecting nothing less than a scrappy dogfight. Both teams know what's at stake Saturday night and Bill Snyder Family Stadium will be rocking.