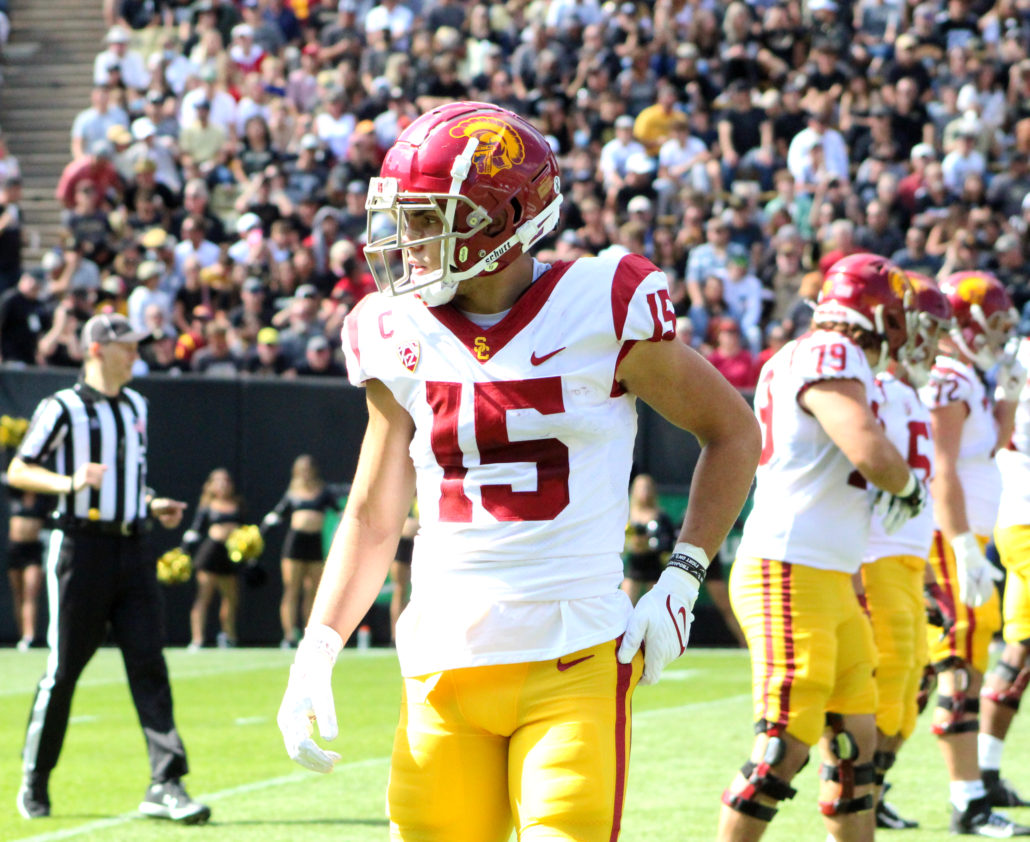 BOULDER, Co. — The junior wide receiver has put up video game numbers through USC's first five games and he's just cracking the surface.
Drake London knew he had to step up to the plate for the Trojans this season, after wideouts Tyler Vaughns and Amon-Ra St. Brown took their talents to the NFL. And it's safe to say London has exceeded expectations.
After all, the California native hasn't missed a beat since earning second-team All-Pac-12 in 2020. He's first in the FBS in receiving yards this fall. Not to mention London is also numero uno in the Power Five in receiving yards per game. The six-foot-five, 210-pound London uses his frame to his advantage and makes everything look effortless while doing it.
London's one-handed touchdown catch in the victory over Colorado last week was evidence of his athletic prowess. He's also a two-sport athlete, who excels on the court. The former four-star prospect is making opposing secondaries look silly on the gridiron.
London loves defenses to double cover him because it opens up opportunities for his teammates to make plays. He already has four 100-yard receiving games this fall. USC has seven games left on its' schedule, including tilts against rivals Notre Dame and UCLA, so the best is yet to come for the 20-year old.
USC Interim Coach Donte Williams hasn't been surprised by all of London's success. He believes London is a mismatch out in the open field, regardless of who's covering him. If he continues at this rate, London will likely be a favorite to win the Biletnikoff award.
He even makes the quarterbacks look good by catching the ball in the air at its' highest point. Very few defensive backs can outjump him, so it's like a man among boys in the open field.
"I expect him to do that so the team expects him to do that," Williams said. "So, when the ball is in the air and if he's around with 10 other people, we expect him to come down with the ball."
USC (3-2) rebounded after its' embarrassing loss to Oregon State, with a blowout road win at Colorado. London and the rest of the receivers had a field day with the Buffaloes' defense and the Trojans' racked up a season-high, 494 yards of total offense. Still, London gave the unit an average grade. London is the veteran in the group and doesn't want them to stay complacent.
He's not driven by any individual accolades either. All he wants is the offense to keep improving and for  USC to win games.
"There's still more on the table that we can get, for me being the leader in the group, I still think we can all do better," London said. "Making sure we're getting the right depth on our routes, and catching every single ball that's thrown our way."
All-Pac-12 quarterback Kedon Slovis has done a solid job spreading the ball around to all of the pass catchers. London credits him for putting passes in tight windows and places where only he can get to. Most importantly, London wants the unit to cut down on the silly penalties that's costing the offense valuable field position.
In London's perfect world the Trojans' offense would step on every defenses' throat and never take their foot off the gas the entire game. That's why he's pushing his teammates to be better and leading by example. USC has a pivotal matchup with Utah (2-2) in the Coliseum Saturday and needs to keep the momentum going.
The hunger for more is what keeps London and the offense dialed in. Although USC is No. 1 in the league in passing offense, London isn't satisfied with that.
"There's no sigh of relief at all, we still got to keep going and that's our main goal right now," he said. "So we're just going to keep our heads down and keep on grinding."
The Pac-12 South is still wide open and if the Trojans can pull off a victory at home under the lights, they'll be one step closer to receiving a bid to Las Vegas.