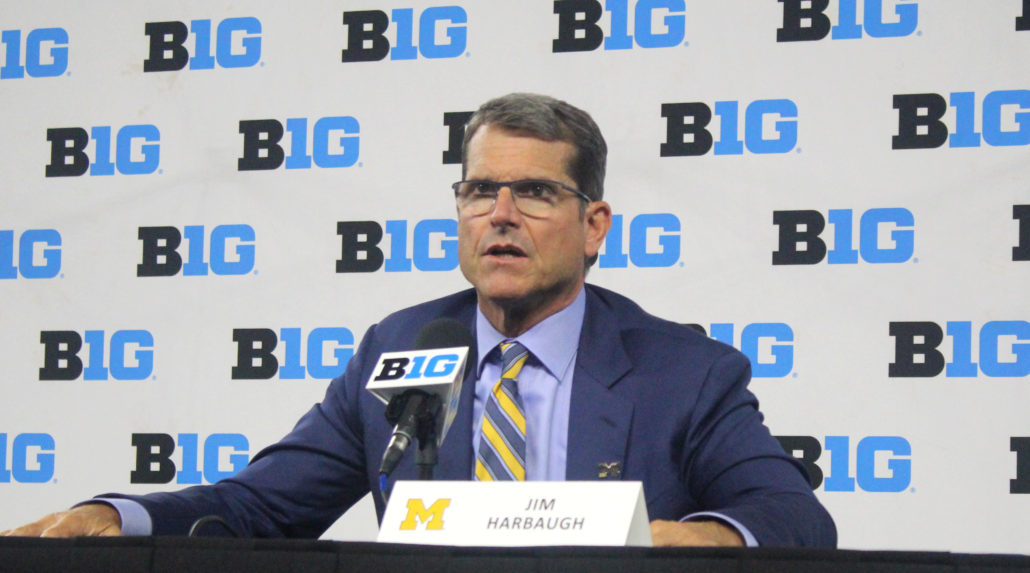 The Wolverines are 5-0 for the first time since 2016 and one of the hottest teams in the Big Ten this fall.
Coach Jim Harbaugh has put a 2-4 campaign from 2020 in the rearview mirror and has his team on a mission. That became evident when Michigan surfaced back in the AP top-10 after a two-year absence. Harbaugh's team is playing with confidence and been raising some eyebrows across the league with their success.
The biggest improvement from last season for Michigan is its' defense. The Wolverines rank in the top-16 nationally in total, scoring and pass defense. Not to mention the unit has only allowed seven touchdowns. Senior defensive end Aidan Hutchinson continues to set the tone up front for Michigan's front seven.
The Michigan native has wreaked havoc off the edge with 4.5 sacks through five games and the rest of the unit has fed off his energy. There's a reason why the defense is only allowing 12.8 points per game, which ranks sixth in the FBS. Michigan's defense is coming off a dominant performance against Wisconsin and generated six sacks. The unit also sent quarterback Graham Mertz to the hospital because they were so physical.
The ninth-ranked Wolverines have also been productive on offense. Junior quarterback Cade McNamara has took the offense by the helms this fall, but a lot of fans consider him just a game manager. However, his maturation process is constantly evolving and his leadership has been on full display in the five victories.
McNamara threw for two touchdowns and no interceptions against Western Michigan and Wisconsin. It has helped McNamara's cause, having an All-Big Ten caliber of a rusher in the backfield in Blake Corum. He eclipsed the century mark in rushing through the first three games, and scored seven touchdowns through that span.
Although Corum's production has slipped over the past two games, he's still has 521 yards on the ground, which ranks 14th in the FBS and third in the Big Ten. It did hurt the passing attack losing Ronnie Bell for the season, but other receivers like Cornelius Johnson has stepped up in his absence. Johnson hauled in three passes for 117 yards and a score against Northern Illinois.
Despite Harbaugh having a ton of success this season, he'll be judged when Michigan faces its' two rivals, especially Ohio State. Michigan has an intriguing road trip at Nebraska this Saturday under the lights. It's going to be nationally televised for the rest of the College football world to see.
Harbaugh needs to show his team is contenders and not pretenders. Nebraska (3-3) has gained some traction after its' blowout win over Northwestern last week and is undefeated at home. For a second-straight week the Wolverines will be playing in a hostile environment, and the Sea of Red can be intimidating. Michigan lost its' last trip to Lincoln by double-digits, but that was in 2012.
In hindsight, Harbaugh has the Wolverines right on schedule to make a serious run at the Big Ten Title. Several fans are already jumping back on the bandwagon, while others are still watching with their arms crossed. Regardless, all eyes will be on Michigan from this point moving forward, and everyone is waiting to see if Harbaugh can deliver.