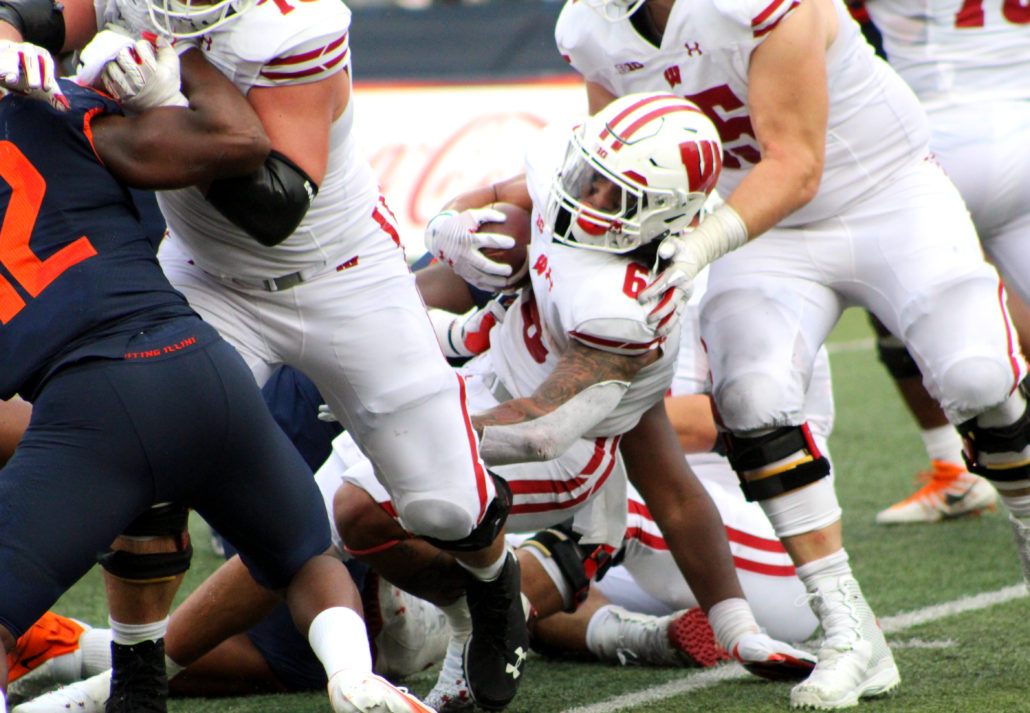 CHAMPAIGN, Ill. — The Badgers finally played their style of football, and delivered results that their fans have grown accustomed to.
Wisconsin came out inspired, played with physicality and blanked Illinois 24-0 Saturday afternoon. The Badgers' defense was lights out throughout and kept the crowd of 40,168 from being a factor. Not to mention it was the first time the Fighting Illini got shutout at home since November of 2018.
Coach Paul Chryst was able to put his team's two-game losing streak in the rearview mirror. Now the Badgers have generated some much needed momentum for their remaining seven contests.
"That's what I appreciate about this group," Chryst said. "They care about each other and I thought their play today was a reflection of that in some ways too."
Wisconsin's offensive line looked very much improved and dominated in the trenches. The unit didn't allow a sack and paved the way for two Badgers to eclipse the century mark in rushing for the first time this season. Running backs Chez Mellusi and Braelon Allen combined for 276 yards on the ground and two rushing scores.
Stats don't really matter to Chryst, but he was relieved to see that Wisconsin's backfield was so productive on the road.
"Credit to our guys, I thought as soon as the plays got started our backs ran really hard and physical," he said. "To be able to do it consistently means a lot of guys were involved and I thought the receivers and tight ends did a good job being part of it."
Quarterback Graham Mertz surprised many fans when he got the start. After all, he was knocked out of last week's game against Michigan and was sent to the hospital. However, his ribs didn't appear to hurt him on handoffs or throws. He also displayed toughness when he ran the ball and put together some long scoring drives.
Wisconsin tripled Illinois (2-5) in first downs, racked up more offensive yards and dominated in time of possession. By accomplishing that, it gave the Badgers' defense some rest and every time the unit came onto the field they played fresh.
The Fighting Illini was held to a season-low, 93 total yards and never established any rhythm. Linebacker Leo Chenal finished with a team-high, five tackles and contributed on a sack. Wisconsin had 15 different defenders make a tackle, which solidified a complete team effort and their performance also put a smile on Chryst's face.
"There's just a lot of guys making plays, different guys making plays and that's been fun to see," the 55-year old said. "It certainly helps that we did a nice job against the run and spent enough time getting pressure on the quarterback."
Special teams were efficient also. Kicker Collin Larsh made his only field goal attempt. Punter Andy Vujnovich booted a 56-yarder and Illinois had bad field position for most of the day.
There was one glaring issue that the Badgers had and that was all of the silly penalties. Wisconsin (2-3) was flagged nine times for 101 yards and that's inexcusable in Big Ten play, especially on the road.
Chryst knows there's still a lot for his team to clean up in practice next week. Regardless, a win is a win. Now the Badgers have a new breath of life after stealing a victory on the road.
"I want them to enjoy and appreciate all of what went in today, and tomorrow we get to go forward."