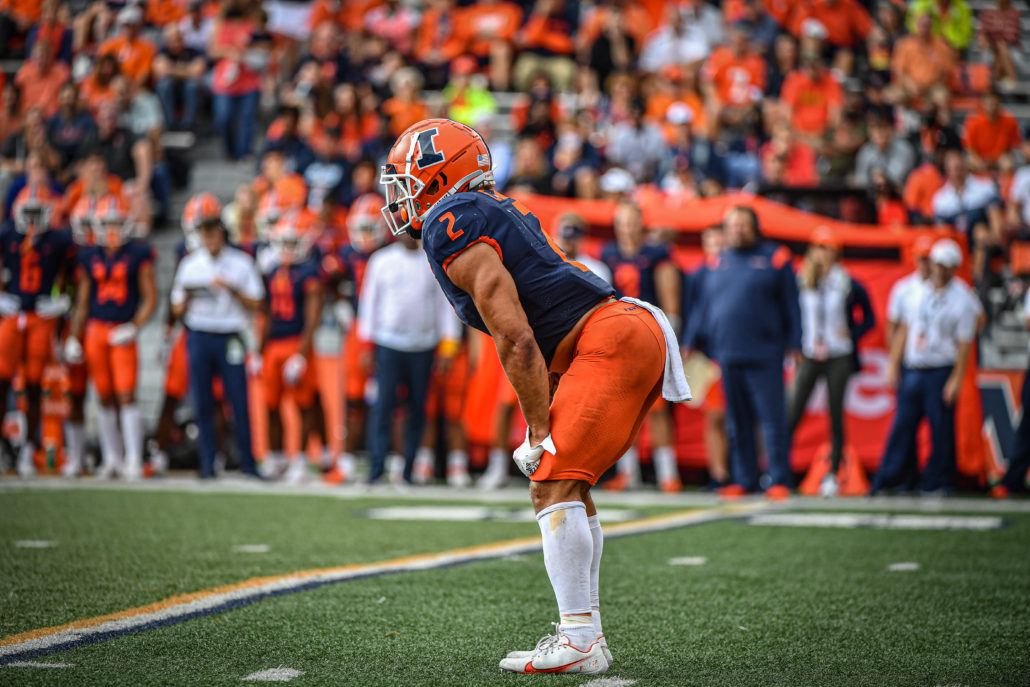 CHAMPAIGN, Ill. — Illinois' sophomore running back emerged from the shadows and shined in the victory over Charlotte last Saturday.
Chase Brown made a statement with his 257 yards on the ground. Not only was his heroics a career high, but he was also named the Big Ten's Offensive Player of the Week. Brown caught Coach Bret Bielema's attention with his vision, fluidity and top end speed during fall camp.
So it was only a matter of time until the Canadian unleashed the burners on an opponent. His 80-yard touchdown run to end the third quarter dropped the jaws of everyone in Memorial Stadium, but didn't surprise Bielema.
"He's really just scratching the surface of what he's going to become," Bielema said. "I think he's a very talented back, and once he learns the patience that some of our inside zone concepts require, he can be a really, really special back."
Brown's success didn't happen overnight though. The former Western Michigan recruit has paid his dues in a crowded Fighting Illini backfield for the past two years. All of Illinois' running backs been battling for carries, which Bielema doesn't mind, because competition brings out the best in individuals.
Everyone knows Bielema loves to run the ball, which requires multiple rushers and depth. It has pretty much been a running back by committee for Illinois (2-4) this fall. Brown has shared the workload with Mike Epstein, Josh McCray and Jakari Norwood.
Bielema has a tendency of going with whatever rusher is hot at the moment. Epstein was the leading rusher in the win over Nebraska and McCray steamrolled for 156 yards against Purdue. However, Brown had double their production against the 49ers.
"I think you really saw the skill set of what Chase Brown has, he has the ability to take the home run hit," he said. "There were a couple of guys that had an angle on him, and he definitely can run."
Now Bielema has to decide on which rusher he'll start against Wisconsin this Saturday. Last week Brown, McCray and Norwood all practiced together for the first time this fall. The intensity will be there throughout the week of practice for the group leading up to the clash with the Badgers.
It remains to be seen if Brown made a big enough impact on the offense in game five to convince Bielema to give him the workload for a second-straight week. After all, running backs are the most trusted individuals on offense because they constantly have to carry the ball.
Bielema believes his players are ready for the second half of the season. The Fighting Illini can still get to a bowl game by winning four of their last six games. The Big Ten gauntlet can get physical down the stretch, but Bielema feels his team is battle-tested.
"We got to play Big Ten football and we're not where we need to be yet, but it's a step in the right direction," the 46-year old said. "It's definitely a positive result to have a win and taste that, but there's just so many things we got to clean up."
As longs as the Fighting Illini continue to run the ball like they did with Brown against Charlotte, they'll be in every game.