Iowa and Penn State preparing for colossal battle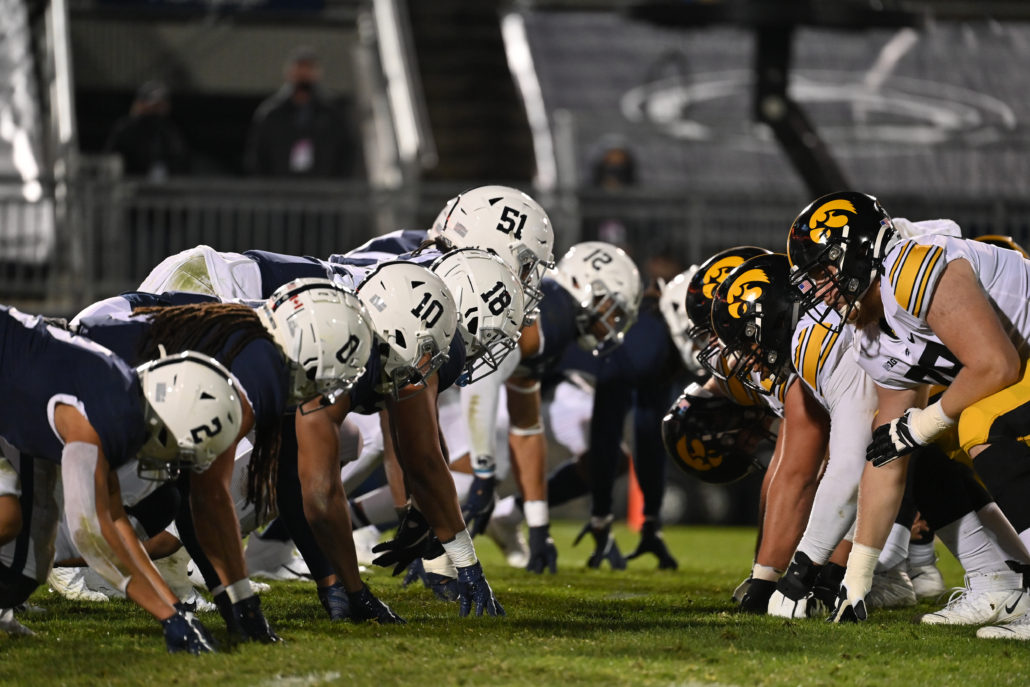 The national spotlight will be on Kinnick Stadium this Saturday for a pivotal matchup of top-five teams.
And rightfully so. Iowa against Penn State will be a battle of unbeatens, with Playoff implications. Most importantly, it could very well be a preview of the Big Ten Championship Game in December.
Both teams have exceeded expectations through their first five games, making this the biggest clash in the series in recent memory. Kirk Ferentz is the dean of the coaches and James Franklin is one of the best gameday motivators in the sport. Both coaches understand there's a lot to gain and a lot to lose for their respective programs.
The third-ranked Hawkeyes have won 11-straight games, including 10 of them by double-digits. The fourth-ranked Nittany Lions are riding a nine-game win streak, including a shutout victory over Indiana last week. Iowa has lost its' past three games to Penn State at home and the last two have been nail-biters. There's no denying something has to give.
"It's a challenge when you play them," Ferentz said. "The one thing for sure, just like I alluded to, going back a long ways, if you're not ready to play, it could be embarrassing so you better get ready to play."
Ferentz is very familiar with the Nittany Lions. He's been following the program since he was an adolescent. So he's not surprised by all of the success Penn State is having this fall. After all, Franklin has recruited like a monster every year.
Veteran quarterback Sean Clifford has caught Ferentz' attention on film with his experience, leadership and production. Clifford has stepped his game up from last year and has full command of the offense. The rest of his teammates have responded well to his energy. The team will be arriving in Iowa City with a lot of momentum.
"As dangerous as anything, if it's not there for him (Clifford), something opens up, he'll pull it down and go," the 66-year old said. "He'll throw off the run or take it and make the yardage necessary for a first down or even more than that."
Ferentz is the longest-tenured coach in the FBS and has seen a ton of players through the years. However, he has been astonished by the Nittany Lions' passing attack. Ferentz believes Penn State's receiver core is probably the best he's ever seen. That's saying a lot with his longevity in the sport.
It's going to be strength on strength. The Hawkeyes have one of the nation's best secondaries and they're full of ballhawks. The Nittany Lions have a plethora of elite receivers, who can stretch the field. So that's going to be a matchup College football fanatics will keep an eye on.
Franklin knows Iowa plays disciplined and with physicality. Offensive Coordinator Brian Ferentz established some balance against Maryland last week and opened up the playbook. There's three Hawkeyes on offense, who've stood out to Franklin. Running back Tyler Goodson, tight end Sam LaPorta and center Tyler Linderbaum.
Goodson's explosiveness has concerned Franklin. LaPorta has been a nice representation of 'Tight End U' and Linderbaum always sets the tone for Iowa's offense up front.
"They do an excellent job with their play-action, I think that's probably the biggest thing, and we're going to be working that all week," Franklin said. "They do a really good job of getting four and five guys out into their routes, so it's not like they're just going max protection all the time."
Franklin is well aware that his squad will be matching wits with one of the best defenses in the country. A defender from every level of Iowa's defense has caught Franklin's eye. Defensive end Zach VanValkenburg has wreaked havoc off the edge, linebacker Jack Campbell has been a tackling machine and cornerback Riley Moss has emerged as a Thorpe Award favorite.
The Nittany Lions haven't been able to run the ball like they've wanted to. That's why Franklin is hoping the unit can make a statement early on in the trenches. Anytime a team is on the road in a hostile environment, they must be prepared to strike from the start. It's no mystery Franklin wants to pound the ball right at the heart of Iowa's defense.
"We're going to need to establish the run, we were able to take a step last week with our run game," he said. "That's going to be real important, not just for our offenses' success, but also to help our defense out with time of possession."
It's going to be a tall order, considering Iowa ranks seventh in the FBS in total yards allowed. Not to mention Phil Parker's defense has only allowed two rushing touchdowns all season.
The Nittany Lions will be out to shutdown Goodson and the Hawkeyes running game, in order to force quarterback Spencer Petras to beat them with his arm. This could very well be the game Petras will have to put the team on his back and carry them to the finish line.
Iowa's defense will try to minimize Dotson's touches as much as possible and he'll likely require double coverage. No one will be expecting a shootout with both teams fielding high-caliber defenses. Points will likely be hard to come by, making special teams as vital as ever.
One thing both teams should expect Saturday afternoon and that's the fact that Kinnick will be rocking.