Brandon Smith refuses to be satisfied with accolade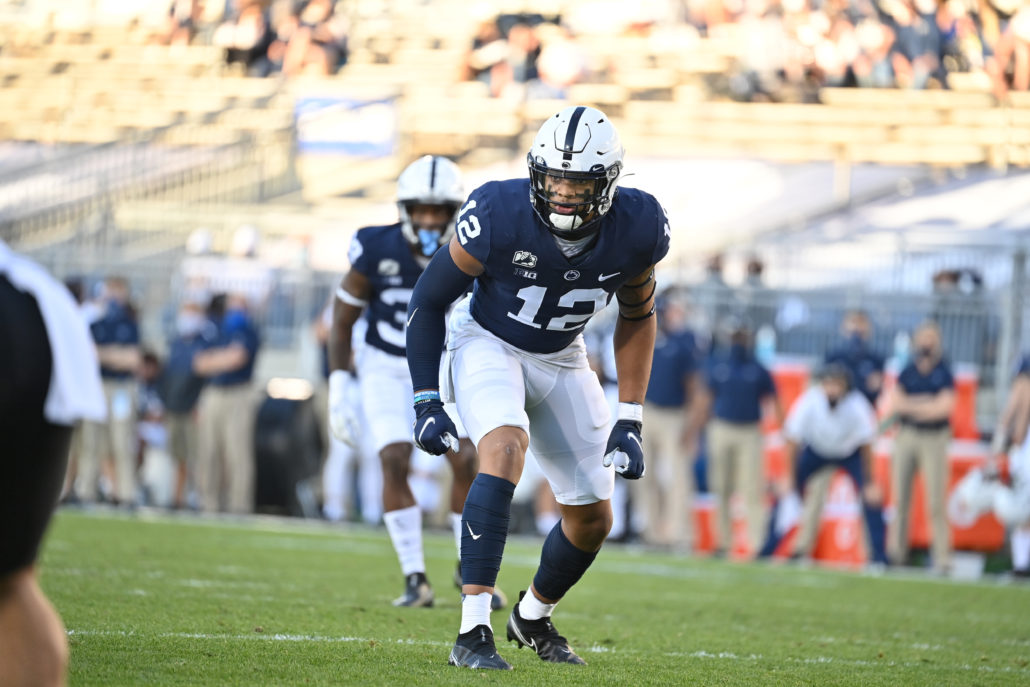 UNIVERSITY PARK, Pa. — Penn State's sophomore linebacker was just named the Big Ten's Defensive Player of the Week, but that's not enough.
Brandon Smith understands the expectations that come with the territory playing for 'Linebacker U'. So being honored by the conference was just another day at the office in his eyes.
The former five-star prospect is finally starting to take flight as one of the Nittany Lions' best defenders. He was able to make a name for himself without Micah Parsons in the lineup last year. Now Smith is the enforcer of Penn State's front seven, who has a habit of bringing down ball-carriers in the backfield.
The Virginia native didn't find out about the recognition of his performance until a classmate congratulated him. Right after that everyone started blowing up Smith's phone, including his dad and several family members. After all, his 10 tackles in the win over Auburn was a very impressive outing, but he's all about leaving the past in the past and moving forward.
"We continue to preach "keep on working, keep on working," we're not where we want to be at," Smith said. "Really just not being complacent and content with what we're given."
Smith is the Nittany Lions' leading tackler through three games, with 25 stops during that span. His presence, along with teammate Ellis Brooks by his side, form one of the best linebacker duos in the Big Ten. Penn State's defense has allowed 14.3 points per game, which ranks 17th in the FBS.
Not to mention the group has caused a few turnovers, which has helped in close games. However, having that success didn't happen overnight for Smith and his teammates. In order for the Nittany Lions to keep improving game after game, the six-foot-three, 241-pounder believes they have to constantly study their opponents.
"We continue to watch lots of film and that's what has helped us get as any turnovers as we've been getting," he said. "All of those interceptions and everything like that comes from multiple hours of film study throughout the week."
Penn State (3-0) will host Villanova this Saturday. On paper it's a big step back in competition, considering the Wildcats are an FCS foe. Still, Smith is making sure the Nittany Lions aren't overlooking any opponent, especially the ones that are undefeated.
The Nittany Lions are No. 6 in the AP Poll, their highest-ranking since since November of 2019. That means Penn State will have a bullseye on its' back, because it'll be getting every opponent's best. Smith is ready for the challenge and feels that's one of the reasons recruits come to the program. Villanova will complete the non-conference slate for Penn State and then it's the Big Ten meat grinder.
So far the Nittany Lions' have arguably one of the best resumes in the country, after beating two ranked teams. There's plenty of football left to be played, and that's why Smith is staying dialed in on the task at hand. He appreciates the individual award, but Smith is a team player, so it's more like a team accomplishment.
Smith has a very high ceiling. The scary part for ball carriers is that he has yet to reach his full potential. Remaining humble is vital with him staying hungry, and regardless of how good Smith performed last week, there's plenty wrinkles to his game that needs ironed out.
"I'm not one to completely praise myself as far as the things that I do, or the things I really excel at," the 20-year old said. "I'm probably one of my biggest critics, I constantly look at what I need to work and improve on."
Penn State will look to extend its' win streak to eight games against Villanova. After Smiths' production last week, fans are wondering what he has in store for an encore.