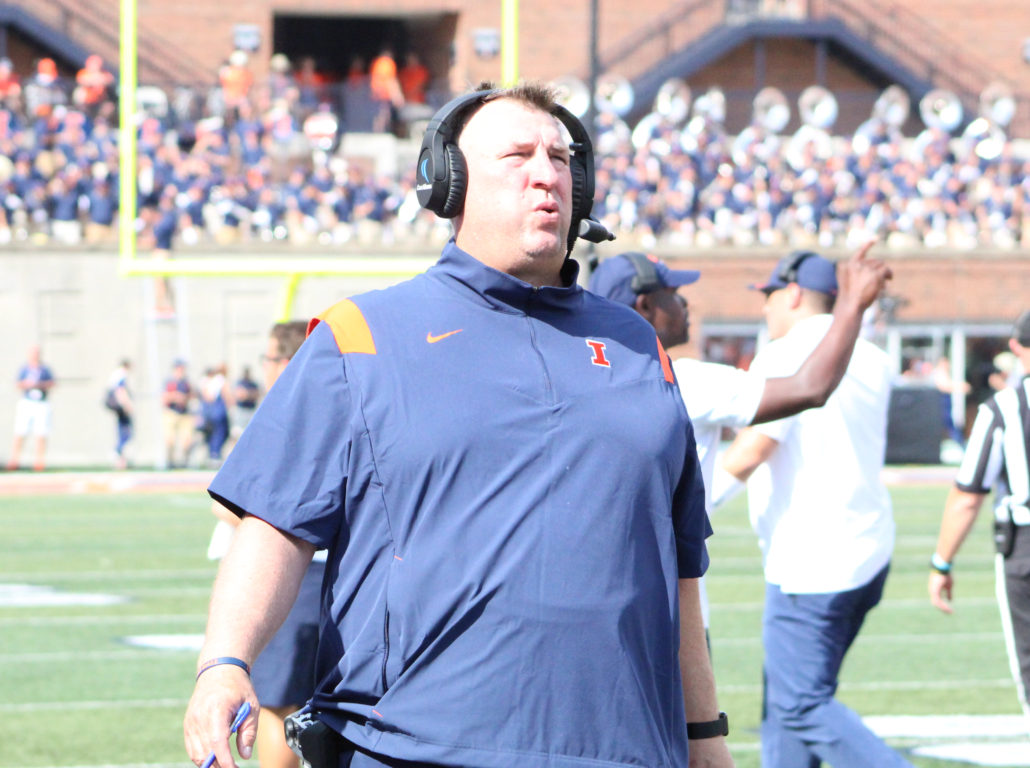 CHAMPAIGN, Ill. — The season-opening victory over Nebraska seems like ages ago now that Illinois has lost three-straight games.
Bret Bielema is never one to make excuses for his team, but it's just his first season with the Fighting Illini and several kinks are still being ironed out. He finds it encouraging that two of Illinois' losses have come by a combined 10 points.
However, there's still issues on both sides of the ball that Bielema must address with a Big Ten gauntlet looming.
"I think for people that aren't in the building, you think that you analyze losses more than you do wins, which is the exact opposite," Bielema said. "You actually treat them both equally and they're both opportunities to make corrections.
Bielema decided to bench quarterback Artur Sitkowski and inserted Brandon Peters back in the starting lineup against Maryland. It was sort of a head-scratcher considering Sitkowski has 611 passing yards, six touchdowns and one interception through three games. Peters looked rusty and sluggish against the Terrapins, and completed 10 of his 26 pass attempts for 185 yards, plus an interception.
After last Friday's loss, Peters put a lot of the blame on himself, but Bielema wants him to relax and understand it's a team game. Besides, it was his first full game this season and the Fighting Illini's offense was down two running backs, who happened to be their best blockers out of the backfield.
"Unfortunately it's in game four and people forget that it's his first time going through it," he said. "So there was a lot of learning and teaching moments for him (Peters), a lot of things he did well and some things he's definitely going to improve on."
Bielema wants to put his players in the best positions to be successful and Peters will remain the team's starting signal-caller. It helps the offense to have Doug Kramer back. The veteran center has been practicing all week. Not to mention running back Chase Brown should be ready to go against Purdue.Illinois will have to find ways to effectively throw the ball because it currently ranks 90th in the FBS in passing offense.
That's not Bielema's biggest concern though, because the Fighting Illini's defense needs major work. Illinois is dead last in the Big Ten and 123rd in the FBS against the pass. The unit is allowing 321.2 yards through the air and will face some talented quarterback and receivers over the next few weeks.
The secondary is very vulnerable and a big reason for the team's rough start. Bielema understands that and been making adjustments on the fly. To outsiders it looks like his team is giving up, but he emphasized how they're constantly working hard at getting better.
"I know no one is happy to be 1-3, believe me I get that, but I do realize the amount of progress we've made," the 51-year old coach said. "I do realize the amount of transition we've made with our players, our roster and our coaches."
Bielema thought star linebacker Jake Hansen played a monster game against the Terrapins, after generating 12 tackles and a sack. He hopes Hansen's performance gives the rest of the unit motivation to go out and perform better against the Boilermakers.
Although Illinois has a plethora of super seniors on its' roster, there's still a learning curve with the new scheme. It's all a process Bielema hopes the team will have resolved as they navigate through a very challenging schedule.
"It's never easy to win in this conference, and that's the beauty of conference play, home or away," the Illinois native said. "I think the margin for error for us in the infancy of this coaching staff and players group is very short, but the good side is there's a lot of things trending in the right direction."