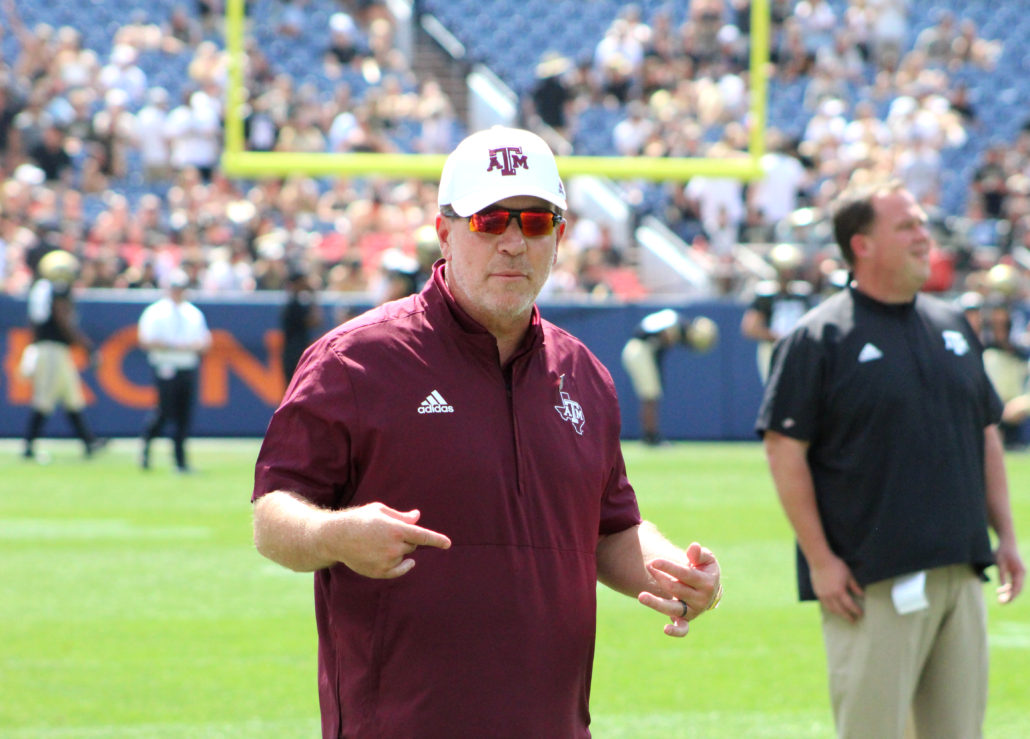 DENVER, Co. — When you're one of the highest-paid coaches in the sport, with a crystal ball in the trophy case, high expectations are unavoidable.
Jimbo Fisher is starting to find that out the hard way in his fourth year in College Station. Texas A&M came into the season as a top-10 team, and moved up to No. 5 in the AP Poll after its' blowout victory over Kent State.
However, after Texas A&M barely squeaked by Colorado Saturday, College football fanatics are questioning if Fisher's team is as good as advertised. Instead of making a statement to the rest of the country, the Aggies got somewhat exposed. Which is why the AP Poll dropped Texas A&M from fifth to seventh in its' latest release.
Being a highly-ranked team from the almighty SEC, means Fisher will need to have his players prepared. Without a doubt the Aggies are going to get their opponents' best every week. Fisher understands that more than anyone, considering he's one of the few rock star coaches in today's game.
"You get up here and you get ranked, which I hate, all of that ranking stuff don't mean diddly to me," Fisher said. "To people, we were supposed to be a good football team."
A little scare could potentially be a good thing for the Aggies once they start conference play. In Fisher's eyes, there's no shame in stealing an ugly win on the road. After all, that's what's going to make his players battle-tested. The 55-year old coach emphasized to his team, that the more they win, the bigger the bullseye will grow on their backs.
Although the Aggies are 2-0, Fisher is still finding out a lot about his squad. Which is why it doesn't surprise Fisher that the Aggies will remain the hunted with him patrolling the sidelines. Fisher brings that type of credibility wherever he coaches, so he understands it comes with the territory.
"You got to understand the burden that carries with how you prepare, how you play and compete ," he said. "Each and every week you're going to get everyone's A-game."
Practice will likely be more intense this week for Texas A&M as Fisher continues putting together the pieces. The Aggies will be out to show the nation that last Saturday's performance was a fluke. New Mexico is big drop off in competition from Colorado.
The Aggies are going to need style points against an inferior opponent to solidify their ranking. Starting fast out of the gates will help also, especially with an inexperienced quarterback. Zach Calzada played solid in the fourth quarter in Haynes King's absence and must keep the momentum going. All-SEC rusher Isaiah Spiller might even be the team's best receiver.
Texas A&M still has a lot prove, but Fisher knows his players have the potential to make some noise this fall. It all starts with Fisher and his staff, so he wants to be a positive reflection on what the Aggies accomplish on the field. Games aren't played on paper and he knows it's still any given Saturday.
"I have to do a better job coaching," the West Virginia native said. "At the end of the day you're a product of how you coach, and I got to do a better job with myself to get these guys ready to play."