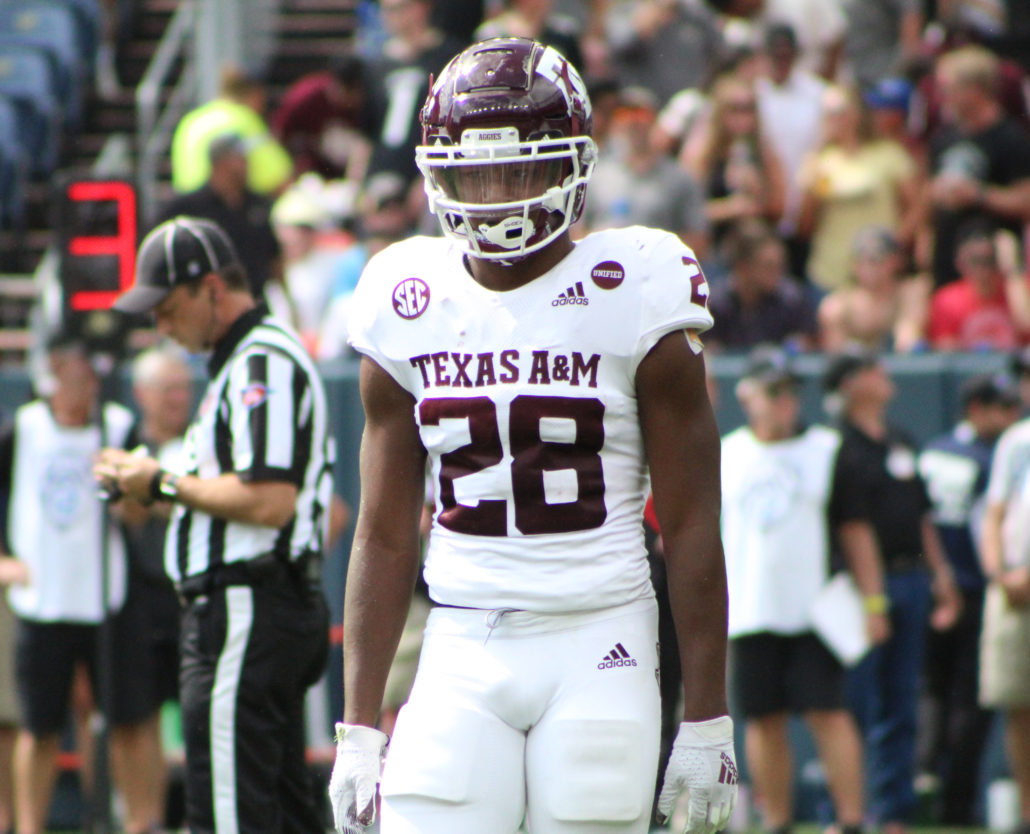 DENVER, Co. — The All-SEC rusher has gained notoriety for his vision, physicality and elusiveness.
However, after Texas A&M's thrilling road victory over Colorado, Isaiah Spiller solidified that his hands are just as deadly.
The Texas native came up huge in the clutch and scored the Aggies only touchdown of the game. What made it special was the fact that the odds were stacked up against Texas A&M. Jimbo Fisher's team had no running game, was operating with a backup quarterback, against an aggressive defense, in a hostile crowd on third and long.
And Spiller delivered for the Aggies with the touchdown catch of the season thus far. He even described his catch from Zach Calzada like bread in a basket. Spiller's play left Colorado fans stunned, and now defenses must take account of him as a receiving threat out of the backfield.
"That's my job, just doing my job, going out there everyday, doing the right things and you see the results," Spiller said.
With Haynes King out indefinitely with a leg injury, Calzada will be taking all the reps with the No. 1 offense in practice throughout the week. Spiller was impressed with the young quarterback's ability to guide the offense in a crucial situation.
Now he plans on building more chemistry with Calzada, especially in the passing game, because that's what sealed the deal against the Buffaloes. The offense has momentum approaching the game against New Mexico. Everyone is rallying behind Calzada and Spiller understands why. After all, he didn't crack like an egg under pressure.
"I feel like Zach is going to be really good for us down the line," he said. "He's going to get more comfortable with more practice time, so we're going to be ready."
The former four-star prospect is glad that he's going to keep some of the pressure off Calzada. Spiller wants the ball in his hands when the offense needs to move the chains. He already has a jaw-dropping, 11 100-yard games under his belt. Not to mention Spiller has 19 career rushing touchdowns and was a semifinalist for the Doak Walker Award.
Fisher has molded some great running backs over the past decade, including Devonta Freeman, Dalvin Cook and Cam Akers. Spiller is Fisher's latest version and he's been impressed with the culture his coach has established in College Station.
"That's Coach Jimbo instilling in us, just our pride, our grit and the will not to give up," the running back said. "That's what he has come in and done to this program and we just enforcing it."
Although last Saturday was an emotional roller coaster for Spiller and the Aggies, he feels it made them stronger as a team. The players are battle-tested now, which will be crucial later when they navigate through the SEC gauntlet. Texas A&M (2-0) dropped two spots to No. 7 in the AP Poll from the ugly win, but Spiller and his teammates have no reason to hang their heads low, considering they showed perseverance.
"It gives us an identity, it kind of challenged us being our first adversity game," the junior said. "We made a lot of mistakes, but we're going to clean it up real quick."
Overlooking New Mexico (2-0) will be a challenge with Arkansas looming, so Texas A&M needs to play with urgency this Saturday and prove last week was a fluke.