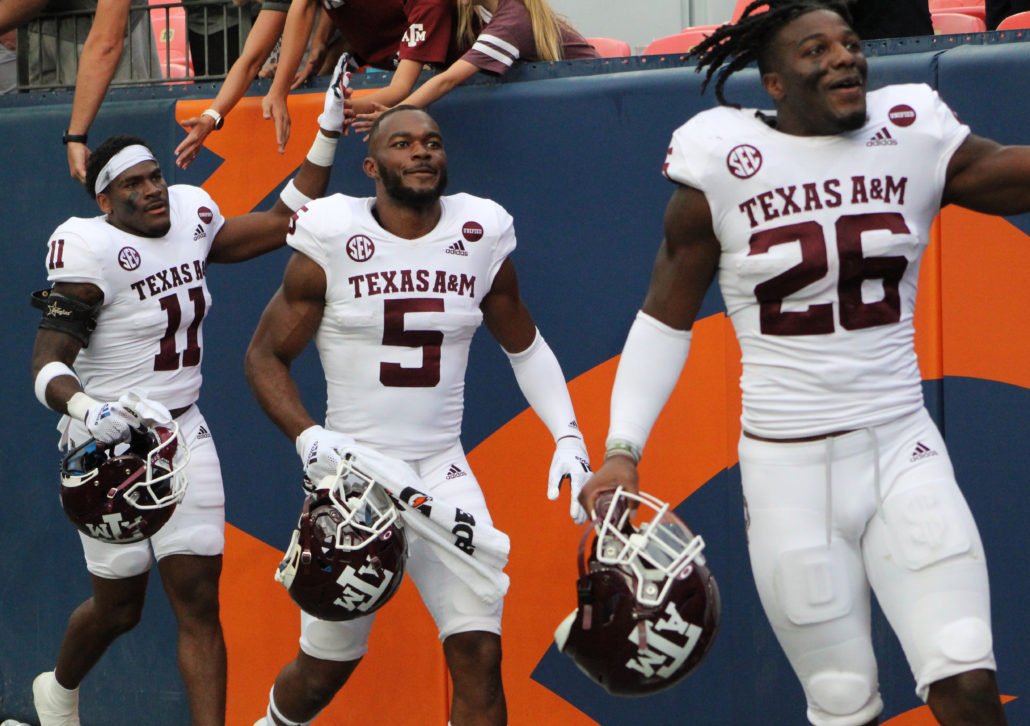 DENVER, Co. — Texas A&M stormed onto Empower Field Saturday afternoon with its' almighty SEC brand, top-five ranking and rock star coach.
Jimbo Fisher knew his team was walking into a hornet's nest, considering Mile High Stadium is Colorado's second home. And the crowd of 61,203 was ready for the matchup. The Aggies' offense played like an FCS bottom feeder throughout the first half. However, all Fisher's team needed was a late fourth quarter drive, to score the go-ahead touchdown and secure a 10-7 victory.
"I told our guys today is judgement day, I wasn't happy with us last year with who and what we're going to be," Fisher said. "Now we found out that we have fight and heart, but we got to find out if we're going to get execution and precision."
It didn't look good for Fisher after his starting quarterback Haynes King injured his leg in the first quarter. King never returned and Colorado tried to take advantage during his absence. Karl Dorrell's team played with more physicality and controlled the line of scrimmage. Texas A&M's defense couldn't find an answer for quarterback Brendon Lewis' mobility either. Lewis scrambled for 30 yards and added 12 more during Colorado's only scoring drive.
Still, the Buffaloes' success was only temporary because Fisher made adjustments on defense. After Cole Becker missed a 46-yard field goal attempt and Colorado (1-1) failed to convert a fourth down, the momentum shifted. From that point on the Aggies defense took over and never looked back, especially in the second half.
"We condensed our rushing lanes, and did not give the scramble," he said. "That guy (Lewis) is really athletic in the runs, and there's other ways to effect the quarterback besides sacking him, running up the field and creating those lanes."
Backup signal-caller Zach Calzada showed that next man up mentality after he stepped in for King. Although he started off sluggish, Calzada later played with poise and moved the ball in clutch situations. Fisher made sure the sophomore found his weapons.
All-SEC running back Isaiah Spiller couldn't get much going on the ground. He was a difference maker for the Aggies' aerial attack though. Spiller was a complete mismatch on Colorado's linebackers, and caught two clutch passes, including Texas A&M's only touchdown of the game in the waning minutes of the fourth quarter.
Fisher was impressed with Calzada's moxie on the team's last drive. He moved out of the pocket, went through his progressions and made throws on the run.
"One thing you can say is he (Calzada) made the plays on those drives when it mattered, right there at the end on both drives," the 55-year old coach said. "So we'll build on that, fix those other things and move on."
There's definitely some wrinkles Fisher needs to iron out in practice next week. The Aggies scored their lowest point total over the past 12 games. Not to mention Texas A&M (2-0) will need more production from its' offense than 288 total yards, when it comes time to navigate through the SEC meat grinder.
Regardless of the matter, a win is a win, especially on the road in a hostile environment. Calzada completed 18 of his 38 passes for 183 yards and a score. Spiller finished with a game-high, six catches. Antonio Johnson racked up nine solo tackles and Seth Small nailed a 41-yard field goal.
Fisher is proud that Aggie fans packed the venue and made their presence felt with the noise. He knows there's a lot of room for improvement and could care less about the Aggies' high ranking. Which s why Fisher isn't going to let Texas A&M take this win for granted.
If nothing else, pulling out the gutsy come-from-behind victory has made the  fifth-ranked Aggies battle-tested for their journey ahead. And Fisher feels his players showed the county they're resilient, which is a reflection on him.
"Hearts, guts and soul, that's culture of an organization and hopefully we can build on that."