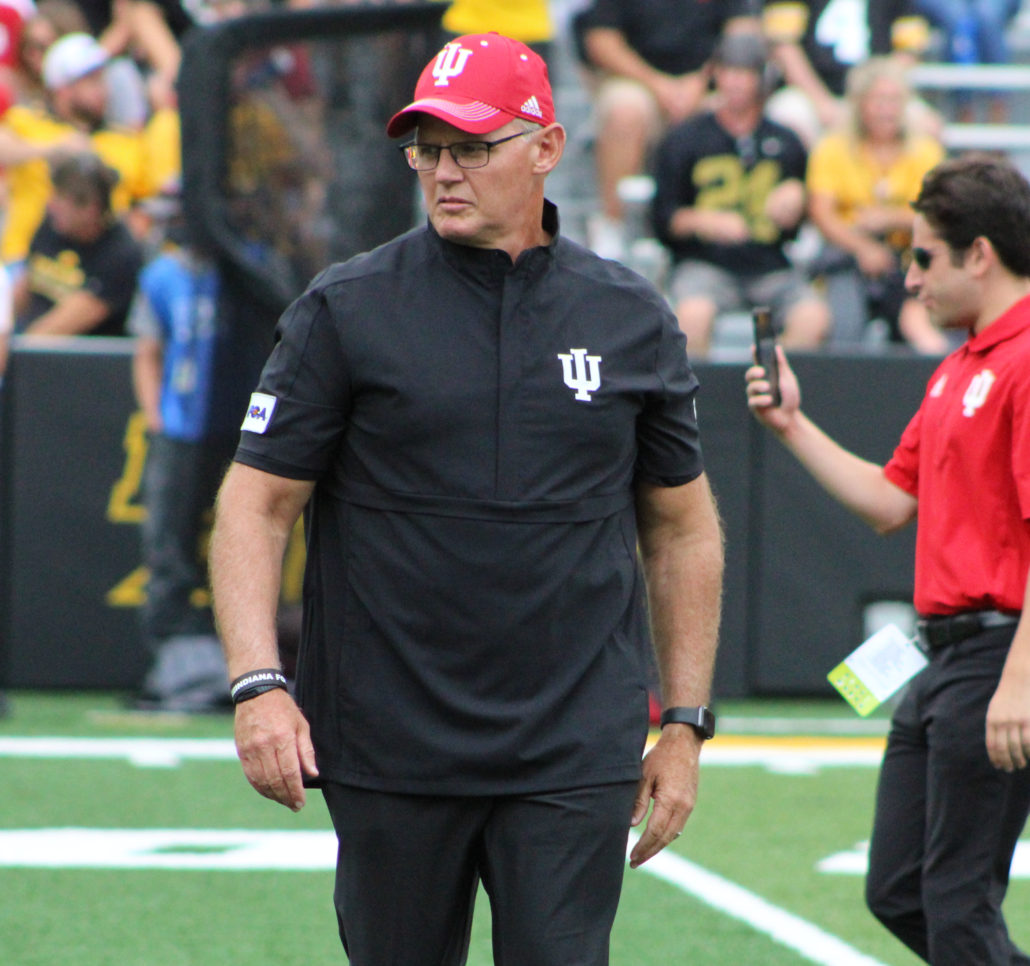 IOWA CITY, Ia. — The Hoosiers entered Kinnick Stadium as the 17th-ranked team in the country Saturday afternoon.
And rightfully so, considering Indiana was coming off a magical 2020 campaign. Not to mention the return of an All-Big Ten quarterback, experience at the skill positions and a stud at every level of the defense.
Tom Allen thought his squad looked loaded and ready. However, the reigning Big Ten Coach of the Year quickly found out that games aren't played on paper. Iowa scored two touchdowns within the first three minutes of the game and never looked back.
A little snowfall quickly turned into an avalanche for Indiana, and before Allen could blink his team was buried deep in a hole.
"You got to play high level football right out of the gate against a team like this and we did not," Allen said. "And when you don't do that this is what happens, so it's very frustrating and disappointing, but it's a long season, so one game does not define us."
Michael Penix Jr. appeared to be fully healthy from his ACL injury he suffered last season, but obviously he developed some rush during the rehabilitation process. Penix threw three interceptions, including two that were returned for touchdowns. The 18th-ranked Hawkeyes controlled the line of scrimmage on both sides of the ball.  And that's what dictated the flow of the game.
Nearly 69,000 fans at Kinnick smelled blood in the water once Indiana fell behind 31-3 at halftime. Being down by four touchdowns took Allen's game plan out of the window. Indiana struggled running the ball and didn't play with discipline. The Hawkeyes held the Hoosiers to their lowest point total since 2013.
It was also the first time Indiana failed to score a touchdown since 2017, which was also a loss on the road to a ranked team. The College football world was shocked Indiana was held to just 233 yards of total offense. What disappointed Allen the most was the Hoosiers' defense couldn't step up when the offense was struggling.
"Defense did some solid things overall, but still not good enough," the 51-year old coach said. "Offense was really, really disappointing for me, I take responsibility for it, but we have to get some things fixed."
There will be more opportunities for Allen's team to correct mistakes with film study. In the meantime the Hoosiers need to lick their wounds and fully process the whipping they received. Indiana will likely drop out of the AP top-25 when the poll releases its' new rankings Tuesday.
In Allen's eyes maybe that'll be good for his players. The Hoosiers can go back to being the hunters instead of the hunted. Although the margin of defeat took Allen by surprise, he knows his team is better than what they showed on Saturday.
"You can't turn the ball over and bottom line is we didn't run the football very effectively," he said. "We knew it was going to be hard to do that against these guys, but we got do do a better job."
With Idaho up next for Indiana (0-1), Allen will try to get all the wrinkles ironed out. Practice will be intense this week, but definitely needed for the the Hoosiers to improve. There's still a lot of football left to be played. On the bright side Indiana's loss wasn't to a divisional foe. So Allen expects his team to respond to adversity in a big way over the next few weeks.