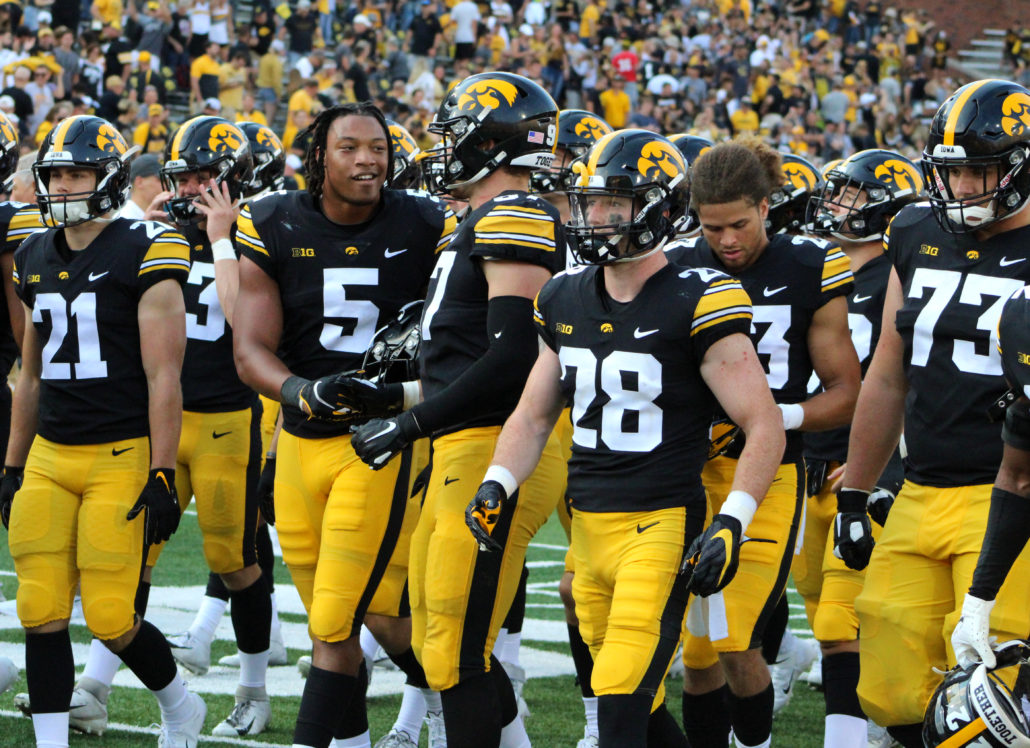 IOWA CITY, Ia. — It was a matchup of top-20 teams, and the Hawkeyes came out on fire by dismantling the Hoosiers 34-6.
Now Iowa has won seven-straight games and handed Indiana its' lowest point total since 2013. Kinnick Stadium was back in full force for the first time in nearly two years, with 68,166 fans in attendance.
The Hawkeyes put on a show for the home crowd from the start, with two first quarter touchdowns, including a 30-yard interception return by cornerback Riley Moss. Coach Kirk Ferentz was pleased with his squad's performance because it was an overall team effort.
Everyone contributed in all phases of the game. The offense was balanced and never fell into a hole. The defense didn't allow a touchdown and picked off three passes. Iowa made both of its' field goal attempts and the punting was phenomenal. Ferentz is a firm believer in hard work paying off and that's what he witnessed with his team on the gridiron Saturday.
"Starts with the effort, focus and effort, and a week ago I wasn't so sure where we were, but the guys had a really good week," Ferentz said. "They came in Monday morning, focused and ready to roll and put a good week in on working on Indiana."
It was the 66-year old's 104th Big Ten win. It was also Iowa's largest margin of victory over a ranked opponent during the regular season since 2017. Quarterback Spencer Petras looked poised in the pocket and spread the ball around. Although he didn't throw any touchdowns, the Hawkeyes had four different players with two or more catches.
Tyler Goodson picked up where he left off. The All-Big Ten rusher finished with 99 yards on the ground, including a 56-yard touchdown run. Ivory Kelly-Martin was able to get some valuable touches and averaged 5.5 yards per carry. The offensive line allowed two sacks, but that had more to do with Tyler Linderbaum getting banged up and playing through the pain.
Tight end Sam LaPorta proved he was a safety net and finished with a team-high, five catches for 83 yards. He wasn't shy about attributing his success to the big boys up front afterwards either.
"It starts with the offensive line, they did a good job today, they executed at a high level," LaPorta said. "I reaped the benefit of a lot of my teammates, so that was really cool today to get some yards."
On the defensive side of the ball Iowa dominated. Indiana's offense was held to 233 total yards. Not to mention Moss took two of Michael Penix Jr.'s passes to the house. Moss solidified he's one of the best ball hawks in the Big Ten after his magnificent performance, and the crowd went crazy on both of his touchdowns.
"I was foaming from the mouth, caught the ball and took off quick," Moss said. "It happened quick and I didn't realize I scored a touchdown until I was on the bench and I was like 'holy cow that just happened'."
Dane Belton also hauled in an interception. Fellow cornerback Matt Hankins would've had one of his own had it not been wiped away by a penalty. The only knock on the defense was the lack of pass rush. The Hawkeyes only put Penix to the turf once. Ferentz was pleased that the front seven was disruptive enough to cause the turnovers and the defensive backs were in the right place to make a play.
The defensive line will need to pick up the intensity next week on the road against Iowa State. However, for now Ferentz will enjoy the lopsided season-opening win. Meanwhile Coach Tom Allen had to take that walk of shame back to the locker room after Indiana failed to score a touchdown for the first time since 2017. The Hoosiers were outmanned, less physical and a lot slower.
All of a sudden Allen's squad looks like underachievers and fans from around the Big Ten are now wondering if the Hoosiers' success in 2020 was a fluke.
"We just got behind early and momentum got away from us," Allen said. "Just mistake after mistake and you can't do that, and I talk about that so many times with this team."
Now the 17th-ranked Hoosiers will likely drop out of the AP top-25 when it's released Tuesday. It's just one game for Indiana, and the loss wasn't against a divisional foe, so there's still a lot of football to be played. For the 18th-ranked Hawkeyes, Saturday's performance was a boost of momentum.
Iowa is looking legit early on and could possibly crash the top-10 because it won so convincingly. Ferentz is proud and will enjoy it, but then it's back to the 24-hour rule and onto Iowa State.
"We've got a lot of work to do in terms of the opponent and also us getting better at some things."