Grueling practices help Wildcats snap losing streak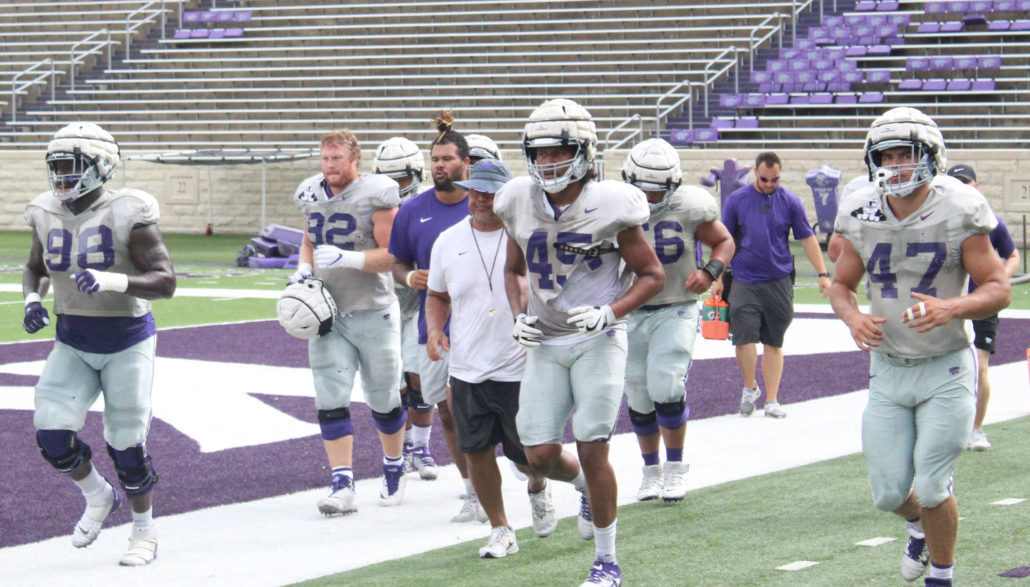 ARLINGTON, Texas — Chris Klieman put his team through an intense week of practice and it all paid off Saturday afternoon.
Kansas State played with determination and snapped a five-game losing streak with a 24-7 victory over Stanford at AT&T Stadium. The lopsided victory put the Wildcats' disappointing 2020 campaign in the rearview mirror. All of the film study, weight lifting and scrimmaging through fall camp had Klieman's team battle-tested.
The Cardinal led in time of possession and ran seven additional plays, but still got their four-game win streak snapped. That's because of a solid game plan from Klieman and his staff, plus the players delivered on every opportunity.
"Obviously excited about the great performance today," Klieman said. "Been building on this for about eight months through an unbelievable difficult winter, difficult spring, difficult summer, difficult fall camp, because we knew we needed to be better and challenge the guys and they challenged each other."
A crowd of 28,668 in Jerry's World watched the Wildcats dominate the game from start to finish. Kansas State's defense played lights out, and held Stanford's offense scoreless for three-straight quarters before it gave up a garbage touchdown with under four minutes left in the clash.
Quarterback Skylar Thompson was back under center and picked up where he left off. He showed very little rust in the pocket and looked poised, plus his leadership and command of the offense was in full effect. The super senior completed nine of his 14 passes for 144 yards and added two touchdowns on the ground.
"I feel like I did some good things, but I felt like as an offense as a whole, we left a lot out there today, and that's very encouraging moving forward," Thompson said.
Deuce Vaughn showed the country why he's one of the best running backs in the Big 12. The true sophomore was back in his home state and finished with a game-high, 124 rushing yards. His 59-yard touchdown run in the second quarter was the longest of his career. Vaughn credits all of his team's preparation during the offseason to his success on the gridiron Saturday.
"After that break when we came back into the winter, we've been putting in so much work to go out and do what we did today," Vaughn said. "And I'm so proud of everybody that went out there and played today, because man, it's a great team win, a great start, a great foundation."
Wide receiver Phillip Brooks finished with a game-high, 81 receiving yards on three catches. Klieman also added a few wrinkles to the offense and was able to get Malik Knowles some touches on the ground for huge gains. The offensive line did allow three sacks, which is something that concerned Klieman, but he was proud of the unit's execution.
On defense the Wildcats were the most impressive. Stanford's offense was only able to put up 233 total yards. One of the big takeaways from the game is how stingy the Wildcats were against the run, allowing a mere 39 yards on the ground. The defense set the tone from the jump and dictated the flow of the game.
David Shaw prides himself on having a physical team and pounding the ball, but the Cardinal got completely shut down with everything they tried offensively. It was a very frustrating outing for one of the Pac-12's longest-tenured coaches and Stanford will need to find an identity on offense and fast.
"On the offensive side, couldn't establish anything running-wise," Shaw said. "We had a couple of nice creases, but once we got down, we tried to mix in the run but we were inefficient."
Cody Fletcher, Khalid Duke and Eli Huggins all made Stanford's quarterback eat grass. It was just another day at the office for the defense and Fletcher believes the unit made a statement to the rest of the Big 12. Russ Yeast and TJ Smith were ballhawks and had interceptions. It's clear Kansas State's defense was on a mission from the start.
"I think we surprised a lot of people with our physicality, up front especially," Fletcher said. "We came out with a lot different looks than I think people were expecting."
Special teams also played solid for Klieman. Taiten Winkel connected on a 40-yard field goal and Ty Zentner averaged nearly 40 yards per punt. It was an overall solid team effort in Klieman's eyes, and he's encouraged by how his players responded after last year's adversity.
Now Kansas State will start prepping for its' home opener against Southern Illinois, but Klieman is going to enjoy the victory and getting the program back in the win column.