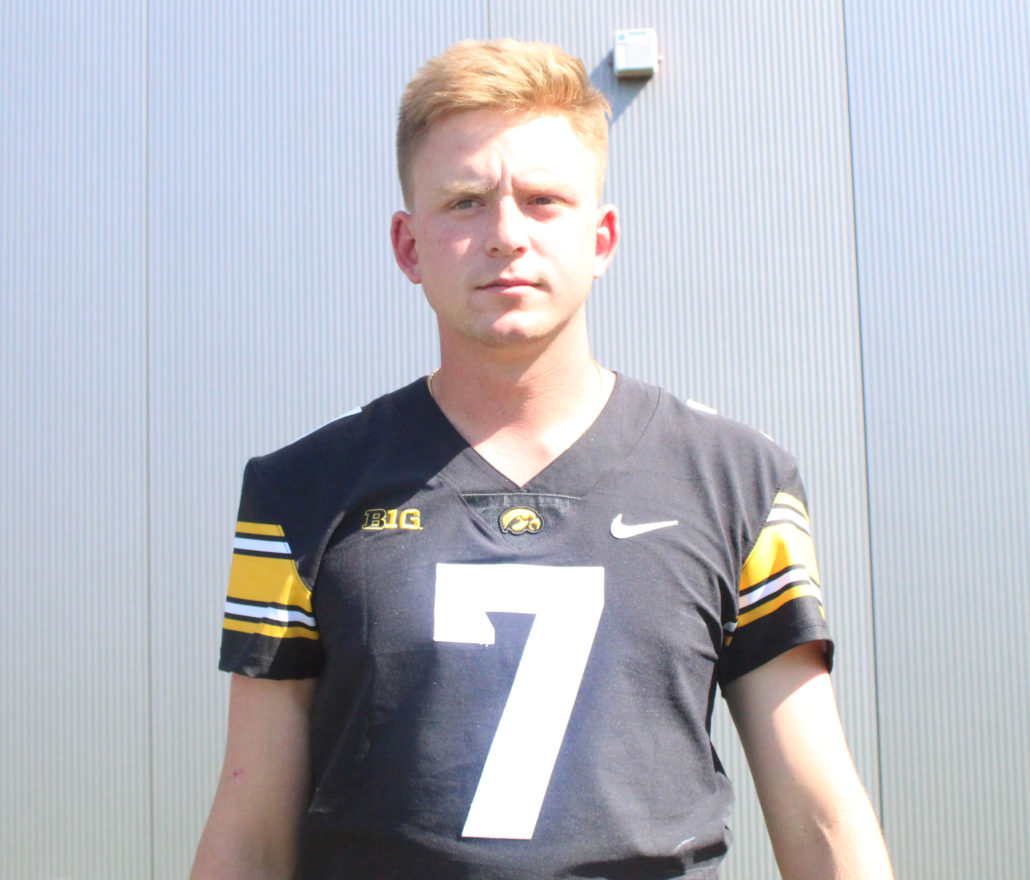 IOWA CITY, Ia. — For a quarterback with one year of starting experience, he took a lot of criticism for Iowa's shortcomings in 2020.
Spencer Petras knows all about the responsibility that comes with being a starting signal-caller in the Big Ten. The spotlight can be mesmerizing, but the humility can be overwhelming. So Petras welcomes the roses with the thorns after experiencing the highs and lows.
He doesn't care about what his completion percentage was, how many yards he passed for or touchdowns he scored last season. Now it's all in the rearview mirror approaching game one at Kinnick Stadium. Expectations will be higher for the California native in year two behind center.
Petras has a new arsenal of starting receivers in Nico Ragaini and Tyrone Tracy, and believes the Hawkeys' passing attack will be better this time around. The former four-star prospect feels confident about the work the offense has put in throughout the entire offseason.
Petras believes his accuracy has improved as well as his leadership qualities. It's all has molded him into a better quarterback for Iowa and Petras is just cracking the surface of his potential.
"A lot of that is mental and processing, how fast can I get to the right receiver," Petras said. "Making sure every time I have the opportunity that I deliver a catchable ball that allows my receivers to run after the catch and make plays."
There was a challenging learning curve with Petras and his new pass catchers. The chemistry didn't happen overnight, but he's comfortable where the unit is at approaching game one. After all, he came into the program with Tracy and Ragaini, plus this will be their fourth season together.
Having tight end Sa LaPorta for a safety new will help Petras' production tremendously. Make no mistakes, Petras wants the Hawkeyes' offense to have more explosive plays and score more touchdowns. Iowa is going to need to put up points and can't get off to a slow start against Indiana.
"Starting with the Big Ten is a big deal, every Big Ten game is competitive and it's hard," he said. "We've been playing in an extremely competitive league and that's a huge challenge."
The 21-year old knows there's pressure to win Saturday's matchup, and Indiana is the highest-ranked opponent Iowa has opened the season against since 2000.
The Big Ten West is full of parity and a perfect time for the Hawkeyes to take advantage. Petras is ready to take his game to the next level and this top-20 matchup is the ideal stage. He's been focused and ready, with no outside noise from television and social media interfering with his preparation. At the end of the day Petras could care less on how fans judge him.
"I really think it's about a mental kind of perspective on what's important, who's opinion are important," Petras said. "When you reflect on that, it's very few people in my world who opinions I value, and critics I certainly don't."
He's glad to back playing in front a full crowd at Kinnick. The Hoosiers are going to come after the young quarterback with everything they got. It's just another day at the office for Petras, so he's prepared for the worst and hoping for the best.
"There's no easy wins, there's nothing like that, so we know we have an opportunity in front of us to start the season strong, and I know we're all really excited for it."