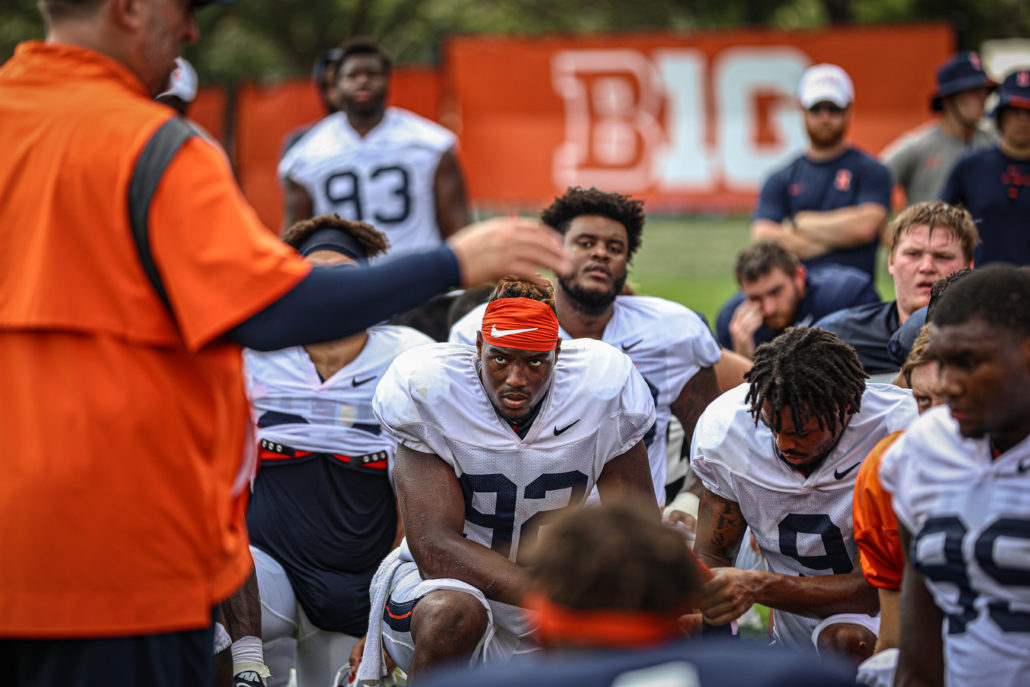 CHAMPAIGN, Ill. — The veteran coach is ready to start his legacy with Illinois, and Saturday's matchup with Nebraska is going to tell him a lot about the team he inherited.
Bret Bielema's homecoming has been full of support since he landed on campus last December. Being back in the state where he was born has sentimental value to his family, and he's been enjoying every second of his return.
There's no place like home for Bielema, and he understands that the people of Illinois want to be part of something special. Building a program into a winner doesn't happen overnight. However, there's been some buzz in fall camp that's been absent with the Fighting Illini for quite some time.
Fans are now optimistic on what the future may bring and that puts a smile across Bielema's face. There's been a tremendous amount of support from the administration, and rightfully so. If Bielema can somehow build Illinois into anything similar to his Wisconsin teams that won three Big Ten Titles, than everyone is going to get a return on their investment.
"I think fans are excited, but we haven't played a game yet, so it's easy to get excited about something that you've never seen," Bielema said. "I hope there's equal excitement after we get done playing, that's what I'm excited for more than anything."
The Fighting Illini will be facing a Husker team desperate for a win and a coach looking to silence all of his critics. Which is why Bielema has his players dialed in for Saturday's matchup. Having a plethora of super seniors return to the team has made Bielema's transition a smooth one. He's feeling positive vibes, knowing all of their experience is about to pay off, so he doesn't want to add any late wrinkles to the game plan.
"You don't really want to do much tweaking, rather you like the plan or not, it's really not going to do you any good to change it at this point," the 51-year old said. "Just kind of believe in what you're doing moving forward and I'm excited."
Bielema knows mistakes are going to be made, considering it's the first game of the season for both teams. Scott Frost has a seasoned veteran quarterback in Adrian Martinez, and Bielema has Brandon Peters in his arsenal, who's one of the most experienced signal-callers in the league.
Something has to give, and when it does Bielema doesn't want an overreaction from fans, regardless of the results at the end. With the game  less than 48 hours away, Bielema understands why Fighting Illini fans are on edge. After all, the spotlight will be shining on Memorial Stadium, fans will be packing the venue and the game will be on national television.
"The anxiety and pressure I'm sure will start to build with certain people, but me it's kind of hey let's just get there," the Illinois native said. "It's more of the anxiety and pressure to get there, than it is with what's going to happen when it happens."
Bielema is also planning on making a statement to recruits that'll be in attendance. So there's no denying there'll be high anticipation from all parties involved. The Huskers won a 42-38 thriller the last time they visited Champaign and this weekend's clash has a recipe for a similar type of shootout.
Bielema is just proud to reunite a fanbase, knowing they're all about the same purpose. There's no other team in the Big Ten that rocks the color orange and the coach plans on taking full advantage. He just wants the fans and alumni to know that they're all in this together no matter where this new journey leads them.
"For people to support us, they have to believe in what we're doing and they have to see hope," he said. "I'm not sure where we're going to land Saturday post game, but I want to instill hope in a lot of people that's been looking for it here in the Illinois program for the immediate future and years to come."