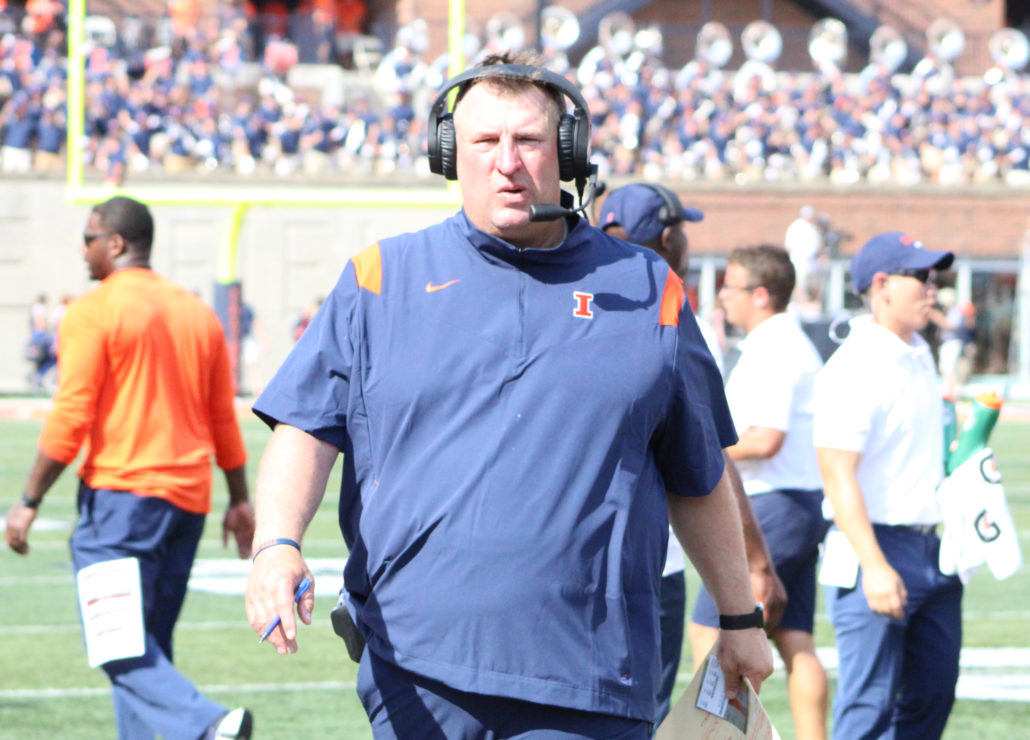 CHAMPAIGN, Ill. — The 30-22 victory over the Huskers Saturday afternoon was just a taste of what the 51-year old coach hopes to bring to Champaign.
The start of the Bret Bielema era wasn't pretty by any means, but Illinois persevered and scored 21 consecutive points to pull away and claim its' second-straight win over Nebraska.
The Huskers gift wrapped eight points to the Fighting Illini with a special teams blunder and a costly fumble in the first half. And once Bielema's team took the lead, they never looked back.
"I don't know how many we're going to win in the future, but you can only have one opportunity to win your opener as a head coach and this is a big deal," Bielema said.
You could hear a pen drop in the stadium after Illinois' starting quarterback Brandon Peters got sacked and left the game with an injured shoulder. However, Rutgers transfer Artur Sitkowski entered the game and kept the wheels rolling on offense.
He threw two third quarter touchdowns that gave the Fighting Illini momentum the rest of the way and ignited the crowd of 41,064 fans. A light bulb came on for Illinois after Nebraska committed a roughing the passer penalty on Sitkowski. At first the Blackshirts thought they made a clutch interception, but instead it resulted in 30 extra yards in favor of the Fighting Illini's offense.
The late hit ignited Sitkowski, all of the Illinois fans, including the entire student section and they rallied behind him after that play. Bielema enjoyed every second of how his players responded.
"When you win these types of games, even though they are stressful types of moments, it really does build character with your team, and a lot of things that you can't simulate in practice," he said.
Bielema's No. 1 goal was to slow down Nebraska's Adrian Martinez. He thought the quarterback was the only person that could hurt his defense. The Fighting Illini didn't even blink after Martinez scored on a 75-yard touchdown run late in the third quarter. Which is why Bielema was impressed with how his players didn't fall victims to adversity.
He believed the Fighting Illini showed mental toughness, especially with their first drive of the second half, that milked the clock for over eight minutes. The gutsy win was an overall team effort. That's something the players lacked all of last season except for when they beat the Huskers in Lincoln. Now the team has confidence and believe they can compete in every game remaining on their schedule.
"Nothing is going to come easy for this group, they played their hearts out and rallied behind a second-string quarterback," Bielema said.
Sitkowski completed 12 of his 15 passes for 124 yards and two touchdowns. Mike Epstein led the Fighting Illini in rushing, with 75 yards on the ground and a score. Isaiah Williams looked like a natural at receiver and the converted quarterback hauled in six passes for 41 yards and a receiving score. Not to mention Illinois' defense sacked Martinez five times and scored on a 41-yard fumble return.
For a team that was a touchdown underdog to the Huskers and projected to finish last in the Big Ten West, the Fighting Illini played solid under their new coach. It didn't even matter that Frost's team ran more plays and outgained Bielema's in offensive yardage. Now Illinois has scored at least 30 points in each of the past four meetings against Nebraska.
"I'm very excited to get a win, not just for our team, but the fans," the Illinois native said. "I appreciate everybody that came out today and I thought the crowd was awesome."