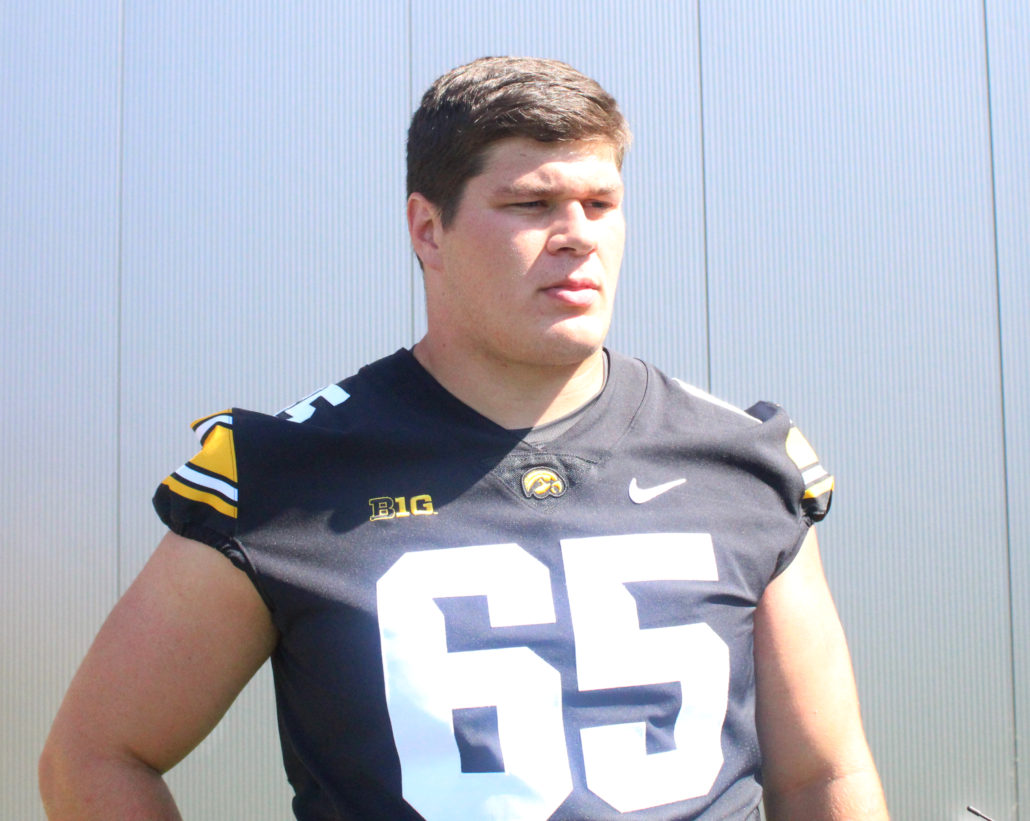 IOWA CITY, Ia. — He's considered one of the best offensive linemen in the country, with a reputation for physicality.
After putting the NFL on hold following a monster sophomore campaign, Tyler Linderbaum created a buzz that spread like a wildfire from the Big Ten to the rest of the College football world.
Linderbaum has already received every accolade imaginable for an offensive lineman throughout the preseason. And rightfully so. After all, the Iowa center is all blue collar on the gridiron and loves battling in the trenches. Linderbaum's work ethic and success on the field has earned him the utmost respect from his teammates and that didn't happen overnight.
The Iowa native is actually a converted defensive tackle, who arrived on campus as a three-star prospect. Linderbaum's journey has been remarkable ever since, but he still remains a humble individual, thanks to his predecessors. For the past two seasons Linderbaum was able to play alongside stud offensive linemen Tristan Wirfs and Alaric Jackson.
He admired how both players presented themselves, the way they attacked practice and their professionalism. Now Linderbaum is taking what he learned from them and using it in the offensive line room. The six-foot-three, 290-pounder has embraced his leadership role.
Not to mention he's been enjoying guiding the unit and giving them direction through fall camp. And not just on the field.
"I was fortunate enough to have a bunch of older guys that were great mentors to me when I was younger," Linderbaum said. "Just teaching them how to be successful, rather that's being where they supposed to be on time, going to classes, and doing what they need to do to be successful."
Linderbaum believes the Hawkeyes' offensive line room is unique and full of characters. Everyday he leads by example, hoping they feed off his energy and positivity. As a matter of fact, Linderbaum feels his biggest strength is not mauling defenders on the field. Instead he believes his character and leadership is what has made him into the star player he is today.
Regardless, Linderbaum has remained humble through it all and that's what he's trying to embed in the younger offensive linemen.
"There's a bunch of funny and interesting guys in that room, and those are the guys that are usually caracking the jokes and having the most fun," he said. "That's what it has to be, you got to have fun with each other, but once you come to the field, it's time to get back to work and do your job."
Although Linderbaum hasn't done any NIL deals, he doesn't mind helping his teammates through the process. Helping them understand the ins and outs is what he takes pride in. The timing of it all caught Linderbaum by surprise because he wasn't expecting it to happen so soon.
Still, he doesn't plan on doing any NIL deals during the season and is focused purely on football.
"The big thing for me is just not letting it be a distraction, I think that is what's most important," the 21-year old said. "Not letting that distract you and take time away from your teammates, so finding the right balance is key."
Linderbaum is one of the best players in the Big Ten, but knows there's room for improvement. He wants to become a stronger and smarter individual for his teammates and coaches. That's why he refuses to be complacent and always challenges himself in practice.
"Just being more consistent in and out of every practice, because every play there's something that you can improve on," Linderbaum said. "There's not going to be one perfect play, so just finding what you need to improve on, rather that be pass or run blocking, there's always things that you can get better at."
Iowa is a little over a week from kicking off the season against Indiana in Kinnick Stadium. Hawkeye fans have been anticipating the top-20 matchup and Linderbaum been counting down the days.
"I think right now we're all focused on getting better fundamentally as a team, just going against each other," the All-American said. "Once we're seven or eight days out from Indiana that's going to be the focus, but right now it's all about fundamentals."
This will be the first time Iowa opens up the season against a ranked conference opponent since 2000. Which is why the team entire team is dialed in and ready. The Hawkeyes refuse to start off this season like they did last year's campaign.