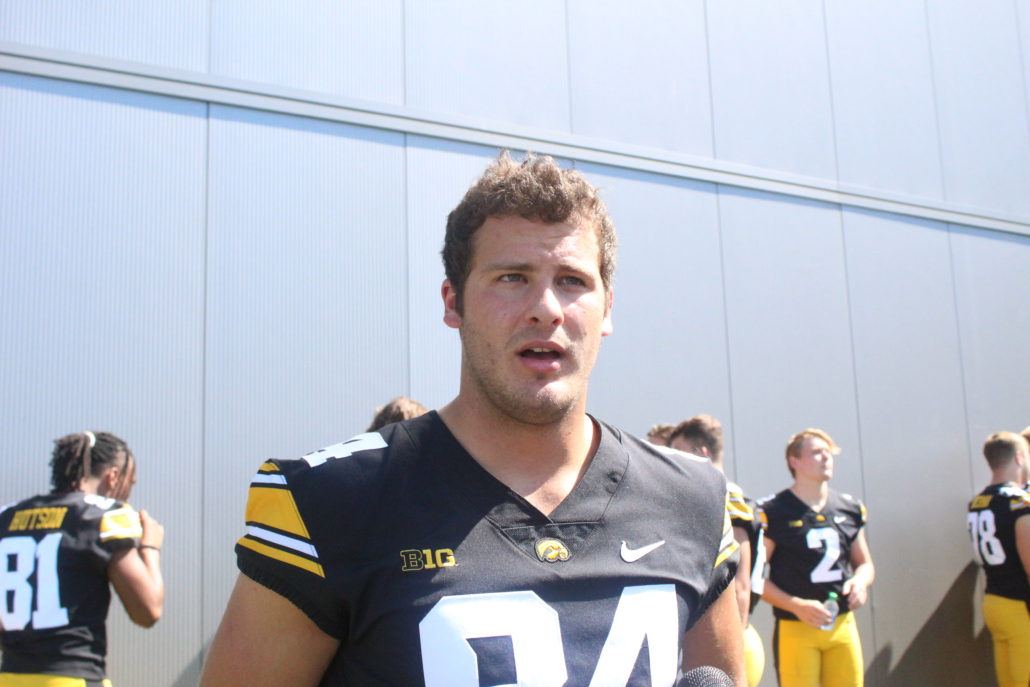 IOWA CITY, Ia. — The tight end is approaching his third season with Iowa and has everything to look forward to.
After all, Hawkeye fans are expecting Sam LaPorta to make his presence felt in the offense this fall, like his pass-catching predecessors. All eyes have been on the Illinois native since he stepped foot on campus. Which shouldn't come as a surprise, considering he plays a position the program has gained national notoriety for.
Still, LaPorta doesn't feel any pressure being a starter at 'Tight End U'. Instead he embraces everything that comes with the territory.
"I think other people outside the building see it as an expectation, but I don't really see it that way," LaPorta said. "I see responsibility to my teammates to hold up the standard that we have."
Over the past two seasons the six-foot-four, 249-pound LaPorta has hauled in 42 passes for 459 yard and a touchdown. Throughout the offseason he's been working non-stop at becoming a better tight end. LaPorta feels more confident as a pass catcher and understands concepts more, thanks to his Offensive Coordinator Brian Ferentz.
Which is why he's hoping for more touches in 2021. LaPorta has also become a leader in the tight end room and guides the younger players in practice. He believes the more reps the unit grind out in fall camp, the better they'll be prepared for game one.
Versatility is what the Hawkeyes have stressed in the tight end room. The junior is proud of the group and feels they're like a brotherhood in terms of mutual respect for each other. When the trust is there, the chemistry becomes better, which helps the players perform better in live game action.
"Building a relationship off the field with my teammates, that's a critical piece people don't understand," the former three-star prospect said. "You build a bond off the field just as much as you do on the field, and that connection just grows over time with reps."
Although LaPorta loves his skill set, there's still a part of his game he's trying to improve. And that's his durability. Playing tight end is arguably the most physical position on offense. Players have to constantly block defenders that are nearly twice the size of them.
LaPorta just wants to stay healthy throughout the season. Most importantly, he doesn't want to be damaged goods by the time December rolls around.
"When you're getting 60 to 70 snaps on the field against Big Ten opponents and I block guys that's bigger than me, not that it's an excuse, but that can wear and tear on your body," LaPorta said. "So I think I need to be in better shape, and of course fall camp is helping us with it."
LaPorta considers himself a humble individual, but carries himself with confidence because he has a great support system. He also keeps in touch with several former Hawkeye tight ends.
When T.J Hockenson got injured his rookie year, LaPorta was able to watch film with him as he rehabbed at the facility. LaPorta also texts Dallas Clark on a regular basis. His goal is to pick their brains and become a better and smarter tight end. So far, he believes everything is working and going according to plan.
"I think my greatest strength is versatility, we hold ourselves to a standard of blocking our butts off, getting open and catching the ball."