Hunter Johnson seeing light at the end of the tunnel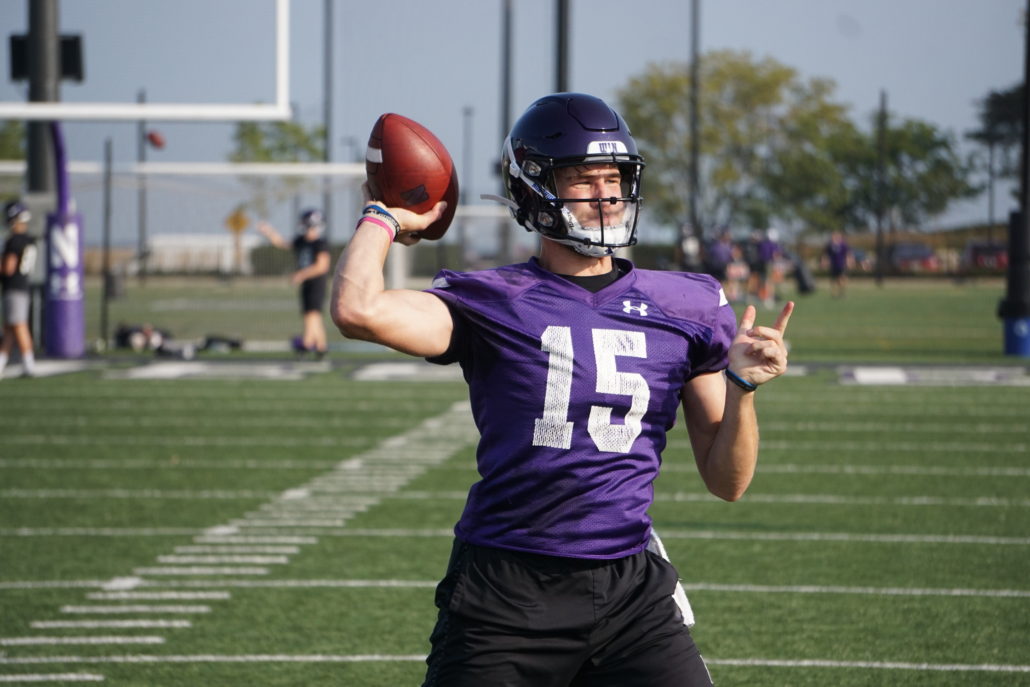 EVANSTON, Ill. — He's approaching his fifth year as a student athlete and has persevered through a long journey.
Hunter Johnson arrived at Clemson in 2017 as a highly touted, five-star recruit, who was supposed to be the heir apparent to Deshaun Watson. Instead he wound up being Kelly Bryant's backup and transferred to Northwestern the following spring.
Unlike the transfer portal today, Johnson had to sit out in 2018. However, he started five games for Northwestern in 2019. The 3-9 campaign wasn't what Wildcat fans expected and the Indiana native finished with one touchdown and four interceptions.
Last season Johnson played the backup role again, only appeared in two contests and watched Peyton Ramsey lead Northwestern to the Big Ten Championship Game. Which is why he's going harder than ever trying to take helms of the Wildcats' offense in fall camp.
After all, Johnson has paid his dues, with a career full of hype, humility and disappointment. Still, he's remained dedicated to the program and believes it has molded him into the quarterback he is today.
"I've faced some adversity on the field and off the field, and gone through some tough times," Johnson said. "That's the best way to learn is to go through those tough times and come out on the other side better because of it."
Johnson is currently in an intense battle for the starting job with South Carolina transfer Ryan Hilinski, who he's also roommates with. Coach Pat Fitzgerald will be keeping a close eye on the competition before naming the No. 1 guy for the opener against Michigan State.
The six-foot-two, 215-pound Johnson has been practicing with confidence and refuses to let another transfer write the narrative for his legacy. Offensive Coordinator Mike Bajakian is in his third season with the program and Johnson feels comfortable in his system.
"I've seen a lot of football, which is good," he said. "So I think that's always been an advantage for me, that I've been through a lot of football systems and terminology."
Johnson used the pandemic year to his advantage and was able to have more meetings with Bajakian. He's feeling no pressure to win the job and believes the best player will earn it. All Johnson hopes to do is control what he can and continue to lead by example in the quarterback room.
"It's the same thing, going out executing the offense, taking care of the football and just doing your job," Johnson said. "That's ultimately what we're out there to do and that's kind of how we're approaching it."
The signal-caller takes pride in his accuracy as a passer and worked on his mobility throughout the offseason. Not to mention Johnson added some pounds to his frame and got stronger. He just wants to be able to contribute to the offense any way possible. Winning Fitzgerald's trust is Johnson's No. 1 goal and everything else will take care of itself.
Although Johnson has come a long way, he never gave up when things didn't go his way. That's because Fitzgerald and his staff have been great resources to Johnson, plus the quarterback believes he has a great support system.
"My family has always been a huge part of my life, they support me through everything I do," Johnson said. "They want the best for me and that all you can ask for from great parents."