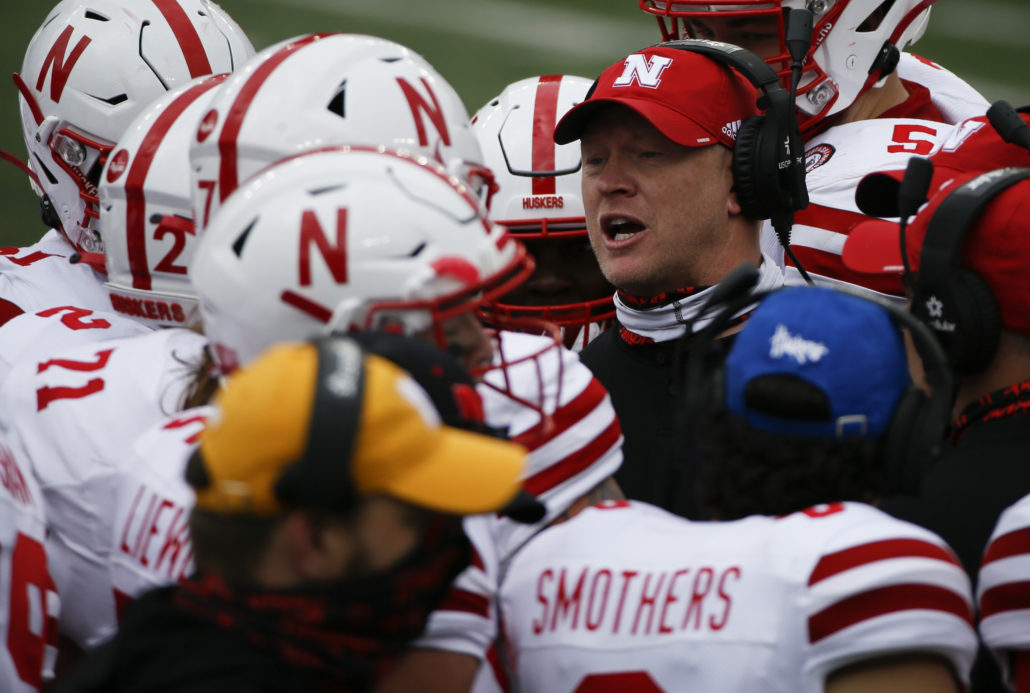 There's no denying the Huskers are facing their most pivotal season opener in decades.
Although Illinois isn't ranked or a bitter rival, it's vital Nebraska comes to Champaign with all guns blazing. Scott Frost has recently come under fire amid an NCAA investigation. Now the embattled coach is trying his best to keep the negative attention from being a team distraction.
He currently has a lot on his plate, including operating under a new Athletic Director and dealing with a fanbase hungry for any type of success. Beating a coach, who laid 70 points on Nebraska in the 2012 Big Ten Championship Game, would give Big Red Nation some much needed momentum heading into the bye-week.
So the 46-year old coach needs to take advantage of the spotlight the Huskers will have on them this Saturday. After all, the College football world will be watching, including fans, potential recruits and foes on the schedule. Frost has an opportunity of a lifetime and can supply everyone's football fix, for a highly-anticipated College football season.
A great performance could change some of the national perception of the program. It may temporarily silence a few of Frost's critics.
However, accomplishing that feat is easier said than done judging from Frost's track record. Nebraska has lost two of its' past three season openers. Not to mention the Huskers haven't won two-straight conference games since 2018. There's no pressure on Bret Bielema to win Saturday's clash, considering he's entering his first campaign with Illinois.
Meanwhile Frost has compiled a 12-20 record over the past three seasons, including a 9-16 mark in Big Ten play. It's mind-boggling he has made $5 million a year during that span, but the athletic department has yet to receive a return on its' investment.
The Nebraska native has lured in a top-20 recruiting class every season he's been on the sidelines in Lincoln. It's all of his players that fit his scheme on the roster now. Still, several of Frost's prized recruits are no longer with the team, including Maurice Washington, Wan'Dale Robinson and Luke McCaffrey.
There's one key player who has outlasted the rest, and now it seems like everything is about to pay off for him. Quarterback Adrian Martinez is entering his fourth year as Nebraska's starter, and fans want to see positive results this time around. Frost has supported and invested so much into the signal-caller over the years, that it's clear he has put all of his eggs in one basket.
Martinez has had some durability issues throughout his career though. Every season he's been injured at some point and had to miss multiple games. Regardless, Frost's scheme requires Martinez to carry the ball. Frost is hoping the new arsenal of rushers will relieve some of the weight off of Martinez' shoulers. All the news from fall camp has been promising regarding the offense. Frost also handed out Blackshirts Monday to individuals he believes will be stud defenders this fall.
Illinois also wants to change the losing narrative that has hung over its' program for quite some time. A plethora of players return from last year's Fighting Illini squad that beat the Huskers 41-23 in Lincoln. Quarterback Brandon Peters, center Doug Kramer and linebacker Jake Hansen are all super seniors.
Not to mention Illinois almost won at home in 2019. Bielema also knows the Big Ten like the back of his hand and has put his losing tenure at Arkansas in the rearview mirror.
The matchup is intriguing, but something has to give and it's going to come down to which coach wants it more. Ironically, the road team has won the last two games in this series. Fanatics are wondering if the humility will continue for Frost and the Huskers or if they're going to get back on the winning track and spoil the start of the Bielema era. Either way, Saturday's clash at noon is going to be must-see television.