Skylar Thompson elated about weapons in arsenal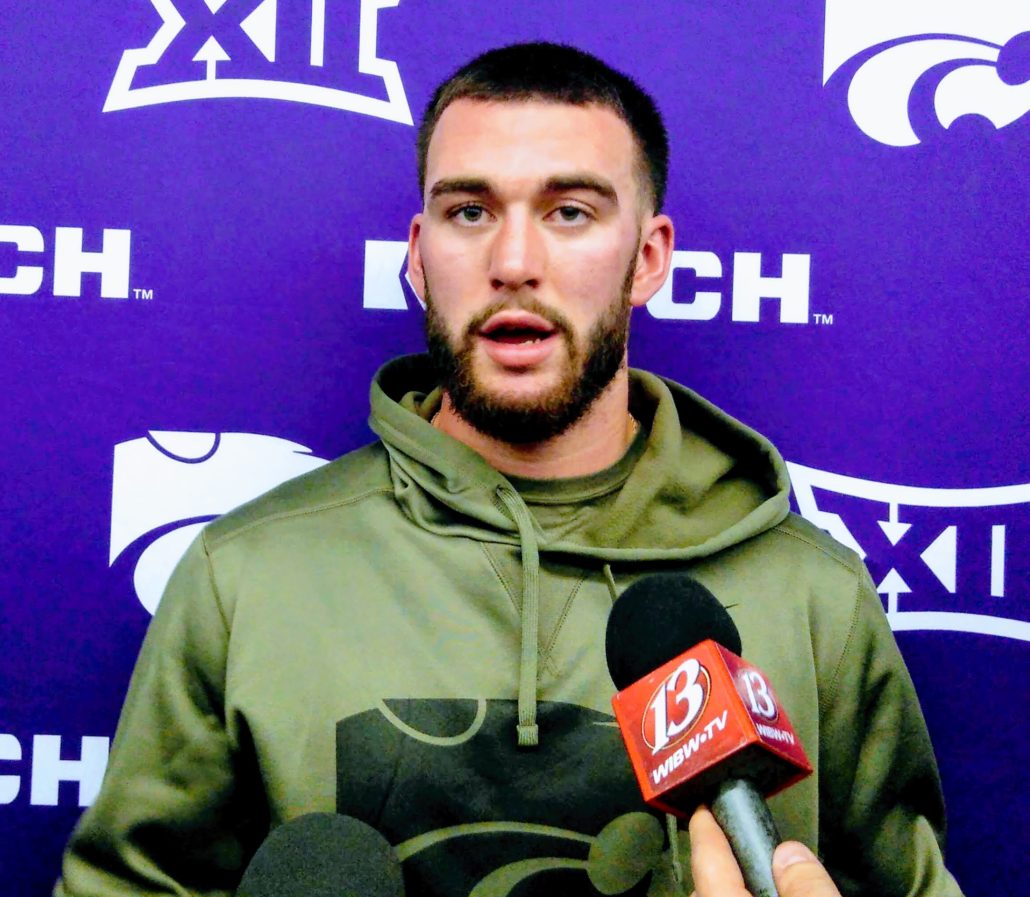 MANHATTAN, Kan. — Kansas State finished 106th nationally in total offense last season because of a missing piece.
There's no denying quarterback Skylar Thompson is the heart and soul of the team. That became evident after he injured his throwing arm, missed the Wildcats' final seven games and the team sputtered.
Now Kansas State has completed nine practices of fall camp, Thompson is back fully healthy and he's been enjoying every minute of it. The Missouri native's collegiate career dates back to 2016, and he strongly believes this has been the Wildcats' best fall camp.
All of his teammates have that fiery look in their eyes. There's passion and high energy in every practice. And that's why Thompson is using it all as motivation for his last rodeo with the program.
"Our expectation is to go out there and be the best every single day and understanding that we're not going to be perfect," Thompson said. "There's going to be mistakes, whatever the case may be, but that's our mentality."
Kansas State has one of the most experienced offensive lines in the Big 12. Not to mention running back Deuce Vaughn is coming off a promising true freshman campaign. Offensive Coordinator Courtney Messingham has been impressed with Vaughn's versatility and what he brings to the table, which will help Thompson.
"Well, I think we have to use him even if it's not always handing it to him, or not always throwing it to him," Messingham said. "Everybody knows that, from a skill standpoint on our offense, he has the skill set to pretty much do everything."
Daniel Imatorbhebhe, who led Illinois in receptions, receiving yards and touchdown catches last year, has been a great addition in Thompson's eyes. Now he'll be playing alongside possession receiver Malik Knowles and slot demon Phillip Brooks. Thompson has been building chemistry with the trio of receivers and believes they can do a lot of damage to opposing secondaries this fall.
"He (Imatorbhebhe) is a great asset to our football team as far as bringing in experience and game reps in big-time games that you can't really simulate," Thompson said. "This whole offense is new to him."
Having a legit passing attack will be vital for the Wildcats' offense, considering they finished ninth in the conference in 2020. Thompson emphasized that his chemistry with Knowles has improved drastically. Thanks to time together off the field, the two now have a bond that'll amplify their communication on the gridiron.
"The key to that trust and continuity with a receiver or anybody on the team, you have to have a relationship outside of football," he said. "I know what he's gone through, he (Knowles) knows what I've gone through, and I just feel like that mentally just connects us."
Kansas State's defense has been challenging the offense in practice with different packages, and Thompson is hoping it'll make the entire offense operate faster. Still, confidence is key and the Wildcats are going to have to execute on a consistent basis.
Regardless of the matter, Kansas State is loaded with talent and experience at the skill positions, plus Thompson will have everyone involved in the game plan.