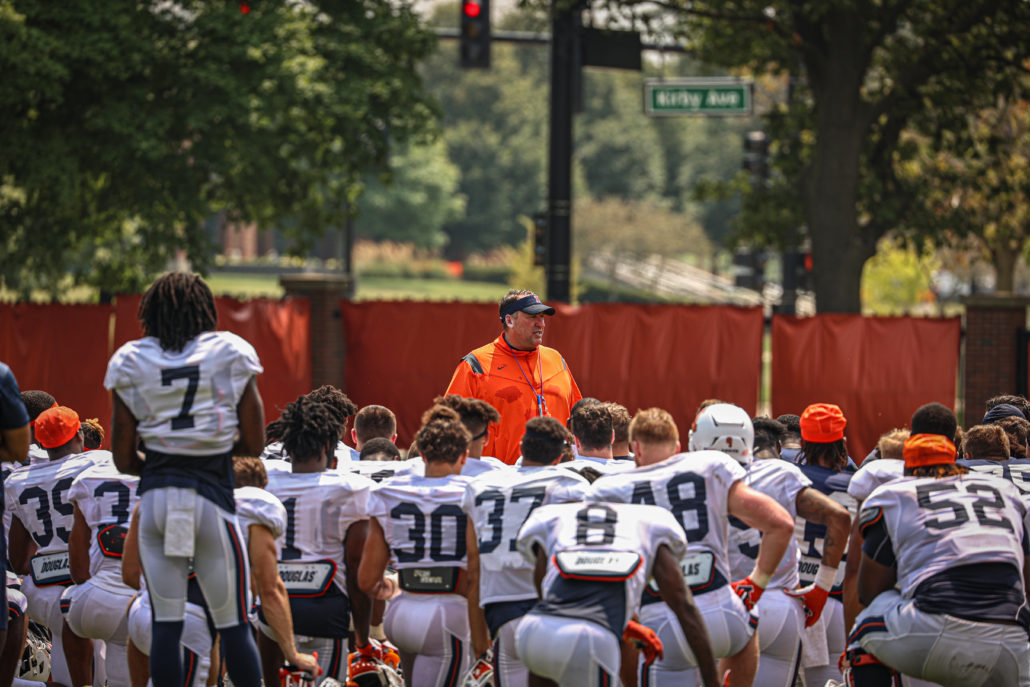 CHAMPAIGN, Ill. — He's only been on the job for eight months, but in that short period of time the Fighting Illini are beginning to visualize the foundation he's building.
Bret Bielema knows the Big Ten like the back of his hand. After all, the 51-year old coach played at Iowa and won three conference titles with Wisconsin. Bringing credibility back to a program that hasn't had a winning season since 2011 will be Bielema's toughest task to date.
However, he's prepared to pull the unthinkable this fall. Illinois' roster is full of seniors, including sixth and fifth-year players hungry for a winning campaign. Bielema feels his players are operating on a different level, but they're all trying to bond together for the betterment of the team.
So far, he's excited about how focused his players are and wants them to be inclusive instead of exclusive. The Fighting Illini have experience, leadership and momentum, which Bielema hopes will lead them in the right direction.
"I think you kind of go off where you were yesterday, I keep telling our guys it's not about where we're at, it's where we're going," Bielema said. "These guys have taken a daily approach, there's days I think we've had big gains, there's only been a few where I didn't know if we moved forward and I've challenged them with that."
The Illinois native is trying to make the most out of his 20 hours a week with his team. He's also enjoying coaching his players in the physical instead of through zoom calls. Not to mention the Fighting Illini just wrapped up their 12th practice Saturday.
Bielema is expecting all of his players to be ready for game one except offensive lineman Jordyn Slaughter, who suffered a broken ankle in practice. He wants his team to have an identity. Bielema gained notoriety for his teams' physical style of play and pounding the ball.
Brandon Peters is one of the most experienced quarterbacks in the league. Running backs Chase Brown and Mike Epstein combined for seven rushing touchdowns through eight games and averaged over five yards per carry last season. Brown even earned third-team, All-Big Ten honors.
Isaiah Williams made a switch to wide receiver over the spring and the transition been smooth because he's turning heads in fall camp. Despite the loss of All-Big Ten performer Kendrick Green, Illinois will be fielding one of the most experienced offensive lines in the West division.
On the defensive side of the ball is where Bielema has put most of his focus, considering the Fighting Illini finished last in the conference and 114th in the FBS in total yards allowed in 2020. He wants Illinois to be multiple on defense with different schemes and formations to adapt to the offenses the unit is going to see this fall.
"I think we've been pretty diligent in our pursuits of the transfer portal and opportunities that exist," he said. "Really the outside linebacker is an area that we've been looking at from a pure numbers standpoint as kind of a new position for us."
Having linebacker Jake Hansen, who earned second-team, All-Big Ten last season, back in the front seven will be vital when the Fighting Illini approaches the gauntlet of their conference schedule. Still, the entire defense is dialed in and everyone has set the bar higher.
Bielema is keeping a close eye on the rotation of Illinois' defensive line. Keith Randolph's versatility and Calvin Avery's non-stop pursuit has stood out. Freshman Jer'Zahn Newton has impressed his new coach with his work ethic.
Bielema is a strong believer that men are defined more by moments of adversity than success. He understands all of the seniors have suffered a lot of shortcomings in their careers. Now they're desperate to change the narrative in 2021. Regardless, Bielema wants the entire team to keep his message in mind when they come to practice.
"I say to them all the time, just because you have all the right intentions, you're doing all the right things, you're working extremely hard, you're responsive and you pay attention, that doesn't guarantee success."