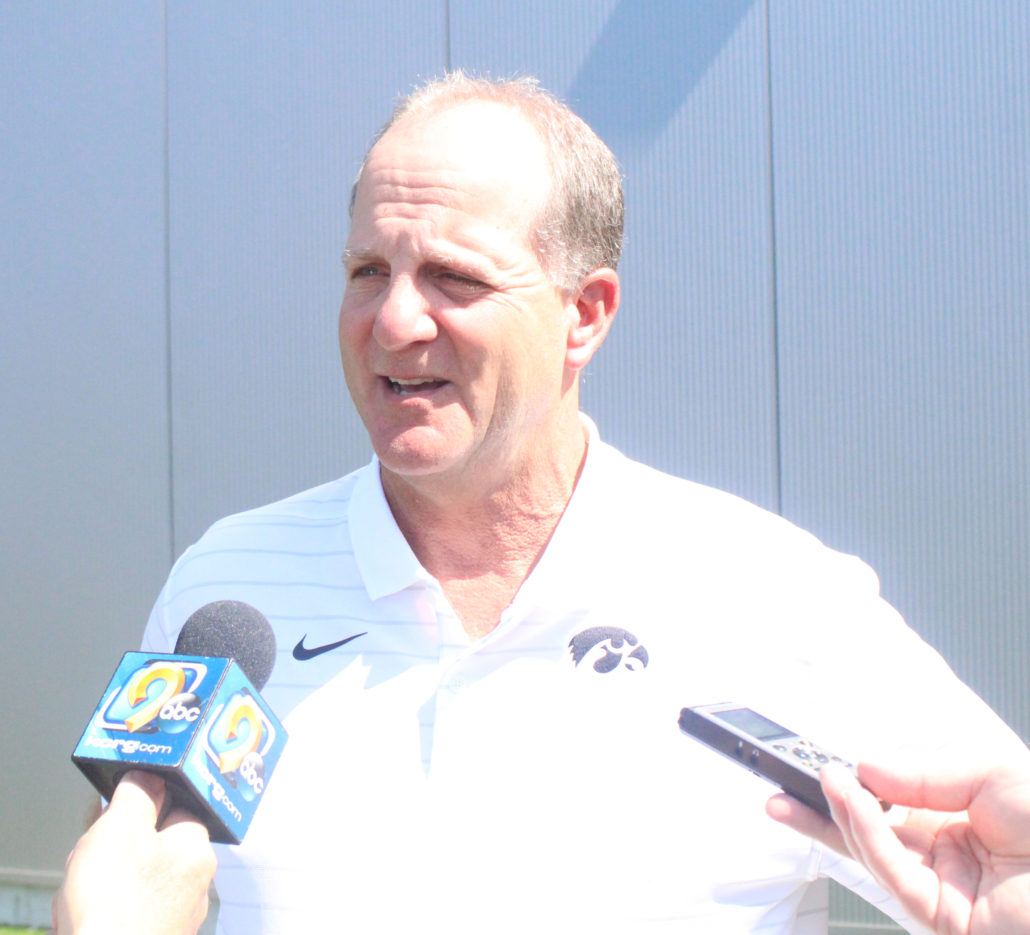 IOWA CITY, Ia. — The Hawkeyes have established a pipeline for elite defensive linemen, to where they reload instead of rebuild.
Defensive Coordinator Phil Parker continues to field warrions on the frontline and Iowa dominates in the trenches. Defensive linemen Anthony Nelson, A.J. Epenesa, Chauncey Gholston and Dayvion Nixon were all drafted over the past three years.
Now Parker will be assembling a unit that's thin on experience, but very talented. Last season Iowa finished 10th in the FBS against the run and allowed a mere 2.8 yards per rush, which was the fewest in the Big Ten. Duplicating those numbers will be challenging this fall, even for a defensive guru like Parker.
However, he's pleased with where the unit stands through the first week of fall camp.
"I'm really happy with the whole defensive line, I think they're young, not a lot of reps, but I think there's quality of depth with guys that can help us," Parker said. "I'm excited to see how much they can grow and improve here in the next two weeks."
Senior defensive end Zach VanValkenburg is the veteran of the bunch, who'll be anchoring the front four. He tallied 8.5 tackles for loss and earned second team, All-Big Ten honors in 2020. Besides VanValkenburg Iowa is pretty green on the interior and along the edge. That's why Parker is counting on VanValkenburg's leadership and experience to get the group up to speed.
"Last year I though he (VanValkenburg) did a really good job with his effort and his ability to play football," the 58-year old said. "He brings a lot of energy and I think he understands as a leader, to me he's probably going to have a bigger impact this year."
John Waggoner plans on holding down the opposite side of VanValkenberg. The Des Moines native only has six career tackles. On the inside defensive tackle Noah Shannon started one game last season and freshman Logan Lee is a converted tight end. Parker has been impressed with Joe Evans presence in practice. Evans will be used more than just on third down situations.
As of now the players are just building chemistry with each other. Parker believes it'll be vital as Iowa navigates through one of the Big Ten's toughest schedules this fall. Having his defenders perfect everything on the field is just one part of the equation in Parker's eyes. Film study is also significant when it comes to opponents' play calling and tendencies.
That has been Parker's recipe to success and he's instilling it more than ever before in his young defenders. Regardless, he's confident all of the Hawkeyes' hard work is going to pay off on the gridiron, and during the process he's expecting them to play faster.
"We've been practicing for seven days already and these guys are communicating and understanding each other, knowing what they have to do to recognize things," the Ohio native said. "It's kind of nice to see guys' effort and the demands that they put on each other."