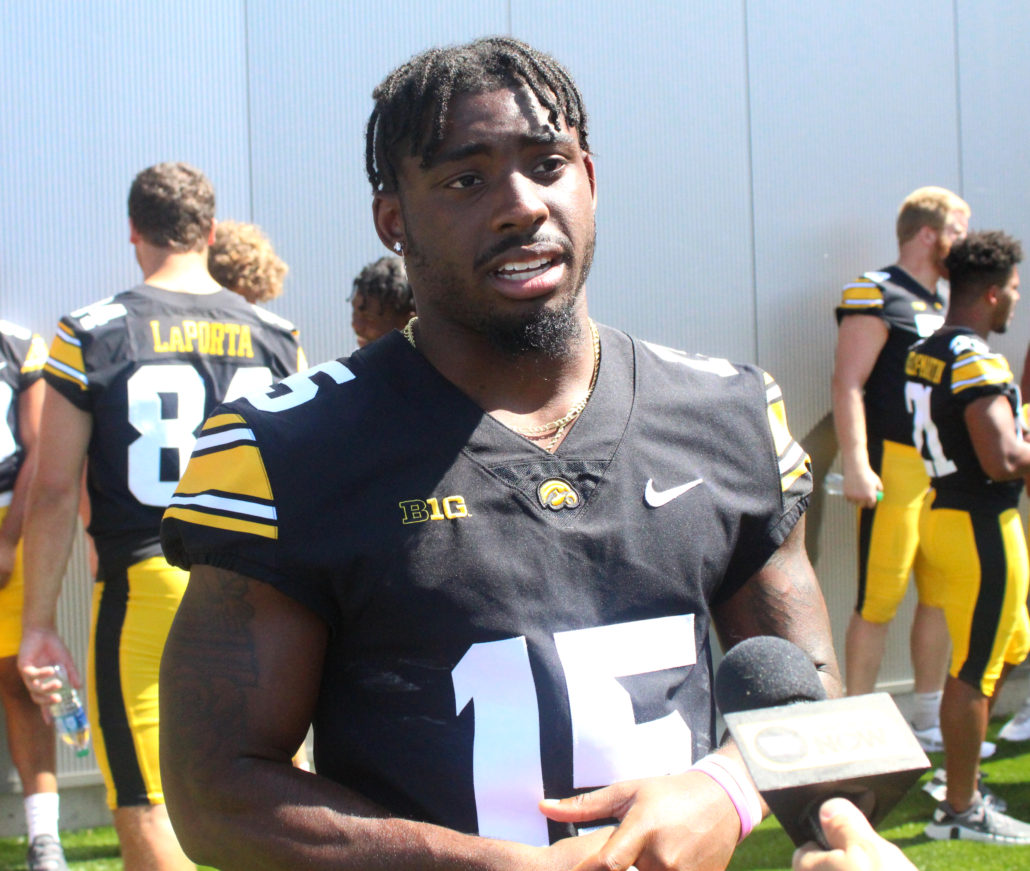 IOWA CITY, Ia. — The Hawkeyes haven't had a 1,000-yard rusher since 2017, but there's one individual in their backfield who's trying to change that narrative.
Although Tyler Goodson has led Iowa in rushing for the past two seasons, including five 100-yard performances during that span, he knows he's capable of more. The Georgia native has a work ethic that's second to none, plus he set some high expectations for himself this fall.
He earned first team, All-Big Ten honors and finished third in the conference in carries last season, but that wasn't enough in his eyes. Now Goodson is planning on making himself a household name in the league in 2021.
"My goal is to achieve the Doak Walker Award and my other goal is to lead the Big Ten in rushing," Goodson said. "Ever since I've been here my goal has been to surpass a 1,000 yards each and every year, and I'm going to get it this year."
Goodson is confident because he'll be running behind one of the best offensive lines in the Big Ten West, led by All-American center Tyler Linderbaum. The former three-star prospect shared carries with Mekhi Sargent through his first two years with the program and now he's expecting a bigger load. Teammate Ivory Kelly-Martin will get his touches, but Goodson wants to be the workhorse.
He has displayed great hands, with 39 receptions in his career. Goodson takes pride in his vision and believes that's one of his greatest strengths as a rusher. With 12 rushing touchdowns under his belt, there's no denying his vision gives him a nose for the endzone.
However, Goodson is still trying to improve his blocking, especially against the pass rush. The 5-foot-10, 199-pounder doesn't have ideal running back size, so he's been working on his lower body strength throughout the offseason. Goodson knows once he becomes an efficient blocker, he'll be a complete running back.
Coach Kirk Ferentz admires how Goodson never takes a day off and leads by example. Goodson constantly pushes himself because he's the veteran in the running back room, and all eyes are on him. Now he has more responsibility with the younger rushers, and getting them up to speed with the playbook.
Goodson's leadership hasn't gone unnoticed by the coaching staff and the Hawkeyes are going to need it, especially playing three ranked teams through the first six games.
"The first thing I appreciate about him (Goodson) is just his energy, and the way he practices," Ferentz said. "I don't know how well he can do this year, but he's certainly one of the guys that we're counting on."
Off the field life continues to change for Goodson, especially with the NIL in its' second month of existence. He feels it all has been good for student athletes to make a profit, but expects a slow process because it's still in the early stages and businesses are somewhat apprehensive. Despite a couple of small deals on the side, Goodson doesn't plan on doing anything huge during the season.
The gridiron is what has Goodson's full attention and he plans on utilizing all of his time during fall camp over the next three weeks.
After all, when game week approaches, he treats it like his diet. Breakfast is film study, lunch is practice and dinner is the actual game. Not to mention dessert is some music from rapper Lil Baby that gets Goodson pumped up to carry the pigskin.
"If I don't practice hard, than I won't feel as comfortable as I am in the game," he said. "So practice makes perfect for me, and I take it very seriously."