Sean Clifford all work and no play early in fall camp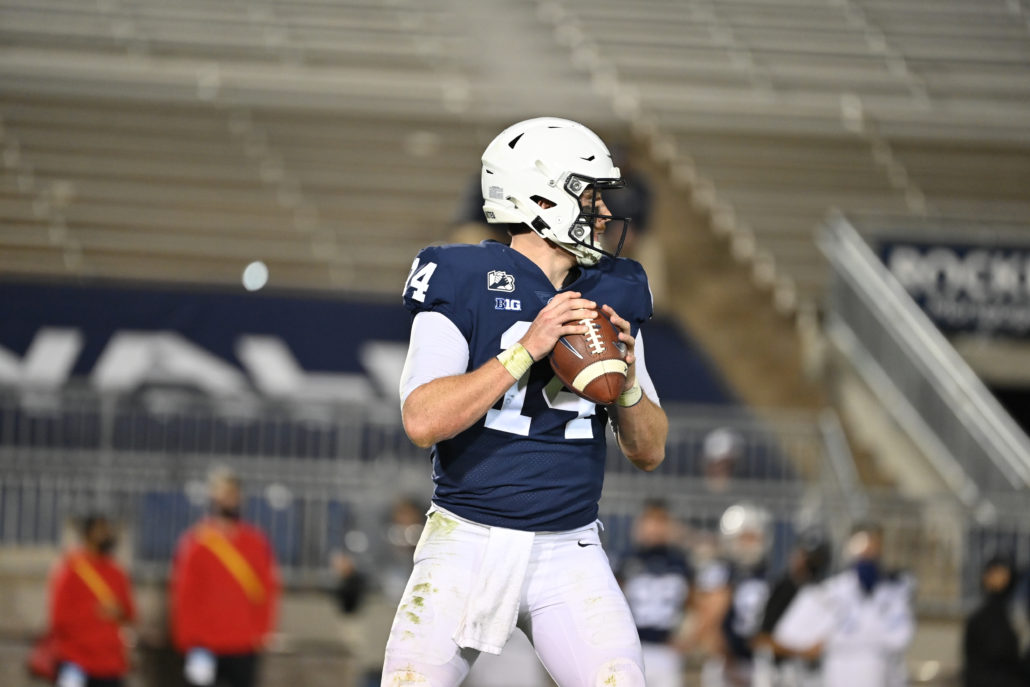 STATE COLLEGE — Stability and longevity among a coaching staff is vital to the overall development of a student athlete.
Often times when changes happen, players stay stuck in neutral instead of progressing. Penn State's redshirt senior quarterback Sean Clifford is the epitome of that ordeal. He's now operating under his fourth Offensive Coordinator since 2017.
However, the NIttany Lions' musical chairs with assistants has molded Clifford into the signal-caller he is today. Penn State finished its' fifth practice of fall camp Wednesday night, and there's been a change in his demeanor under center.
Clifford refuses to be complacent. He's trying to become that quarterback that makes others around him better and likes what he has accomplished thus far.
"This is just the beginning, I'm trying to break my ceiling and go even higher, pushing everyday," Clifford said. "Bring the unit along as well, I think that we're doing really good things right now."
Penn State's new Offensive Coordinator Mike Yurcich has made a huge impact in Clifford's maturation process. The signal-caller believes there's something about Yurcich that's different from the previous three and the fire he brings to practice everyday is second to none in Clifford's eyes.
In return, Clifford is constantly improving in the leadership department and he's taking command of the huddle like a veteran quarterback should. Now confidence is oozing from Clifford's six-foot, 219-pound frame and his teammates are feeling his presence on the sidelines.
"I definitely feel like I'm playing at a pretty high level," he said. "He (Yurcich) has brought a lot of good out of me, thinks that I never thought I could do."
The former four-star prospect understands his journey hasn't been pretty, and grueling at times,. However, he's staying focused on the present and future by putting the past in the rearview mirror. Clifford is not trying to hear about Penn State's losing campaign in 2020, or his shortcomings as a passer. He's done making excuses for himself and doesn't want to be another statistic of a coaching overhaul in Happy Valley.
"I appreciate all of the coaches that have come through Penn State and I've learned a lot from them," the Cincinnati native said. "I've taken the good and the bad and learned from it."
Clifford has been through the humility and took the shoulder of the blame for the offenses' struggles. Regardless of the matter, now he's battle-tested more than ever before, which should be beneficial when Penn State navigates through the Big Ten meat grinder.
After finishing their 2020 season on a four-game winning streak, the Nittany Lions have generated some offseason buzz. Penn State landed at No. 20 in the preseason Coaches Poll Tuesday. Now there's some hype surrounding the 2021 version of the Nittany Lions and momentum has been in full swing in practice.
And all Clifford wants to do is deliver the goods. There's enough weapons around him, especially at the skill positions, to do some damage against conference foes. Clifford knows Penn State fans are anticipating a big rebound from him this fall and he's not trying to disappoint.
"I just can't wait to see everybody and just feel the excitement," he said. "I came to Penn State to play in front of 107,000 and I expect 110,000 for a lot of the games when we get there."