Thayer Munford thankful for his lifelong supporters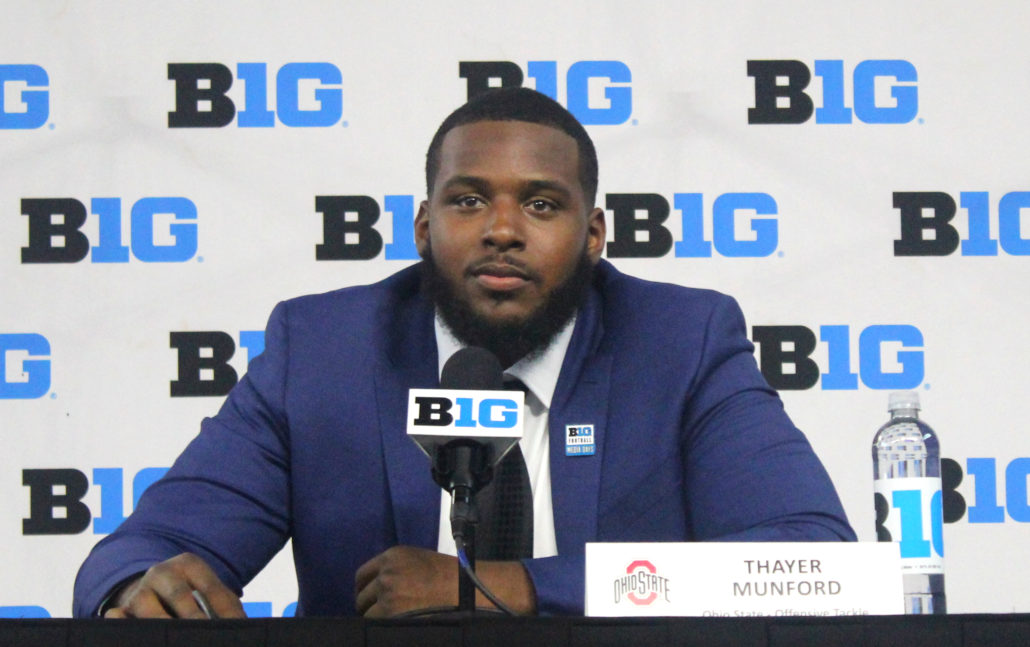 INDIANAPOLIS — When he was a kid growing up in Cincinnati very few people thought he would make something out of his life.
Thayer Munford didn't have a lot of individuals in his corner or the support system to make it to where he's at today. That's because he had a learning disability, which made him fly under the radar as a prep athlete. Now Ohio State's star senior offensive tackle is at the height of his game.
However, Munford feels like he's surrounded by a lot of fake love these days. After all, he's one of the best returning offensive linemen in the country, who could've went into this year's NFL Draft, but he decided to return to school and earn his degree.
Munford believes his education is vital to his future after his playing career is over, so it was a no-brainer he'd be back on the gridiron with the Buckeyes for one last season. He just didn't expect so many people would flock to him now that he's literally the big man on campus.
"Now everybody is praising me, which is fine, but where was this before you know," Munford said.
The six-foot-six, 320-pound Munford is not trying to call out anyone or point fingers by any means. Everyone's surface admiration of him just constantly reminds the former four-star prospect of when he was in a dark place as an adolescent, with no one behind him.
"It's all fine and dandy right now, but y'all wasn't there back then when I was just struggling to have my test scores and mental state right," he said. "I was still just a kid learning everything."
That's why Munford stays humble and doesn't take anything for granted. It's already hard being a big-time student athlete. A lot of people in a star player's circle usually don't have their best interest at heart. And that goes for friends, girlfriends and even family members. Jealousy and envy from other individuals come with the territory, which doesn't surprise Munford, because he understands roses have thorns.
Playing at Ohio State, which is one of the blue blood programs, will put any student athlete in the spotlight. It basically makes them a magnet out in public. Some players know how to handle it well, while others struggle being the center of attention.
There's no denying Munford has come a long way, plus he's using his knowledge and passing it onto the youth who are going to need that type of guidance in the future. Munford is trying to prepare several young teens that come from similar backgrounds like him, to be ready for the type of issues he encountered in his life.
He even emphasized how Coach Ryan Day harps on his players about their mental well-being.
"I'm trying to reach out to little kids, to make sure they're alright mentally and not just physically," the All-Big Ten tackle said. "Physically you can have all the extras in the world, but at the same time, if you don't have the mental part, you're not going to be able to see that world."