Cougars rallying behind their embattled quarterback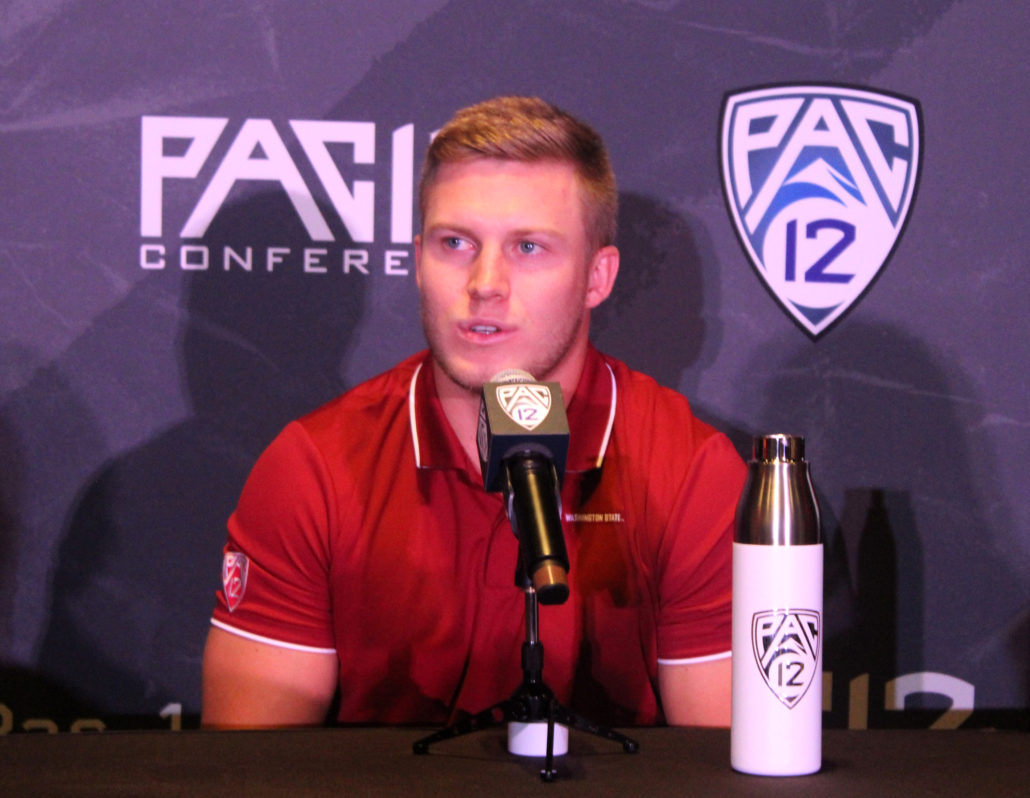 HOLLYWOOD — After Coach Nick Rolovich completed his first season with Washington State, he made a tough decision two months later.
Rolovich suspended Jayden de Laura after a DUI arrest, which forced the quarterback to miss all of spring ball. It wasn't an easy decision for the 42-year old, considering de Laura had a promising true freshman campaign. However, Rolovich reinstated the signal-caller this past May, and since then everything has been trending up for the Cougars.
It was de Laura's first taste of adversity as a student athlete, but Rolovich doesn't regret how he handled it.
"I just felt for the betterment of that young man and his future and his ability to help us in the future, you know, it was the right punishment to make sure he understood the severity of his decisions," Rolovich said.
de Laura was found not guilty of that DUI charge a week ago. He later wrote a letter to Washington State fans about the matter, and it all has generated momentum early on for the team in fall camp. Senior running back Max Borghi is proud de Laura was able to overcome that obstacle and admires his presence on the sidelines.
The two form one of the best backfields in the Pac-12 North, and have the potential to do some damage this fall. Borghi is the dangerous all-purpose rusher, who can hurt defenses out of the backfield. He has a jaw-dropping, 140 career receptions and 29 total touchdowns.
Last season de Laura lived up to his star rating. He threw for 227 yards and scored three touchdowns in the win over Oregon State. The following week he passed for 321 yards and two touchdowns against Oregon. The Hawaii native had a rough outing at USC and was picked off twice. Still, de Laura rebounded with a solid performance against Utah.
Borghi is all about second chances and understands that mistakes happen. He admired de Laura's mental toughness through humility, plus he bounced back as a stronger and smarter teammate.
"Us older guys have preached that his role on the team is being a leader," Borghi said. "We've really seen him grow up a lot during the offseason, I think he's had a great summer session of training and he's hungry."
Although de Laura is back in action, he doesn't have the quarterback position on lock. Tennessee transfer Jarrett Guarantano will be pushing him throughout fall camp. The Cougars return a plethora of starters on both sides of the ball, so whoever wins the job will have a nice supporting cast around him.
With a boatload of experience and a full schedule, Washington State has the potential to make tremendous strides in 2021. The Cougars have a strong bond and they refuse to let any outside noise penetrate their force field. The is projected to finish last in the North by the Pac-12 media.
Regardless, Rolovich is confident de Laura has put everything in the rearview mirror and believes it'll show on the field.
He's just trying to prepare his players for life after they hang up their helmets and cleats. After all, the choices they make could affect them for the rest of their lives.
"As young people, as a college staff I think it's our job to help them with these lessons and make sure that they improve from it," Rolovich said. "When they become members of the community, we're big on them understanding or at least hearing that someday they most likely will be a father, a husband."