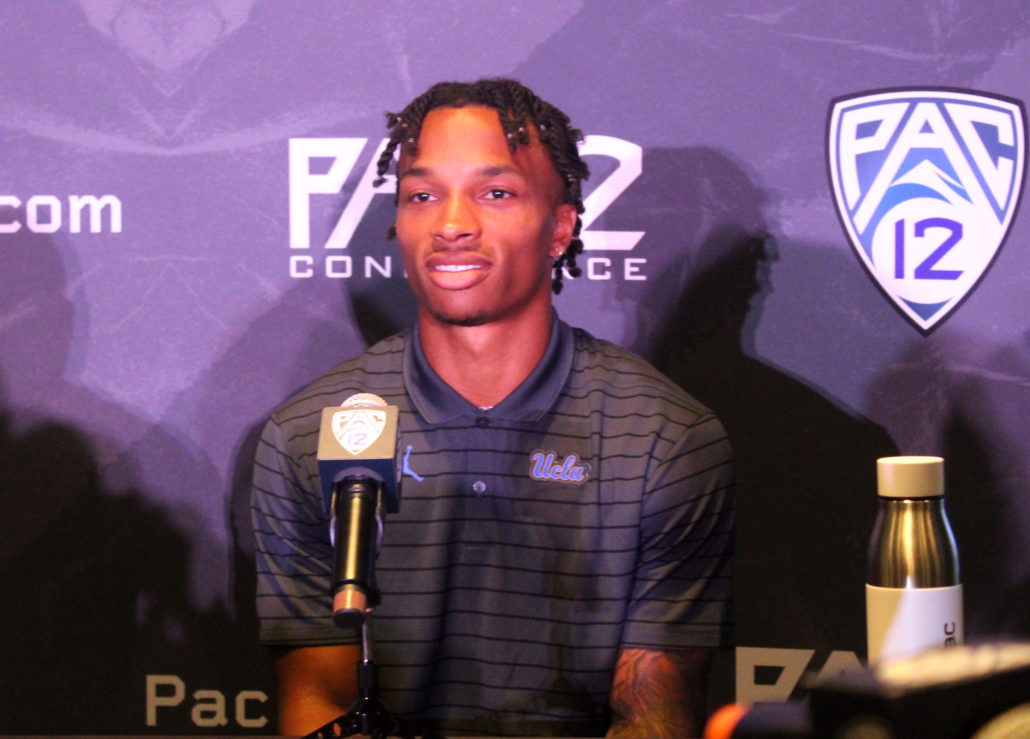 HOLLYWOOD — UCLA has won 10 games through three seasons of the Chip Kelly era and hasn't had a winning campaign since 2015.
Kelly's tenure hasn't been pretty by any means, but Dorian Thompson-Robinson has remained by his side. After all, the quarterback was part of Kelly's first recruiting class with the Bruins. He watched Kelly take over a fractured program after Jim Mora's departure.
UCLA's fan base was hoping Kelly would pick up where he left off with the league, when he won three Pac-12 Titles during his first three seasons at Oregon. However, the Bruins have lost 15 conference games under Kelly's leadership. Dorian-Thompson and the rest of the players that have remained with the program, have rallied behind their embattled coach.
Now the Bruins are almost to the finish line of their uphill climb. On paper Kelly will be fielding one of the most experienced teams in the Pac-12 this fall and his players are ready to make a statement in the South Division.
"This group came in with Chip, so we know the offense, we know what he's looking for and we know his style of play," Thompson-Robinson said. "So putting that all together I think the offense is much improved and it's the best we've had since I've been here at least."
The Las Vegas native has thrown for 5,132 yards, 40 touchdowns and 20 interceptions during Kelly's tenure. UCLA scored 34 or more points in five of its' seven games in 2020. Not to mention Thompson-Robinson threw for 1,120 yards and scored 15 touchdowns during that span.
All the momentum generated from last season has College football fanatics believing the Bruins can make a serious run at the Pac-12 Title. Kelly has revamped the roster on both sides of the ball and added some new members to his staff. The transition has looked promising to Thompson-Robinson, and he's glad everyone is working together approaching fall camp.
"He (Kelly) is getting guys that want to coach, that want to be there and want to put their all into their players," he said. "So when you get that and we feel that, we want to work for them too."
There's a different vibe with the Bruins this time around. The team started playing chess together and it has been pretty competitive.
Thompson-Robinson is a firm believer that great quarterbacks makes others around them better. Tight end Greg Dulcich is one of the best at his position in the country. The signal-caller is also expecting Michigan transfer Zach Charbonnet to have an immediate impact with the unit.
All the players are holding themselves accountable and have bought into the foundation Kelly has implemented. The Bruins are confident, which should help their offense run smoother. No one has any hidden agendas or personal goals. The team is bonding, having fun, but focused too. Thomson-Robinson feels it's a recipe for success in 2021.
The Bruins have adopted the motto that they are not a we team, and instead a me team. So staying together through adversity has made the squad stronger in Thompson-Robinson's eyes. And no outside noise is going to be a distraction or break UCLA's bond.
"If you hit somebody with your fist you're going to do a whole lot of damage," the fourth-year quarterback said. "So that's what we're going to do this year, we're going to stay together through thick and thin and see where the chips land."