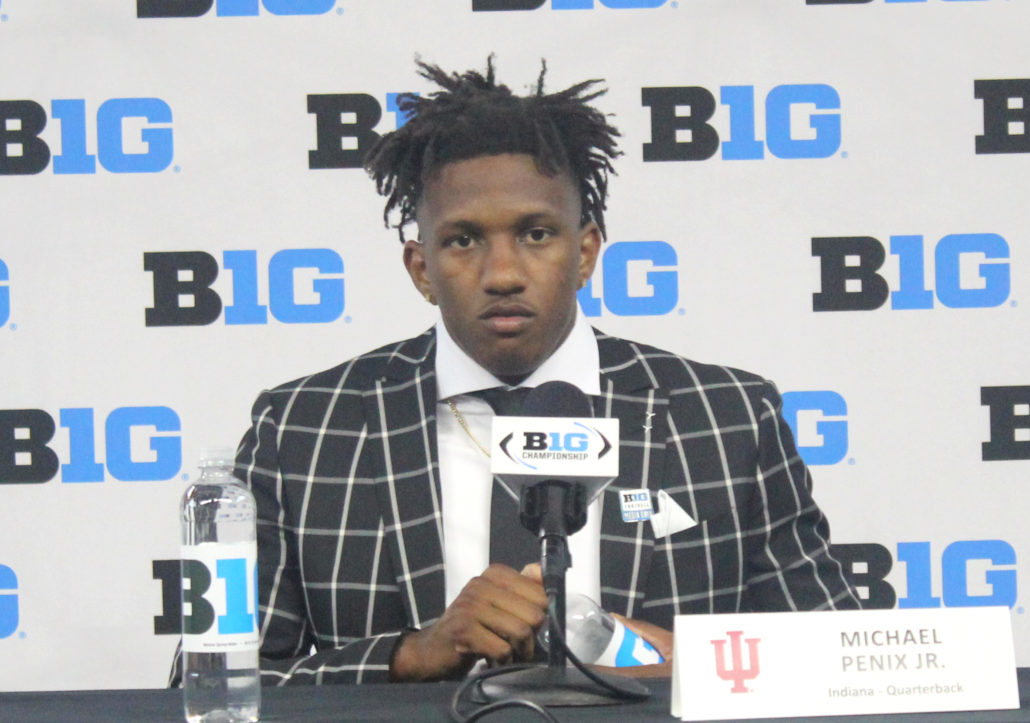 INDIANAPOLIS — He's one of the most dynamic quarterbacks in College football, who's fully recovered from a torn ACL and is ready to wreak havoc on Big Ten defenses again.
Michael Penix Jr. caught the nation's attention after he scored the game-winning touchdown in last season's opener against Penn State. The Tampa native racked up 16 touchdowns through Indiana's first six games, including five against Ohio State.
Although he missed the Hoosiers' final two contests, he still led the league with 274.1 passing yards per game. Not to mention Penix earned second-team, All-Big Ten honors. However, he could care less about accolades if his team isn't on top. Last season Indiana finished in the top-15 of the final AP Poll for the first time since 1967.
Gaining notoriety has been a part of the process with the leadership of Coach Tom Allen. Now the challenge for the Hoosiers will be how they're going to handle prosperity. All of the attention is on Indiana's signal-caller and fans are wondering what he'll do for an encore.
"When a team does good, individuals get recognized and I feel like that's what happened," Penix said. "But we still continue to stay level-headed, we don't let it get too high on us."
The former four-star prospect also showed growth as a passer. Penix scored five times against Rutgers. He also had three touchdown tosses in the win over Michigan. Regardless, his performance at Ohio State is what made Penix a household name in the conference. He torched the Buckeyes' defense for 491 yards and scored five touchdowns.
The following game at Maryland he tore his ACL, but it's a constant reminder why the signal-caller never takes anything for granted. The six-foot-three, 218-pound Penix has missed multiple games in each of the past two seasons because of injuries. Still, he doesn't let any of the adversity mess with the mental aspect of his game when he's on the gridiron.
"I have a good support system, I got a lot of people behind me that's going to continue to push me along the way and keep me positive," he said. "So no matter what, I'm not going to be rattled and everytime I step on that field I'm going to go all out."
The Hoosiers won't be sneaking up on anyone this fall now that everyone knows what they're capable of. It's not easy going from hunters to being the hunted. Allen has been doing a marvelous job at keeping his players hungry and not distracted by all the preseason media hype. Indiana was picked to finish third in the East by the Big Ten Media a couple of weeks ago.
There's finally a buzz around campus that hasn't been there for decades. Penix doesn't want his team to overachieve either.
"We're chasing greatness, we want to do everything in our power to be great," he said. "I see a lot of fire in a lot of guy's eyes and I feel like we're definitely going to be ready this season."
Everyone is dialed in. Penix feels like he's been living in the training room because of how much time he spends there. He also attended the Manning Camp and was surprised with how organized it was, having 1,600-plus kids. He loved how the kids called him coach instead of his first name. It all has been momentum for Penix approaching fall camp. Penix emphasized that he'll be 100 percent healthy for Indiana's opener at Iowa on September 4.
With the return of All-Big Ten pass catchers Tyler Fryfogle and Peyton Hendershot, Penix is expecting his passing numbers to skyrocket this fall. And rightfully so, considering the two combined for 60 receptions, 872 receiving yards and 11 touchdown catches in 2020.
"I know if I throw the ball up to any of them I have full confidence that they're going to go get it."